Decades of Dirty Tricks Finally Catch Up to Roger Stone
Trump's longtime adviser said after appearing in federal court, "The only thing worse than being talked about is not being talked about."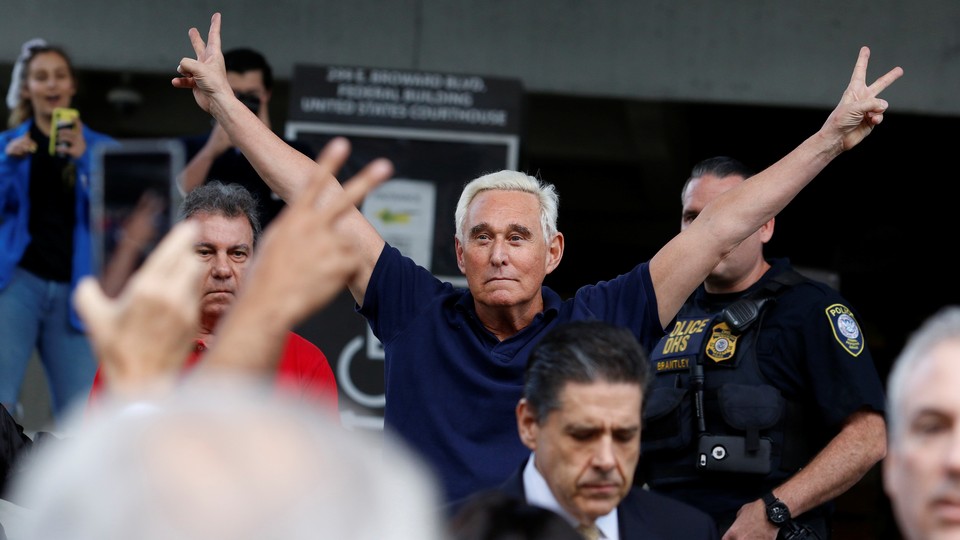 He relished his late-night phone calls with Donald Trump in 2016. He was regularly in touch with a senior Trump campaign official about WikiLeaks' plans to destroy Trump's foe, Hillary Clinton. And now Roger Stone, the longtime adviser to Trump and a self-proclaimed "dirty trickster," has met his reckoning. Just before 6 a.m. on Friday, federal agents wielding guns and ballistic vests arrested Stone, who was then indicted on seven felony counts including obstruction and witness tampering by Trump's other biggest foe—Special Counsel Robert Mueller. Stone said on Friday that he intends to fight the charges and go to trial.
Throughout his decades-long career operating in Republican circles, Stone, who has a likeness of Richard Nixon tattooed on his back, has taken pride in mastering the "black arts" of politics. He's been accused of threatening political opponents, has been sued for defamation, and regularly spreads conspiracy theories about JFK's assassination and Hillary Clinton's infidelity. He served as Trump's Washington lobbyist in the late 1990s and early 2000s and has been encouraging him to run for president for more than a decade. "Roger's relationship with Trump has been so interconnected that it's hard to define what's Roger and what's Donald," Paul Manafort, Trump's campaign chairman, said of Stone in a 2017 documentary. Though he wasn't initially seen as an integral part of Trump's campaign, he kept hovering—and now the dirty tricks have finally caught up with him.
"It's a sunny place for shady people," Stone said, quoting W. Somerset Maugham when asked by The New Yorker in 2008 why he lives in Miami. "I fit right in."
The indictment unsealed on Friday offers the clearest link yet between the Trump campaign and WikiLeaks, and suggests that the Trump campaign might have known about additional stolen emails before they were released. In late July 2016, after WikiLeaks had released stolen Democratic emails, "a senior Trump campaign official was directed to contact Stone about any additional releases and what other damaging information" WikiLeaks had "regarding the Clinton campaign," the indictment said.
The indictment also details the extent of Stone's scheming in 2016 to find emails damaging to Clinton; how he communicated those plans to Trump's campaign team; and his efforts to prevent a key witness from disclosing his efforts to the FBI, calling him a "rat." His false statements to the House Intelligence Committee during his September 2017 interview about his ties to WikiLeaks comprised five of the seven counts against him.
Over the past two years, more and more evidence has emerged of Stone's wrongdoing as details have been reported about his conversations with associates and interactions with WikiLeaks in 2016. But he has remained defiant, taking to Instagram regularly to proclaim his innocence, attacking critics, requesting donations for his legal defense fund, and consistently swearing that he would never turn on Trump. He stuck to that on Friday, telling professional conspiracy theorist Alex Jones in an interview shortly before his appearance outside the Fort Lauderdale, Florida, federal courthouse that he would never "bear false witness against the president," and that the charges brought against him were "thin" and "bogus."
By the time Stone began seeking out more WikiLeaks releases in late July 2016, it had already been reported that Russia was behind the theft of Democratic emails released by WikiLeaks on the eve of the Democratic National Convention. Mueller, who has been investigating a potential conspiracy between the Trump campaign and Russia since May 2017, has not accused Stone of having any improper contacts with Russian nationals in pursuit of the Clinton emails. (Stone has long promoted the conspiracy theory, repeatedly debunked by the U.S. intelligence community, that the DNC hack was an inside job—effectively amplifying propaganda pushed by Russia to deflect blame for the election interference.) But like former National-Security Adviser Michael Flynn, the former Trump campaign aide George Papadopoulos, and the former Trump lawyer Michael Cohen before him, Stone's efforts to conceal his Russia-related activities during the 2016 election were his downfall.
In May 2016, Stone met with a Russian national, Henry Greenberg, on the promise of obtaining Clinton dirt, and exchanged private Twitter messages with a user known as Guccifer 2.0, who claimed to have "penetrated Clinton's and other Democrats' mail servers" but was later characterized by U.S. officials as a front for Russian military intelligence. Stone also said several times in 2016 that he was directly in touch with the WikiLeaks founder Julian Assange, but he began to walk those claims back in early 2017, drawing more scrutiny from congressional and federal investigators and ensnaring several of his contacts in the process.
"I had no contact with Assange," Stone told ABC last month, despite the fact that he exchanged private messages with WikiLeaks on Twitter in October 2016. He also said he would never turn on the president. "There's no circumstance under which I would testify against the president, because I'd have to bear false witness against him," Stone said. "I'd have to make things up, and I'm not going to do that."  Trump appeared to appreciate that. "Nice to know that some people still have 'guts!'" he tweeted in response. Mueller first drew a line directly between Stone and Trump in a draft court document made public in November. In that document, Mueller said that Stone was understood to be in regular contact with "then-candidate Donald J. Trump" in 2016—a detail that reportedly unnerved Trump's legal team.
One of the biggest unanswered questions is whether Stone and the Trump campaign coordinated WikiLeaks' release of emails stolen from Clinton's campaign chairman John Podesta to distract from the damaging Access Hollywood tape, which showed Trump making vulgar comments about women. The emails were dumped just minutes after the tape was released on October 7, 2016, and the Stone indictment reveals a tantalizing new detail: Shortly after the Podesta emails were released, a Trump campaign associate texted Stone, "well done." Stone then took credit for having correctly predicted the "October surprise," according to Mueller. (Stone was not the only member of Trump's campaign communicating with WikiLeaks during the election. WikiLeaks also exchanged private Twitter messages with Donald Trump Jr., who provided the correspondence to congressional investigators. WikiLeaks continued to message Trump Jr. through July 2017.)
Stone's testimony before the House Intelligence Committee in September 2017 might have been what ultimately sealed his fate. According to Mueller, Stone "made deliberately false and misleading statements to the committee concerning, among other things, his possession of documents pertinent" to the committee's investigation and his communications with the Trump campaign about WikiLeaks.
Stone also appeared to lie about who his key back channel to Assange really was. The indictment details texts Stone wrote in late July 2016 to Jerome Corsi, a right-wing writer and conspiracy theorist, to "Get to Assange at Ecuadorian Embassy in London and get the pending WikiLeaks emails." Days later, Corsi replied with some news in another email, according to the Stone indictment: "Word is friend in Embassy plans 2 more dumps. One shortly after I'm back. 2nd in Oct. Impact planned to be very damaging."
The interactions between Stone and Corsi appear to strengthen New York radio host Randy Credico's denials that he was the back channel. They also reveal that Stone wasn't just looking for confirmation from Credico that Assange had the goods, as he told the panel in his supplemental statement. He was actively seeking out more stolen emails via Corsi.
But Stone never disclosed his conversations with Corsi to the House Intelligence Committee, according to Mueller, and intimidated Credico into cooperating with his version of events. "I'm not talking to the FBI and if your smart you won't either," Stone told Credico in a December 2017 text message. When Credico told Stone that he should have just been "honest" with the House Intelligence Committee rather than opening himself up to perjury charges, Stone replied: "You are so full of [expletive]. You got nothing."
Stone didn't stop there. In April 2018, he wrote to Credico: "You are a rat," according to text messages obtained by Mueller. "A stoolie. You backstab your friends-run your mouth my lawyers are dying Rip you to shreds." Stone also threatened to take Credico's dog away from him, and said: "Prepare to die." Additionally, Stone allegedly lied to the committee about having emails related to WikiLeaks and Assange.
The White House has stuck to a line it uses every time Mueller brings a new indictment: no collusion, and no ties to Trump. "The indictment today does not allege Russian collusion by Roger Stone or anyone else," Trump's personal lawyer Jay Sekulow said in a statement. "Rather, the indictment focuses on alleged false statements Mr. Stone made to Congress." "This has nothing to do with the president, and certainly nothing to do with the White House," White House Press Secretary Sarah Huckabee Sanders said in response to the charges brought against Stone on Friday.
If Stone is worried, though, he's not showing it. "The only thing worse than being talked about is not being talked about," he told reporters on the steps of the courthouse on Friday, smiling as they shouted questions at him and onlookers chanted, "Lock him up." He flashed a "V" for victory sign, à la his former mentor, Richard Nixon, before walking back into the courthouse.