The Atlantic Politics & Policy Daily: Nancy Drew Enough Votes
Members of the 116th Congress were sworn in today. Nancy Pelosi was elected as speaker of the now Democrat-controlled House.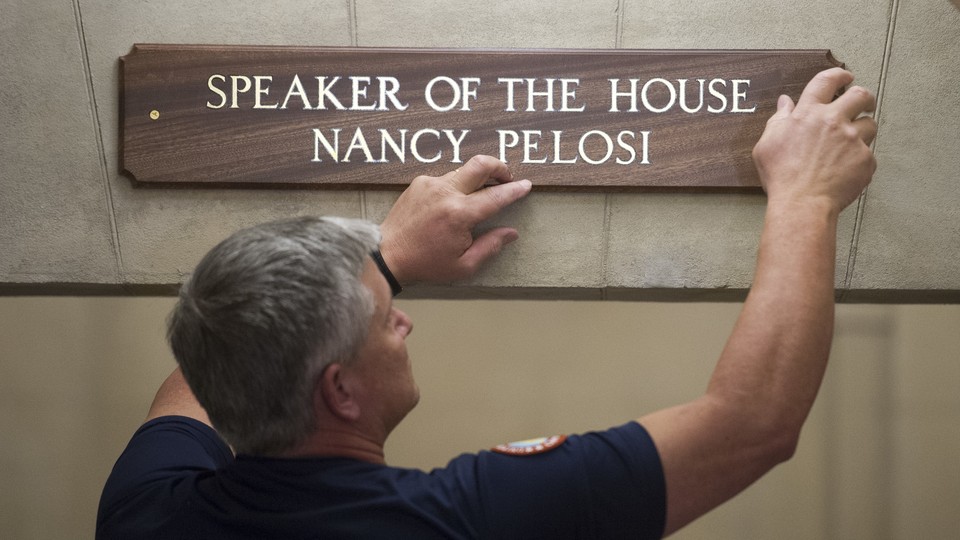 What We're Following Today
It's Thursday, January 3. More than 100 congressional freshmen were sworn in today. Here's what we were keeping an eye on:
New Speaker: Members of the 116th Congress, the most diverse Congress in America's history, were sworn in. Nancy Pelosi was elected as speaker—despite a few Democratic defections, many from freshmen representatives—of the now Democrat-controlled House. Most Republican representatives voted for the minority leader Kevin McCarthy.
Making Things Awkward: The partial government shutdown, now in its 13th day, is far from the environment that House Democrats wanted to enter when they regained power. More on the first day of the new Congress below.
Look Over Here: In a rare impromptu White House press briefing, President Donald Trump made a show of not budging on his demands for border-wall funding. He took no questions from reporters.
The Politics of Climate Change: Former Vice President Al Gore rarely wades into the political arena these days, though he does say he thinks the 2020 election will be a "political tipping point" for climate change.
---
Welcome to the 116th Congress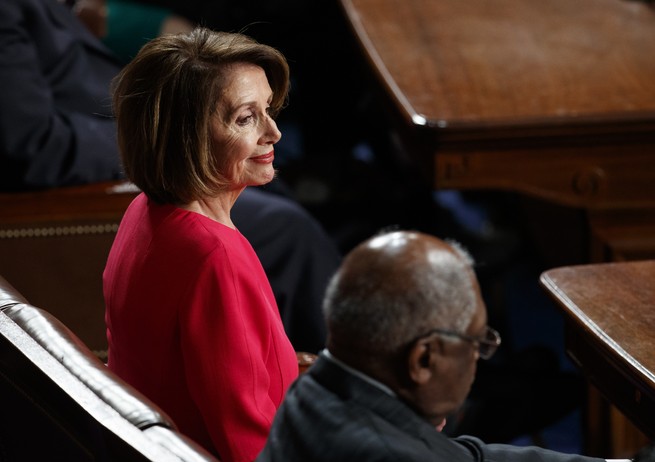 Speaker of the House Nancy Pelosi is seated on the House floor. (Carolyn Kaster / AP)
Why the New Democratic Majority Could Work Better Than the Last (Ronald Brownstein)
"As Nancy Pelosi returns to the speakership after the party's eight-year exile in the minority, she is unlikely to face anything comparable to the systematic resistance she confronted before, from the rural and small-town 'blue dog' Democrats trying vainly to hold back a rising Republican tide in their districts." → Read on.
An Awkward Beginning to Democratic Control of the House (Russell Berman and Elaine Godfrey)
"The shutdown could sap much of the spotlight from the Democrats' policy agenda, muddling their opportunity to drive the national debate, at least on their own terms, during their first weeks in power. It's a reminder that this Democratic House majority will be fundamentally different from the one Pelosi led a decade ago."→ Read on.
---
White House Watch
The Shutdown is only because of the 2020 Presidential Election. The Democrats know they can't win based on all of the achievements of "Trump," so they are going all out on the desperately needed Wall and Border Security - and Presidential Harassment. For them, strictly politics!

— Donald J. Trump (@realDonaldTrump) January 3, 2019
President Trump's New Catchphrase Is an Attempt to Delegitimize Dissent (David Graham)
"It's that simple phrase, 'presidential harassment,' that jumps out." → Read on.
Trump's Strange, Fleeting Briefing-Room Cameo (David Graham)
"Backed by several men with clean-shaven heads, Trump stepped to the dais and said ... well, not a great deal." → Read on.
Al Gore Talks Climate Change and the 2020 Democrats (Edward-Isaac Dovere)
"'Leaders who advocate solutions to the climate crisis should all run ... I think it's good for the country and good for the world to have this issue elevated into the top tier during this upcoming campaign.'" → Read on.
---
Perspectives from The Atlantic
How to End Government Shutdowns, Forever (Annie Lowrey)  
"There are many paths to ending the shutdown—Trump could sign a funding bill without money for his border wall, say, or with paltry money for his border wall. Better yet, Congress could shut down the government shutdown option, forever." → Read on.
Trump Just Endorsed the U.S.S.R.'s Invasion of Afghanistan (David Frum)
"It's amazing enough that any U.S. president would retrospectively endorse the Soviet invasion. What's even more amazing is that he would do so using the very same falsehoods originally invoked by the Soviets themselves: 'terrorists' and 'bandit elements.'" → Read on.
---
Beyond Washington
▪️ How a Feel-Good AI Story Went Wrong in Flint (Alexis Madrigal, The Atlantic)
▪️ Powerless: What It Looks and Sounds Like When a Gas Driller Overruns Your Land (Ken Ward Jr., The Charleston Gazette-Mail; Al Shaw and Mayeta Clark, ProPublica)
▪️ How a Crackdown on MS-13 Caught Up Innocent High School Students (Hannah Dreier, The New York Times Magazine)
▪️ When Death Awaits Deported Asylum Seekers (Kevin Sieff, The Washington Post)
---
What Else We're Reading
▪️ How Predictable Is Donald Trump? (Isaac Chotiner, The New Yorker)
▪️ Congress's Incoming Class Is Younger, Bluer, and More Diverse Than Ever (Beatrice Jin, Politico)
▪️ Why Trump's Generals Have Abandoned Ship (James Stavridis, Time)
---