Manafort's Own Lawyers May Have Hastened His Downfall
The initial failure to redact a sensitive document was the latest in a series of missteps by Paul Manafort's lawyers.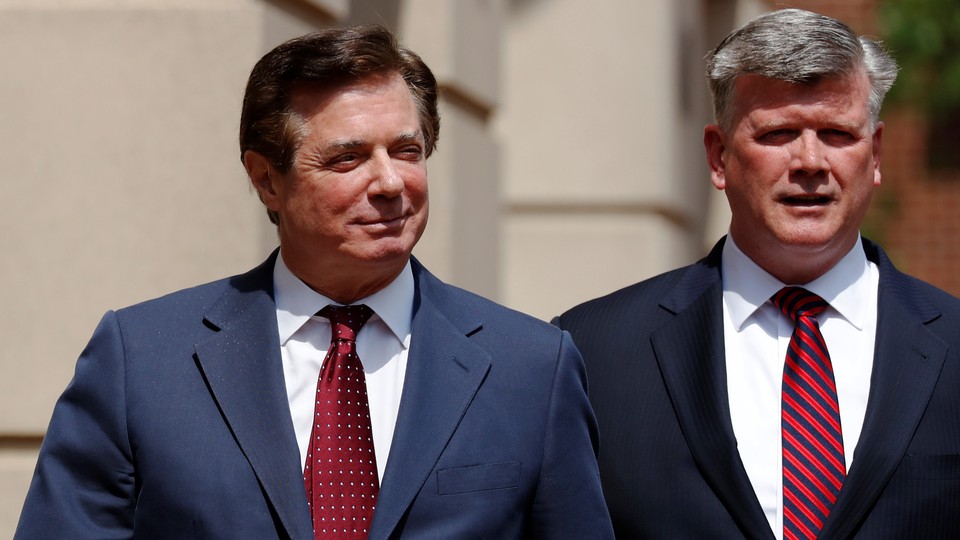 When Paul Manafort's lawyers accidentally revealed sensitive information about his contacts with a suspected Russian spy on Tuesday because of a redacting snafu, it wasn't merely a blip. Rather, it was the latest in a series of apparent missteps the legal team for President Donald Trump's former campaign chairman has made in the nearly two years that it's been defending the 69-year-old operative in Special Counsel Robert Mueller's probe.
From publicly attacking the government's charges and opting for two trials instead of one to bizarrely maintaining a joint defense agreement with the president even after entering into a cooperation deal with the government, legal experts say Manafort's lawyers appear to have dug their client into a deep hole. "From the beginning to the end, they pursued unconventional strategies that did not follow the usual playbook and appeared to prejudice their client," Renato Mariotti, a former federal prosecutor in the Northern District of Illinois, told me.
On Tuesday, their mistake was careless. The redaction error showed that prosecutors apparently believe that Manafort shared internal Trump polling data with the suspected spy Konstantin Kilimnik during the campaign.
That error aside, Manafort's alleged lies to Mueller during the time he spent cooperating—which his lawyers don't want to challenge with a hearing, they revealed in Tuesday's court filings—have likely damaged his chances of getting a light sentence. (Manafort's lawyers said in Tuesday's court filings that he did not intentionally lie to prosecutors. "These occurrences happened during a period when Mr. Manafort was managing a U.S. presidential campaign," they wrote. "It is not surprising at all that Mr. Manafort was unable to recall specific details prior to having his recollection refreshed.")
Manafort may be banking on a presidential pardon, which Trump has not ruled out. But the missteps of his attorneys appear to have done Manafort more harm than good.
Mariotti pointed to the public attack on the government by Kevin Downing, Manafort's lead lawyer and a tax-law specialist, following a hearing in November 2017. He described the charges against Manafort—which included money laundering, bank fraud, and tax evasion—as "ridiculous" to reporters outside the courthouse, adding that there was "no evidence the Trump campaign colluded with the Russian government." His comments led to a scolding from the judge and a court-imposed gag order. "There is no good reason to attack the prosecutors from the very beginning," Mariotti said. Downing did not respond to a request for comment. A spokesman for Manafort declined to comment.
The unorthodox lawyering did not end there: Instead of having Manafort plead guilty and cooperate with prosecutors in exchange, potentially, for a more lenient sentence, Manafort's lawyers effectively forced Mueller's charges into two separate courts, putting Manafort at risk of having to sit for two trials instead of one. Legal experts scratched their head at that decision; Politico described it as "akin to choosing to play Russian Roulette with two bullets in the gun instead of one." It was only after being convicted in Virginia on eight counts of financial fraud that Manafort decided to sign a plea agreement and forego a separate, impending trial in Washington, D.C., related to his unregistered foreign lobbying.
More than two months after Manafort agreed to cooperate, however, it was revealed that his legal team had never pulled out of its joint defense agreement with Trump's lawyers—and had been providing valuable insights about the Mueller inquiry to them. Legal experts called the arrangement "extremely unusual"—and potentially unethical depending on what was discussed between Manafort's lawyers and Trump's team.
Barbara McQuade, who served as the United States attorney for the Eastern District of Michigan until 2017, said the arrangement raised questions "as to whether Manafort has simply been feeding information to, or lying for, Trump. Either scenario could amount to obstruction of justice by the subjects and even their lawyers if their intent is to interfere with the investigation." A veteran Washington lawyer, who declined to be named because he represents an individual involved in the Mueller probe, told me at the time that he had "never in my life" heard of a defendant staying in a joint defense agreement after signing a plea agreement with prosecutors. "He had to have known how dangerous this was," he said.
Prosecutors alleged in a subsequent court filing that Manafort had breached the plea agreement "by lying" to the FBI and special counsel "on a variety of subject matters." Manafort, who faces up to 10 years in prison from his conviction in Virginia, is set to be sentenced on March 5.
To be fair, the former federal prosecutor Elie Honig said, Manafort has not been the easiest client to handle. After being indicted by Mueller in October 2017, Manafort continued to play with fire: In December, just two months later, he allegedly helped write an op-ed in violation of a court gag order, and he later repeatedly tried to contact witnesses in the case against him despite around-the-clock electronic surveillance. The latter offense took him from house arrest to jail. But his legal team hasn't done him any favors, Honig said. "Over the course of less than a year, their client got caught obstructing justice, got convicted at trial, and then got caught lying during his cooperation," Honig said, adding that Manafort's lawyers don't appear to have stuck to "one definable strategy."
Another defense attorney based in Washington, D.C., who requested anonymity because he represented a client involved in the Russia probe, put it bluntly: "It is definitely worth asking whether Manafort would've been better off with a public defender." Manafort hired his current legal team, led by Downing, just after the FBI raided his northern-Virginia home in July 2017. Three months later, Manafort was indicted and Downing was attacking Mueller's charges. "That clearly antagonized the government," the defense lawyer said.