Lindsey Graham's Shifting Sands on the Shutdown
On Friday, the South Carolina Republican urged Trump to declare a national emergency and "build a wall NOW," but on Sunday he proposed a short-term deal and more talks.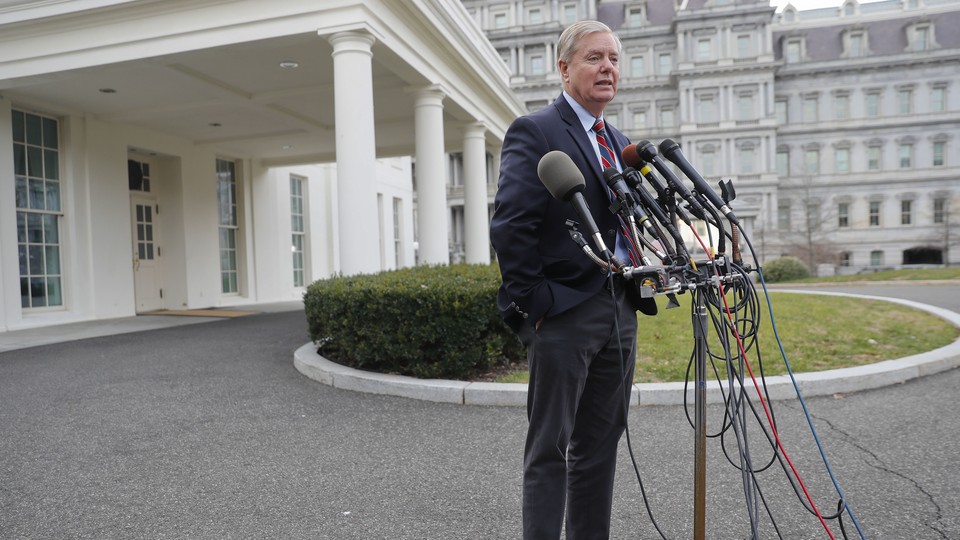 Senator Lindsey Graham, a former critic of President Donald Trump who famously called him a "jackass," has grown close with the president, becoming a golfing buddy and a lunch guest as well as a top defender in Trump's favorite forum, cable news. Last week he became a vocal supporter of the president's threat to declare a national emergency and use special powers to divert funding to build more miles of wall along the southern border. Over the weekend he seemed to temper his enthusiasm for that option, which other Republicans have not embraced. He instead endorsed a short-term agreement to reopen the government while negotiations continue. Democrats might welcome that proposal, but it's not clear it has GOP backing.
On Wednesday the South Carolina Republican, who has helped broker deals in the past, said he had spoken with Democrats about a deal to end the partial government shutdown, which has since entered its third week and broken the previous record, from the 1990s.
"There is a deal to be had," he said late that morning. He gathered fellow Republican senators to discuss a possible compromise, but no proposal emerged. A few blocks away the same afternoon, Trump met with congressional leaders at the White House. He walked out of his own meeting, calling it "a total waste of time" because Speaker Nancy Pelosi would not fund his border wall.
The next day, Graham took to the president's other favored medium, Twitter, and despaired of a "complete stalemate right now in Congress." He said Trump "strongly believes he has power to declare a national emergency to build a wall. Will that approach work? I don't know." Within two hours, he had moved from posing the question to endorsing the nuclear option: "Time for President @realDonaldTrump to use emergency powers to build Wall/Barrier. I hope it works." On Friday, he reported a meeting with the president and escalated his encouragement. "Declare a national emergency NOW," he tweeted. "Build a wall NOW."
On Sunday, Graham seemed to back away from his own rhetoric, calling for Trump to accept a short-term budget bill to reopen the government for several weeks while negotiations continue. He labeled an emergency declaration "the last option."
"Before he pulls the plug on the legislative option—and I think we are almost there—I would urge them to open up the government for a short period of time, like three weeks, before he pulls the plug," Graham said on Fox News Sunday. "See if we can get a deal. If we can't at the end of three weeks, all bets are off. See if he can do it by himself through the emergency powers. That's my recommendation."
Graham suggested such a deal would conform to the broad outlines that have been bandied about for months, if not years: wall funding in exchange for permanent legal status for Dreamers, the young adults brought to the country illegally as children and protected by Obama-era rules known as DACA. He added that Temporary Protected Status recipients, foreigners allowed to move here after disasters in their home countries, could also be protected; the Trump administration has been discontinuing the program for several countries, ending the legal status of tens of thousands of immigrants who in many cases have lived here for decades.
"I don't want to speak for the president," Graham said. "I don't want to lock him in, but I'm confident what I just described with a few other things would be a deal acceptable to the White House." However, that faith runs counter to history—Trump has refused various DACA deals before, as CNN has documented. It's also not clear that House Democrats would accept such a deal, which Pelosi flatly rejected before the shutdown began in December; shortly after she reclaimed the speaker's gavel earlier this month, she opposed any funding for a border wall that she called "an immorality" and "a waste of money."
Other congressional Republicans appearing on the Sunday-morning talk shows did not race to endorse Graham's push for a short-term budget bill. The No. 2 House Republican, Representative Steve Scalise, questioned the logic behind the so-called bridge deal.
"The president said, 'If we go another 30 days, keep everything funded, even the things we disagree on … at the end of that 30 days, will you be willing to negotiate on these areas where we disagree, like the wall? And Nancy Pelosi said no, emphatically," the Louisianan said on ABC's This Week.
NBC's Chuck Todd asked Republican Senator Ted Cruz on Meet the Press about reopening the government and continuing the debate, as Graham discussed. The Texan didn't directly answer, instead pivoting to blame the other party: "There is a difference between one side, the Democrats, who are saying, 'We will not move. We will not compromise. We will not negotiate,' and the other side, the president, who is saying, 'I'm happy to negotiate.' And what he's proposing, the Democrats have already voted for. They're playing politics, because they hate Trump."
Democrats, on the other hand, embraced Graham's change of heart. Senator Tim Kaine, the Virginian who was Hillary Clinton's vice-presidential running mate in 2016, said on NBC that "we should first reopen the government."
Senator Chris Coons, a centrist from Delaware, followed Graham on Fox and explicitly endorsed his approach.
"I agree with the advice that Lindsey Graham just gave to President Trump, which is that he should reopen the government and we should spend several weeks negotiating over what we can all agree on," Coons said, adding an implicit rejection of Pelosi's rhetoric. "I personally don't think that a border wall is, in and of itself, immoral."
What most clearly united Republicans and Democrats was wariness about Trump using emergency powers to build his wall, though some GOP lawmakers defended his prerogative.
"I would hate to see it," Senator Ron Johnson of Wisconsin said on CNN's State of the Union about declaring a national emergency. "Using that act, it would be a far larger act than has ever occurred in the past. So I would prefer not, primarily because if we do that, it's going to go to court, and the wall won't get built."
"We don't want it to come down to a national-emergency declaration," Scalise said. "Clearly the president's got authority under law, but he's said he doesn't want it to come to that. He wants Congress to solve this problem. Congress needs to solve this problem."
House Minority Leader Kevin McCarthy also defended the president's power, even though an emergency declaration could divert disaster-relief funding from his home state of California, which has suffered deadly and devastating wildfires in recent years. He said the law granting such a diversion "exists for these types of circumstances," referring to the border crisis. However, he said repeatedly on CBS, "We should solve this legislatively."
Democratic opposition was more predictable and less deferential.
"If this president is going to turn to national emergencies every time he disagrees with Congress, I'm against it," Senate Minority Whip Dick Durbin said on ABC. "Let's make sure the branches of government are bound by the same Constitution."