Kamala Harris's Show of Strength
At a big Oakland rally, the California senator hoped Beto, Biden, and Booker were watching.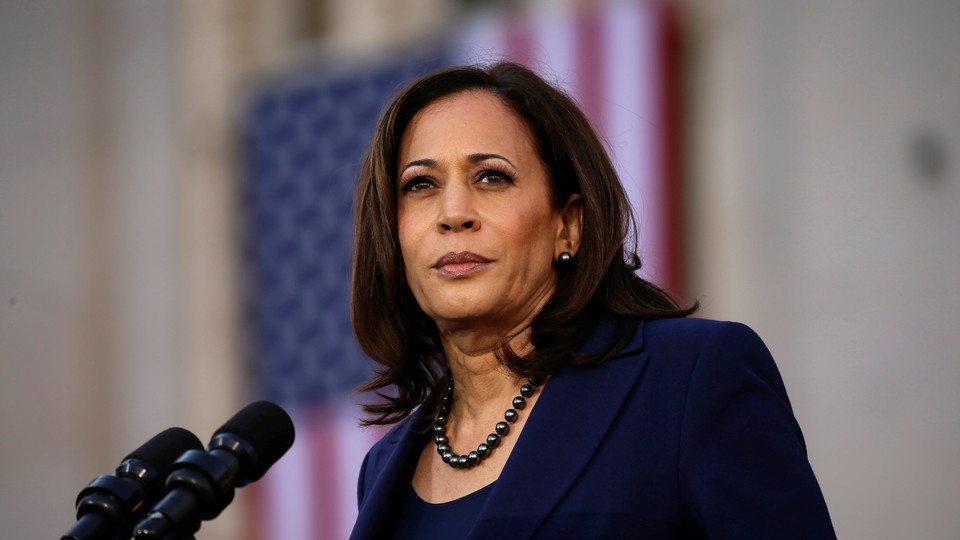 OAKLAND, Calif.—The funny little secret about the Democratic presidential primary right now is that no one knows what's going to work. Everyone has theories. Arguments. Cases that consultants and aides have been making to one another, and to their respective candidates, for months. Some have maps through the states; some are pinning their hopes on dreams of being lifted up by media attention or surprisingly strong showings in the early states. Most have spent the past year sizing up one another, and sizing up all the permutations of the dynamics in the field, depending on who got in and who didn't.
Too often to bear, aides cite the cliché that this is a marathon, not a sprint. But that's the wrong metaphor. A race has one set of rules, all the runners run as fast as they can, and the winner is the first one over the finish line. What's going on now is more like one person playing chess, another playing checkers, another playing Monopoly, Parcheesi, Candy Land—and no one will know for at least a year which is the right game to fit the moment.
For Kamala Harris, it's get out early, get out big, get out hard—or, in the phrase that's been circulating among her campaign team in the week since she announced she was running, demonstrate strength.
Many of her opponents are thrilled that that's how Harris is playing it. With a process this long and intense, they say, Harris can go ahead and be a front-runner. Especially after voters recoiled after Hillary Clinton was effectively anointed in 2016, there is no better way, they argue, for her to not be there at the end.
"The candidate who will win is the candidate who peaks at the right time, and traditionally being the first to peak is not the right time," said an adviser to one of the other 2020 Democrats.
Harris and her team point to the estimated 22,000 people the California senator managed to pack between police barriers in the streets along Oakland City Hall on Sunday. Or they point to the $1.5 million she raised and the 3 million views of her announcement video in just the first 24 hours. Or that she was the first to accept a CNN invitation to do a televised town hall, Monday night from Des Moines, which is how she's spending her first trip as a candidate to the first caucus state, rather than going on the barnstorming tours that Elizabeth Warren and Kirsten Gillibrand, among others, opted for.
No matter who else gets into the race, her circle of advisers believe, she'll be seen as one of the two or three candidates in the top tier. That's the media narrative they're stoking. This, they figure, will help her raise more money, which will create the buzz that will stoke the media narrative more. In a field this big, with the number of twists and turns ahead, the perception eventually will become reality. Or so goes their thinking.
They hope Beto O'Rourke was watching her echo Barack Obama and invoke Robert Kennedy on Sunday, and thinking that there's not a spot for him. They hope Joe Biden and Bernie Sanders and Cory Booker were watching, too, and realizing what it would be like to go up against her. And most of all, they hope there will continue to be paragraphs like this one that treat her as being in the top tier—no small feat for a half-Jamaican, half-Indian woman from Oakland who has been in the Senate for only two years.
Is Harris the candidate to beat? I asked San Francisco Mayor London Breed, making her way out with the crowd while Harris was still shaking hands and taking selfies after leaving the podium.
"I think so right now," Breed said. "Best speech so far."
The primary race is still at the stage of candidates welcoming one another with hugs and encouraging statements, while privately their aides assess each move and look for weaknesses. Give them a little cover of not having their names or the names of their candidates attached to their comments, and they're happy to write off anything that Harris has done so far as a show for reporters and donors that will just result in focusing the opposition research on her and making her seem tired in voters' eyes.
"Expectations are being set sky high—a year is a long time to hit them," said an adviser to another 2020 Democrat.
During her speech on Sunday, the people who turned out chanted her name and seemed filled with energy and real enthusiasm. She's already a big enough deal that both her husband and her sister got cheers as they slipped into the crowd. She had to pause for only a moment as she said, about halfway through, "And so I stand before you today …" for her fans to fill in the next words about declaring her candidacy. She made a point of having a good time, pausing and holding an amused smile, after she dropped a line about "foreign powers infecting the White House like malware."
Drawing heavily on parts of speeches she's been working out on the stump for months, Harris talked repeatedly about "our America." She went back again and again to ideas of common values and shared reality that she seems insistent on repeating precisely to emphasize that they can't, and shouldn't be, ignored.
"We are at an inflection point in the history of our world. We are at an inflection point in the history of our nation," she said.
There was a long list of goals, from battling climate change and achieving pay equity for women to enhancing cybersecurity, instituting universal pre-K and Medicare for All as a health-insurance option, stopping school shootings, ensuring reproductive rights, creating a path to citizenship for illegal immigrants, and passing working- and middle-class tax cuts, though she left an explanation for how she'd get any of it done for another time.
And while her prospective opponents are eager to make her the establishment candidate in the race, Harris spoke of herself as the underdog, though no one really sees her that way.
"The doubters will say what they always say: It's not your time. The odds are long. It can't be done. But our story has never been written by the doubters or the naysayers," she said. "Robert Kennedy said it best: 'Only those who dare to fail greatly can ever achieve greatly.'"
Harris has so far lived up to their internal estimations, said an adviser to yet another 2020 Democrat. "I am not unimpressed. I am not overly impressed," the adviser said. "The fundamentals are there, but the question is if it can be taken to the next level."
Is it intimidating at all? I texted one of the people advising another 2020 Democrat about an hour before the rally started, with the helicopter counting the crowd already overhead and the Oakland Interfaith Gospel Choir onstage, warming up the crowd.
"Lol," the adviser immediately wrote back to me.
Keep thinking that, say the people working with Harris. That just gives her more time to build up the lead.
"This was a spectacular, electric, and unprecedented crowd," said Sean Clegg, who helped her write the speech and sat backstage watching favorite moments unfold, "and it demonstrates the hunger for her candidacy, and for someone who can fight and lead from the high ground."