The Atlantic Politics & Policy Daily: In the Cross-Harris
California Senator Kamala Harris is positioning herself as the 2020 Democratic presidential candidate who can put together the winning coalition.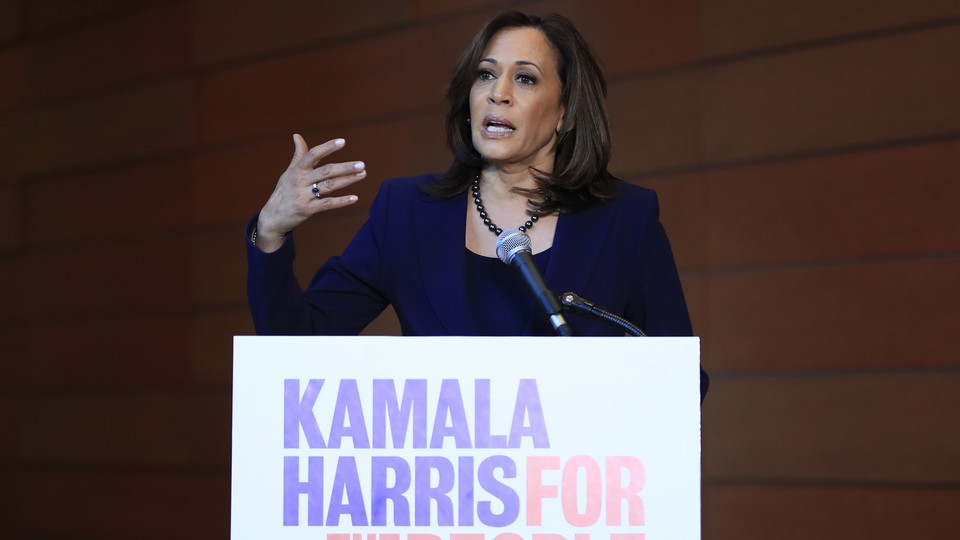 What We're Following Today
It's Tuesday, January 22. This is the 32nd day of the partial government shutdown. The Donald Trump administration said it is exploring ways to keep providing assistance to the nearly 40 million Americans receiving SNAP benefits if the current stalemate continues into March.
In 2020 News: California Senator Kamala Harris announced on Martin Luther King Jr. Day that she's running for president—and she's positioned herself as the candidate who can put together the winning coalition Democrats have been obsessed with since their loss in 2016. Meanwhile, Tom Steyer, the billionaire Democratic activist and fundraiser, is launching a campaign to pressure 2020 candidates to support impeaching President Donald Trump. "If you're against impeachment, don't bother running," Steyer said recently. "Save your time. Drive an Uber."
Rebellion: The Los Angeles teachers' strike, which saw some 30,000 educators on strike since the beginning of last week, is slated to end after union and city officials reached a tentative agreement on Tuesday. Since early 2018, the total number of teachers and other school staffers who have participated in labor strikes in the U.S. has reached at least 409,000. This wave of teacher activism is completely unprecedented, reports Alia Wong.
On the Docket: The Supreme Court ruled to temporarily allow the Trump administration's ban on transgender people from serving in the military go into effect. The justices also agreed to take up a major gun case for the first time in almost a decade.
Also Read: This 2017 account from a transgender CIA officer, shortly after Trump tweeted a transgender military-service ban.
---
Snapshot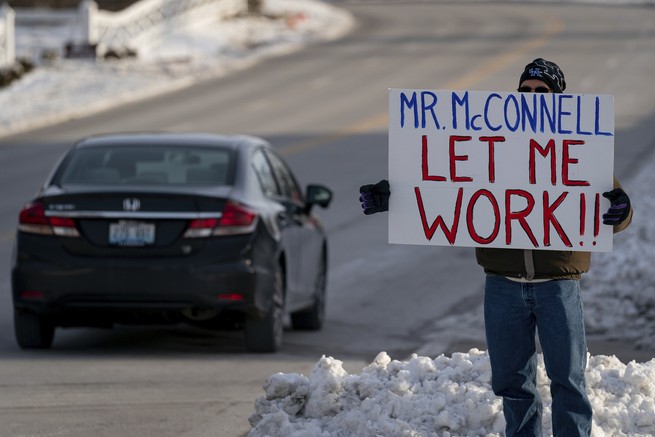 A furloughed EPA worker, Jeff Herrema, holds a sign outside the offices of U.S. Senator Mitch McConnell, in Park Hills, Kentucky. Bryan Woolston / AP
---
Ideas From The Atlantic
What the Camp Fire Revealed (Annie Lowrey)
"People with very low incomes, the disabled, and the elderly are less likely to have technologies that might alert them to a fire speeding their way or a hurricane about to bear down. In part for this reason, the average age of those who died in the Camp Fire was estimated at 71." → Read on.
Trump's Hostage Attempt Is Going Miserably Wrong (David Frum)
"The shutdown was a demand for unconditional surrender. Unfortunately for him, the president lacks the political realism to recognize that he doesn't have the clout to impose that surrender." → Read on.
Stop Trusting Viral Videos (Ian Bogost)
"Film and photography purport to capture events as they really took place in the world, so it's always tempting to take them at their word. But when multiple videos present multiple possible truths, which one is to be believed?" → Read on.
The Coast Guard During the Shutdown
"The problem is we don't actually have a shutdown. It's a semi-shutdown … a faux shutdown. The vast majority of the American public has no clue except maybe they've heard there's drama in Wash DC., or maybe they were on vacation but couldn't get in to see the Grand Canyon." A reader who is part of a Coast Guard family shares a few thoughts with James Fallows.→ Read on.
---
What Else We're Reading
◆ Iowa Prepares for the Mother of All Caucuses (Natasha Korecki, Politico)
◆ Covington Catholic Is the Terrible Sequel to the Kavanaugh Case (David French, National Review)
◆ Trump Preparing Two State of the Union Speeches for Different Audiences (Katherine Faulders, Jonathan Karl, and John Santucci, ABC News)
◆ The Young Left's Anti-Capitalist Manifesto (Clare Malone, FiveThirtyEight)
◆ Trump's Lawyer Said There Were 'No Plans' for Trump Tower Moscow. Here They Are. (Azeen Ghorayshi, BuzzFeed News)
---