The Real Shutdown Fight Might Only Be Getting Started
Even though the government has been closed for nearly two weeks, the political pain is just now being felt, and no party is budging.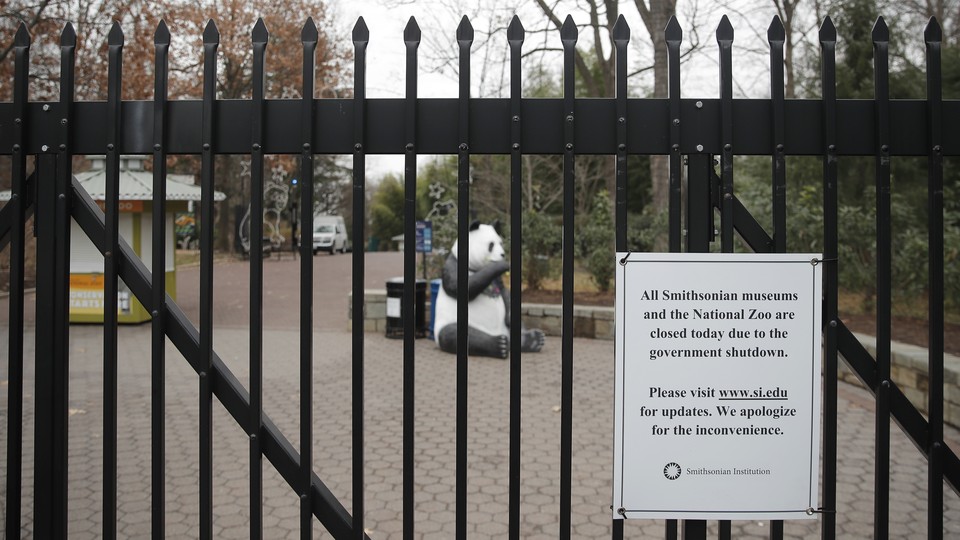 Updated on January 2 at 5:19 p.m. ET
New year, new Congress, same old shutdown.
That's the state of play in Washington this week. As congressional leaders visited the White House on Wednesday afternoon for a meeting with the president, and as an increasing number of government offices are closed, the shutdown is headed for day 13—with no obvious end.
Speaking to reporters before the meeting on Wednesday, Donald Trump said the shutdown would last "as long as it takes."
"Could be a long time, and it could be quickly," Trump said.
After top members of the House and Senate convened at the White House Wednesday afternoon, the former looked more likely. In brief remarks, Speaker-designate Nancy Pelosi said she still intends to move forward Thursday with a pair of bills that fund most of the government through the end of September and the Department of Homeland Security through February 8, while not providing funding for the border wall that the president wants. As she noted, that mirrors bills passed by the Senate late last year.
"We have given the Republicans a chance to take yes for an answer," she said. "Our question to the president and the Republicans is, Why don't you accept what you have already done to open up government? That enables us to have 30 days to negotiate for border security."
Senate Majority Leader Mitch McConnell was tempered and set expectations low in his own remarks. "I don't think any particular progress was made today," he told CNN, calling the meeting "civil." "We are hopeful that somehow in the coming days or weeks we will be able to reach an agreement."
Nearly two weeks into the shutdown, neither side has budged at all. First, the outgoing Republican House decided to punt the issue to the incoming Democratic majority, which will be sworn in on Thursday and promptly vote for the two funding measures.
By splitting off DHS from the larger bill, Democrats hope to trap Trump, daring him to reject funding for most of the government—even though they are flouting his single demand, which is that Congress give him $5 billion for a wall. After Democrats unveiled the plan on Monday, the president promptly announced he would not sign it, and a spokesman for McConnell said the Senate wouldn't take up anything the president wasn't going to sign.
It's hard to imagine Democrats giving way on wall funding. They have said consistently that they will not fund the barrier, and while Senate Minority Leader Chuck Schumer has proved willing to compromise with the White House, Pelosi is more rigid—and has a new majority united (at least on this issue) behind her. If Democrats gave in now, it would be an abdication that would take the wind out of the party's newly full sails and likely split the caucus.
At first glance, Trump also has little reason to compromise. He has staked his presidency on building the wall, and giving in now would betray his base—just as he enters the back half of his term, with the presidential election far closer than perhaps many Americans would like. But the White House was close to compromising before Christmas, only to reverse course after being pressured by conservative media figures such as Laura Ingraham, Ann Coulter, and Rush Limbaugh. He also reneged on his pledge, made during a televised meeting with Schumer and Pelosi, to take responsibility for any shutdown.
Trump appears to have no plan now, other than sending a barrage of angry tweets. But those missives have often undermined his case; he has asserted, for example, that the wall is already partly built (it's not), that border security is already strong (so why is the wall needed?), and that Mexico is already paying for the wall (then why is Congress needed?). Speaking to reporters on Wednesday, the president seemed to leave the door open to settling for slightly less money, though he was vague. Trump has a long-standing tendency to fold in negotiations, but given that this is a high-profile case, he may hold strong here.
Caught in between is the GOP-led Senate. Republicans could stick with Trump and prolong the stalemate in the hope of making Democrats squirm. Or they could lose patience with Trump and toss the ball to the White House by passing a smaller funding bill. The Senate already passed a stopgap bill with $1.6 billion for border security, far short of Trump's $5 billion, in December.
Many of these questions are likely to find answers in the next few days. It's not yet clear what the specific political pain points from this shutdown will be. The current closure is long, but still shorter than those in 2013 or 1995–96. Shutdowns are never popular—one reason Trump's pledge last month to take credit or blame for this one was so striking—and a Reuters/Ipsos poll last week showed that a plurality of Americans blame him.
But the worst hasn't been felt yet. Many Americans have been tuned out of politics during the holidays, and will now start to pay more attention. Meanwhile, government agencies have been able to squeak by on existing funds for a few days, but starting Wednesday, they're flat broke. The Smithsonian, including the National Zoo, has closed its doors, along with a slew of other offices. So-called essential government employees are working without a paycheck, though they're likely to receive back pay in the future.
With these effects of closure just beginning, and no signs of movement by congressional Democrats or the White House, it might be that the shutdown fight is really just starting now, even though the government's been out of money for nearly two weeks.
Asked by reporters why Democrats are still moving forward with the spending bills even though Trump and GOP Senate leaders have already rejected them, Schumer said Wednesday, "We would hope that that they would reconsider." His optimism is uncommon, and seems unlikely to be rewarded.