Women Are Not a Monolith
Women from around the country will march this weekend. But they won't all be marching together.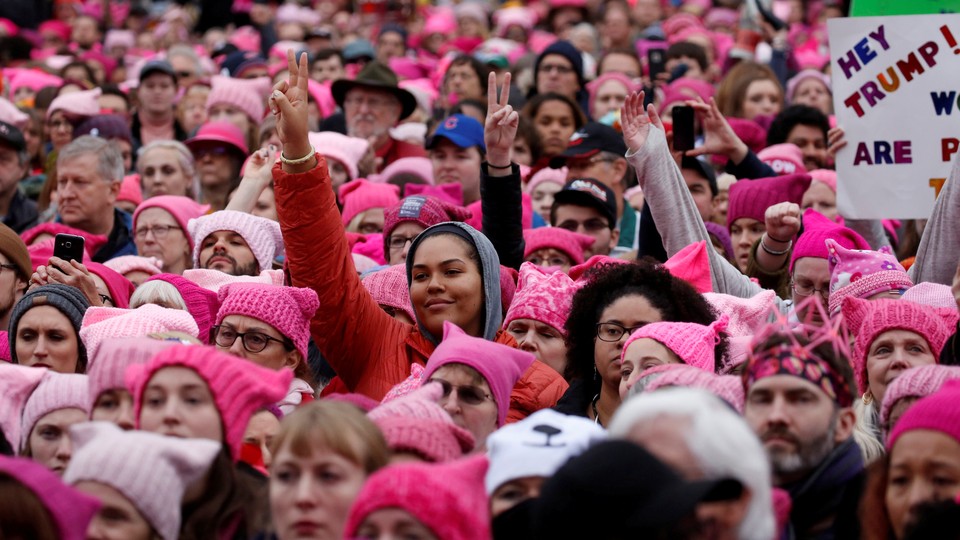 This weekend, women will take to the streets. The third annual Women's March will bring thousands of women to Washington, D.C., and other cities across the country to mark "two years of resistance to the Trump presidency, two years of training new activists, and two years of building power."
From its first year, the march has highlighted the significant divisions among women's political movements. As I reported in January 2017, pro-life feminists were kicked off the list of sponsors. Over the past year, another ugly fight has emerged: The lead organizers of the national march have been accused of condoning anti-Semitism and making disparaging comments about Jews. In recent weeks, major political and religious groups have either denounced or pulled their support for the march, largely because of these accusations.
Women have played a huge role in shaping this moment in American politics. Women voters helped Democrats dominate their congressional races in the 2018 midterm elections, and women candidates broke numerous records in running for office. But the many marches taking place this weekend are a reminder that one narrowly defined women's movement can't describe the fullness of women's influence on American politics.
[Read: These pro-lifers are headed to the Women's March on Washington]
Tamika Mallory, one of the lead organizers, is at the center of the latest controversy over the march. Nearly a year ago, she attended an event sponsored by the Nation of Islam, where the group's leader, Louis Farrakhan, made a number of wildly anti-Semitic claims about Jews, including that they control the government and cause homosexuality in black men. She has also posted about her admiration for Farrakhan on social media, calling him "the GOAT," or "greatest of all time."
Instead of disavowing Farrakhan, Mallory has consistently equivocated. "I don't agree with everything that Minister Farrakhan said about Jews or women or gay people," she told my colleague Adam Serwer in an interview last March. But "the brothers and sisters that I work with in the Nation of Islam are people, too." In an interview on The View this week, Meghan McCain said she thinks the Women's March is "anti-Semitism masked in activism." When the host pressed Mallory to condemn Farrakhan, she refused.
[Read: Why Tamika Mallory won't condemn Farrakhan]
Jewish women involved with the founding of the march have also accused the lead organizers of making explicitly anti-Semitic statements and purposefully pushing Jewish concerns to the side. According to a report in Tablet magazine, Mallory and another organizer, Carmen Perez, claimed that "Jewish people bore a special collective responsibility as exploiters of black and brown people" and were "leaders of the American slave trade." The march organizers have denied making these comments.
While these allegations have created a firestorm, they have also masked deeper divisions within the Women's March movement. Some organizers of local marches have apparently been frustrated by the top-down management style and disorganization of the national Women's March. A competing organization, March On, will also host gatherings across the country this weekend. "Many women in red states, for example, couldn't follow an organizing playbook crafted out of D.C. or New York City," Vanessa Wruble, one of the organizers who split with the original march, told Tablet.
[Read: The year of the woman still leaves women with terrible representation in Congress]
Pro-life women have also been excluded from the national march. Although a number of self-described pro-life feminist groups signed up to be sponsors and march alongside the original Women's March, they were removed from the march's official list of supporters because of their anti-abortion views. "The Women's March's platform is pro-choice and that has been our stance from day one," the organizers said in a statement at the time. Many women, from conservative Republicans to self-described progressive feminists, have found this alienating. As McCain said on The View, "You're talking about all women being invited to that march? I'm pro-life. We were not invited."
On Friday, thousands of pro-lifers from around the country, including many women, gathered for their own march: the March for Life. In many ways, the pro-life movement is a women's movement, too: The March for Life is headed by a woman, Jeanne Mancini, and so are many of Washington's most influential pro-life advocacy groups. While these female marchers likely weren't the women who swept Democrats to power in November, they have significant political influence: President Donald Trump addressed the March for Life via video, promising to veto bills expanding abortion rights, and Vice President Mike Pence gave a speech to the rally.
Now more than ever, the national Women's March cannot claim that it speaks for all women. Its institutional support is waning: The Democratic National Committee pulled its sponsorship of the march, and EMILY's List, the lobbying group that supports female pro-choice candidates for office, is not supporting the march, either. Prominent female politicians, including 2020 presidential hopefuls, are staying away: Axios reported that Kamala Harris, Elizabeth Warren, and Amy Klobuchar are all skipping the event. And religious institutions, including Stephen Wise Free Synagogue, a prominent New York City Reform synagogue, announced that it would no longer support the Women's March because of the claims about anti-Semitism.
In January of 2017, as Donald Trump was taking office, the Women's March captured the rage and discontent and motivation that many American women seemed to be feeling. But as it has transitioned from a moment to a movement, the messiness of women's diversity has made the power of the Women's March much less clear.