Ex-envoy to the Anti-ISIS Coalition Says Trump Has 'No Plan' for What's Next in Syria
Brett McGurk faulted the president for completely reversing Syria policy after one telephone conversation with Turkey's president.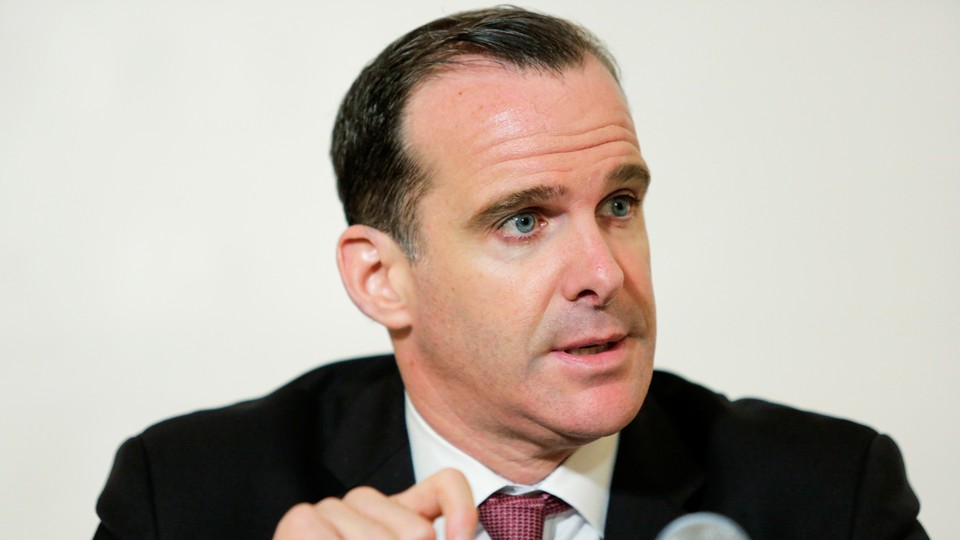 When President Donald Trump announced in a tweet that he was withdrawing U.S. troops from Syria, his abrupt decision kicked up one of the most thoroughly bipartisan maelstroms of condemnation in his first two years as president. Trump had telegraphed his intention for months, if not years, but the sudden declaration on December 19 went against the advice, and public pronouncements, of his own national-security team. Republican allies in Congress protested loudly. The widely respected defense secretary, retired Marine Corps General James Mattis, resigned in protest the next day. Within two days, another top U.S. national-security official followed Mattis out the door. On Sunday, in a television interview and in a newspaper op-ed, he laid out his dissent—and his fears for the future.
Brett McGurk coordinated the U.S.-led coalition of more than 60 nations that fought the Islamic State terror group and gave international legitimacy to American involvement in a war-torn country where Iran and Russia were making headway. He was one of the rare Barack Obama appointees to keep his job in the Trump administration, but he came with an impeccable Republican pedigree.
Soon after finishing a clerkship for U.S. Supreme Court Chief Justice William Rehnquist, a conservative icon, McGurk went to Iraq and worked as a lawyer for the Coalition Provisional Authority. He joined President George W. Bush's national-security team and stayed on after President Obama's election, winning enough confidence that the Democrat nominated him as ambassador to Iraq in 2012. He withdrew his nomination after a leaked racy email drew attention to his affair in Baghdad with a reporter, whom he had married by the time of his nomination.
In 2015, President Obama named McGurk the presidential envoy to the global coalition against the Islamic State, and he stayed in that role under Trump. The veteran diplomat had planned to leave his post in mid-February, according to the Associated Press, but he expected U.S. direct engagement to continue for at least several more months. "Nobody is declaring a mission accomplished," he told reporters at a State Department briefing on December 11. "It would be reckless if we were just to say, 'Well, the physical caliphate is defeated, so we can just leave now.'"
Barely a week later came Trump's withdrawal announcement, quickly followed by McGurk's resignation, effective December 31. He joined a group of foreign-policy experts at Stanford University's Freeman Spogli Institute for International Studies. Former Secretary of State Condoleezza Rice, one of his new colleagues, called him "the consummate professional diplomat," which sounded like an endorsement of his resignation and a subtle rebuke of Trump's abrupt announcement.
Trump took to Twitter to attack McGurk, pointing out that the diplomat was an Obama appointee and bashing him as a "grandstander" since he had simply moved up his exit by six weeks. The president added that he did not know McGurk, his own point man in the fight against the Islamic State.
Now McGurk is taking his case to the American public. He says that even with a slightly elongated withdrawal timetable, Trump's decision has damaged U.S. strategic interests and national security.
"Only Russia and Iran hailed Trump's decision," McGurk wrote in a Washington Post op-ed that appeared in Sunday's print edition. "Whatever leverage we may have had with these two adversaries in Syria diminished once Trump said we would leave." The diplomat wrote that America's strategic rivals now face little constraint on their military buildup in Syria. Israel, the United States' closest ally in the region, must step up air strikes to fend off Iranian threats along its northeastern border.
Safety is more assured, though, for Bashar al-Assad because "without us, any chance of upending this mass-murdering dictator, propped up by Iran and Russia, is a pipe dream," McGurk wrote. U.S. partners are reopening embassies in Damascus and moving closer to Assad, hoping to "dilute Russian, Iranian and Turkish influence in Syria."
The expected power vacuum may come back to haunt the United States, much as it did after the withdrawal from Iraq, McGurk forecasted. "The Islamic State and other extremist groups will fill the void opened by our departure, regenerating their capacity to threaten our friends in Europe—as they did throughout 2016—and ultimately our own homeland," he wrote. While defeating the terror group was Trump's professed goal, the former diplomat said, "his recent choices, unfortunately, are already giving the Islamic State—and other American adversaries—new life."
McGurk also went on CBS's Face the Nation on Sunday for one of his first, if not his first, television appearances since leaving the government, aside from a recorded Atlantic event earlier this month. He argued that Trump's disruption of the status quo was unnecessary.
"In this campaign in Syria since 2015, we've had two Americans killed in action," he said. "We built this campaign plan to answer for those who believe that we should not be overinvested in these conflicts. Americans are not fighting; we built a force of 60,000 Syrians to do the fighting. American taxpayers are not spending money on civilian stabilization or reconstruction costs; the coalition is doing that. So it was a sustainable campaign plan." (A note on Syrian reconstruction funding: The State Department had $230 million budgeted for that purpose, but the Trump administration canceled the spending in August, according to CNN. McGurk helped secure a commitment of $300 million from allies, with one-third of the money coming from Saudi Arabia.)
McGurk also defended himself against Trump's charge that his resignation was political, pointing out that he worked under Bush, Obama, and Trump. "I've served all three administrations," he said. "I've worked on policies that I fully supported. You work on policies here in the government that you might not support. You argue your case. In this case, I think the entire national-security team had one view, and the president in a conversation with [Turkish President Recep Tayyip] Erdoğan just completely reversed the policy."
If the president can't be persuaded to reverse his reversal, McGurk added, then the departing U.S. troops should not be given new goals to accomplish while they withdraw. "We cannot add additional missions onto our force while they are trying to withdraw under pressure," he said, "because withdrawing under pressure from a combat zone is one of the most difficult military maneuvers we can ask our people to do."
McGurk added that a Turkish military push into Syria would result in a humanitarian disaster for America's Kurdish allies, who have borne the brunt of the campaign against the Islamic State. But in his op-ed, he dismissed Trump's latest tweeted proposal, a 20-mile safe zone, as an impractical last-minute idea. He fears what is to come.
"Believe me, there's no plan for what's coming next," he said on CBS. "Right now, we do not have a plan."