Evangelical Mega-donors Are Rethinking Money in Politics
In recent years, Christianity has become publicly associated with conservative political causes. Some wealthy Christians are pushing back.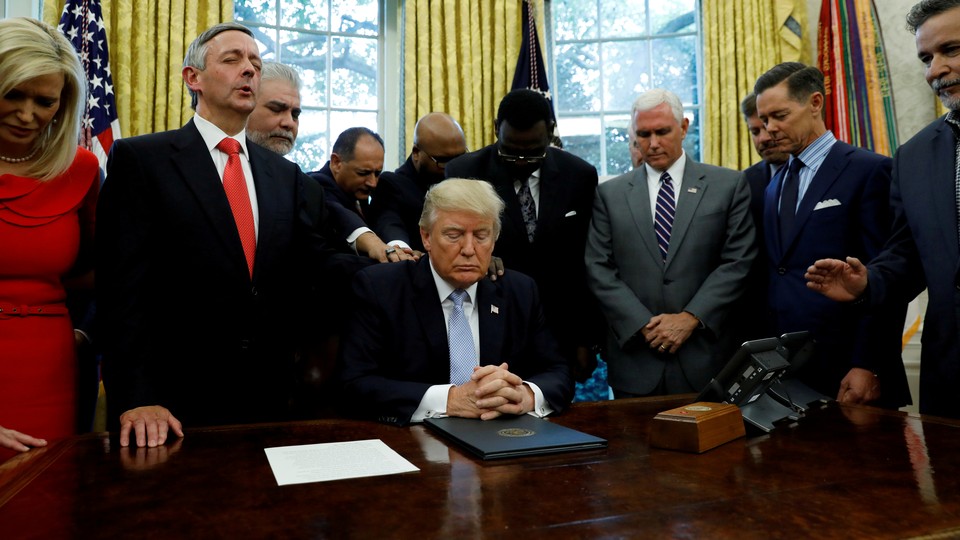 If the 2016 election was a reminder that white evangelical voters can determine who wins the White House, the past few years have also been a testament to the influence of Christian cash. Betsy DeVos, a juggernaut funder of religious and Republican causes in Michigan, is the U.S. secretary of education. Foster Friess, a conservative mega-donor in Wyoming, was an early backer of Donald Trump. And the Greens, the Hobby Lobby–crafts–chain owners who rank among the richest families in America, helped secure the Supreme Court's consequential 2014 decision on religious freedom and birth control. They recently opened an elaborate museum dedicated to the Bible on the edge of the National Mall.
Donors such as these have helped solidify the identity of evangelicalism in the American popular imagination: a movement that's solely about politics and the culture wars. But behind the scenes, a group of Christian elites is quietly working to create new ways for rich evangelicals to affect the world around them—and to foster a different public image for the church.
As these elites work to shape the world of Christian philanthropy, they are joining a great generational wrestling match over the way Christians should accumulate and use power. The outcome will help determine what's ahead for the evangelical movement, including a new attitude toward the rightful role of the church in public life.
In 2005, Time magazine crowned Howard and Roberta Ahmanson the most powerful evangelical financiers in America. As an heir to the assets of Home Savings and Loan, a mortgage and insurance empire, Howard Ahmanson became an influential philanthropist, backing projects in Bible translation, art, and—perhaps most notably—politics. The Ahmansons poured millions of dollars into ballot initiatives and Republican campaigns in California; in 2008, they gave more than $1 million to support Proposition 8, which successfully banned same-sex marriage in the state. The couple back the Discovery Institute, a think tank that promotes intelligent design, and the Claremont Institute, which promotes limited government.
This history makes Howard Ahmanson's recent transformation all the more remarkable: One of the most stalwart backers of religious-right causes has become disenchanted with the GOP and many of its associated institutions.
"The Republican Party is a white-ethnic party. And I don't want to be identified with that," Ahmanson told me recently. He dislikes that white evangelicals are largely supportive of Donald Trump—"Whatever this is, it's not the Gospel," he said—and has stopped giving to groups such as the Family Research Council, an influential advocate for socially conservative causes in Washington. These days, his giving is focused on issues such as land use and zoning in California—connected to his father's work in facilitating home building—and he's funding a project to create a digital illuminated Bible. "God is using this time, and Donald Trump, to purge the church," he told me. "Are you about Christ and the Gospel first, or is your church just a Sunday extension of your political team?"
To say the least, Howard Ahmanson is not representative of American Christian philanthropists of any generation. His religious journey has been distinctive, and he has eclectic taste in causes. Moreover, several of the influential evangelicals who were Ahmanson's peers on Time's 2005 power-player list have redoubled their pursuit of national political influence: Franklin Graham, the evangelist and son of the late Billy Graham, spent his summer on a political speaking tour across California, and Jay Sekulow, who runs the American Center for Law and Justice, is one of Trump's lawyers. Evangelical influence reaches all the way to the White House: Vice President Mike Pence has been a fixture at Christian-right events over the past two years, and political operatives such as Tony Perkins and Ralph Reed are enjoying greater influence under Trump than they've had in years.
Yet the question Ahmanson posed—about the right way for Christians to live out their faith in public, and how to put money behind that vision—is something that a number of people in evangelical philanthropy circles seem to be asking. In large part, Trump's presidency is not the context for this question. Evangelicalism, writ large, is going through intense cultural and structural shifts that are also shaping how wealthy Christians use their money.
The history of evangelical giving is best understood in terms of waves of institution building, said Andy Crouch, a former executive editor of Christianity Today. The first came after World War II, when a group of prominent organizations emerged. For example: World Vision, now one of the largest charities in the United States, was founded in 1950 as a missionary and relief organization. And Campus Crusade for Christ, now known as Cru, was started in 1951 to bring Christianity to college students. These groups, and others like them, are often referred to as parachurch organizations: They further the mission of the church, but aren't necessarily associated with a particular congregation or denomination.
Then came "a time of a lot of stress and ferment," Crouch said—the tide of Christian political activism in the 1970s and '80s. The rise of the so-called religious right "was driven by a lot of anxiety, and a sense of urgency: If we don't act, the country will be taken away from us," he explained. While a lot of money poured into this movement, from both wealthy backers and grassroots supporters, "it was always a smaller proportion of evangelical charitable dollars than you might think," Crouch said.
In the late 1980s and into the '90s, a new organization, the Gathering, was established to help guide wealthy individuals and families who wanted to give to Christian causes—the vast majority of them in nonpolitical ways. Thomas McCallie, one of the founders, said it was created in response to changes in philanthropy: A rising class of evangelicals who had been successful in industry or business had a lot of money they wanted to give away, but there weren't a lot of best practices available for them to draw on. The founders—who met at the Cedars, a gathering place for groups involved in the religious right—drew up an invitation list of industry titans "who had a reputation of being Christian," McCallie said. Then, as now, people were required to give away hundreds of thousands of dollars annually—with some giving significantly more—in order to attend.
In many ways, this is where the popular conception of evangelicalism gets stuck: The movement is still framed in terms of legacy, '50s-era institutions, and the religious right. But some Christian leaders—including and especially a new generation of wealth-holders—are slowly trying to redefine what evangelicalism looks like.
"What Christian philanthropists see now, maybe more than in past generations, is the full landscape of how they can deploy their [money] toward the entirety of what God cares about," said Josh Kwan, who was recently appointed the head of the Gathering—the organization's first new leader in its three-decade run. Several years ago, he helped found Praxis, which supports entrepreneurs and investors who are building for- and non-profit ventures fundamentally shaped by their faith. The organization was created out of a desire to widen the scope of Christianity's social influence. "God cares about more than just the realm of church-planting and politics and changing laws," Kwan said.
One of the clearest shifts among Christian mega-donors is demographic. Gen Xers and early Millennials are just starting to take the reins of legacy family foundations or come into their giving potential, and their sensibilities differ from their parents'. "From a young age, being involved in work that was serving others was something I felt really drawn to," said Robin Bruce, the 35-year-old president of the David Weekley Family Foundation, her family's philanthropic organization. It gave away roughly $7.1 million in 2015, according to tax documents, with roughly $114 million in assets.
"For a long time, especially with Baby Boomers, there was so much wealth created so quickly," Bruce said. "People just started giving where it was comfortable, which was usually local, with causes … they become familiar with … through their local church or network." By contrast, her generation wants giving away money to be part of who they are, she said: The causes they support, whether it's developing health clinics in Africa or mentoring kids in Houston, are central to their sense of identity.
As the shape of wealth in America changes, the shape of evangelical wealth is changing along with it: Some members of a new evangelical donor class made their money in entrepreneurship and are drawn to evidence of innovation, transparency, and accountability in the organizations they support. This "generation is … more concerned with outcomes, with causes, with getting things done," said David Wills, the former head of the National Christian Foundation, which has given more than $10 billion in grants since it was founded in 1982 and is one of the largest donor-advised funds in the country.
This overlaps with another trend in the evangelical-donor class: Over time, it may become more diverse. Kwan described a community of second- and third-generation Asian American Christians in Silicon Valley who "aren't necessarily beholden to the culture wars of the past," he said. The causes that have come to be associated with evangelicalism—issues such as gay marriage, abortion, and religious liberty—don't necessarily resonate outside a specific, white-evangelical milieu. As money shifts, those concerns will shift, too.
All of these trends have shaped the way Christian dollars are spent. In a 2018 study, Giving USA and Indiana University's Lilly Family School of Philanthropy found a sharp decrease in religious giving over the past four decades, declining from well over half of all giving in the late '70s through the early '90s to roughly a third as recently as 2017. This does not necessarily mean evangelicals are giving away less money, said David King, the director of the university's Lake Institute on Faith and Giving. Instead, they may be donating to organizations and causes that aren't explicitly associated with church and parachurch organizations.
This matters, because it suggests that wealthy Christian influencers are reaching outside traditional Christian worlds to have an impact. For leaders who are thinking about their giving in terms of public witness—the way they can fundamentally shape perceptions of the church—this change is huge.
"If you look at the current perception of the American church now, compared to historic witness of the church, there is a gap," said Joshua Crossman, one of the board members of the Pinetops Foundation, a relatively small, new family foundation. He pointed to data from the Pew Research Center showing a sharp decline in the percentage of Americans who believe houses of worship contribute a "great deal" to solving social problems. In 2016, only 38 percent of religiously unaffiliated people said that was the case. "It would behoove all Christians to think about that gap and to figure out what we can do to best be a witness for Christ in our communities," he said.
Above all, this seems to be the greatest shift in how rich evangelicals are thinking about their influence at a moment of juncture for their church: At least some of them seem more interested in living out their faith than in asserting an agenda onto American culture. "One of our deeper hopes … would be that praxis, which means faith in action, would be the reputation of the church over a long term—not in the brand, but in posture," said Dave Blanchard, who helped found Praxis along with Kwan. "That we would be more known for redemptive action than political position."
The kinds of changes that are happening in American evangelicalism right now don't bear out in two-year election cycles. They take root over the course of decades. While Trump has rocked evangelical politics, this era of American evangelical history had already taken shape before he came on the scene: "The church may be moving toward a time of the church in exile rather than the church as the dominant cultural institution," as Kwan put it.
In previous years, evangelicals responded to a sense of declining cultural power with anxiety—that is what yielded the age of "ferment" that Crouch described. But at least among this subset of next-generation evangelical mega-donors, there doesn't seem to be much of a desire to fight the culture. Their hope, instead, is that they will be known by their fruits.