Elizabeth Warren's Early Stroke of Genius
The senator from Massachusetts announced she was running for president on New Year's Eve—and then had the field largely to herself.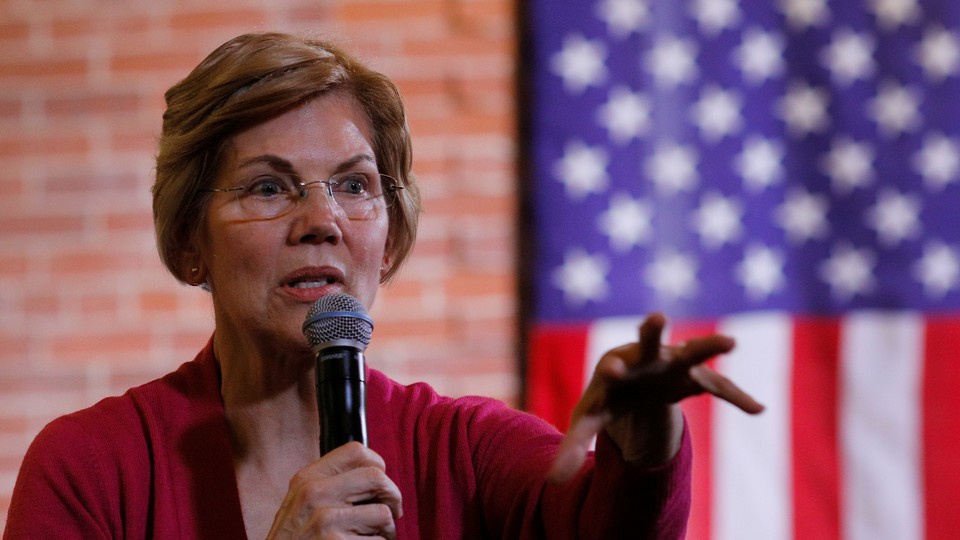 CLAREMONT, N.H.—Elizabeth Warren wants the look on her face to be funny. It's somewhere between stern and confused and disappointed, complete with fists briefly on her hips, like she's playing a mom in a commercial who just found an adorable kid making a mess on the floor.
That's how the senator from Massachusetts responds late Friday when I ask her what she thinks will happen if the rest of the Democratic primary field doesn't follow her lead and put talking about the economy at the center of their campaigns.
"I don't know how anyone could not talk about the economy—and corruption!—and diagnose what's wrong in America today. I just don't know how they could do it," she said, then added with a little snark creeping in to her voice, "Good luck …"
The long photo line was done, and she was still standing on the small platform where she'd just done an hour-long town hall in front of 300 people. They'd come out on a cold night to the (naturally) Common Man restaurant, which offers free crackers and cheese out of big crock jars in front of the dining room and New Hampshire beer on tap. She'd started by laying out her three-part pitch to change Washington, to change the economy, and to change the rules of politics—and not just "little pieces around the margins, little nibbles here," she said, but "big structural change in this country." She'd ended with another thread of her stump speech, placing herself in an American tradition that connects abolition, women's suffrage, and the civil-rights movement: "They organized, they persisted, they made real change."
Warren would like this all to end with her and her husband and the dog she's slowly making famous by attaching a body camera to his leash all moving into the White House. But even if they don't, she has a vision for what she wants her campaign to do in changing the rules for corporations and lobbyists, and in changing how her party works—beginning with how it picks a nominee.
Some campaigns decided that they weren't quite ready to announce; others decided that there were specific advantages to waiting. Between them, there was a lot of snickering at Warren's timing, announcing her exploratory committee early in the morning on New Year's Eve. Most people were on vacation or sleeping in, they said. What a ridiculous time to announce, they said.
But now that the dam of Democrats is about to burst open, the result of Warren's decision is that she had two weeks largely to herself to help define what's ahead for all of them.
"If Democrats are going to win and make real change, we've got to build a movement, and that happens at the grass roots. It doesn't happen from super PACs or self-funding billionaires or corporate money. It happens because we built it one person, one $10 contribution at a time all across this country," she said.
Of course, that's a pitch that describes exactly the campaign she wants to run, and that cuts at the campaigns some of her strongest competitors may try to mount.
Until Kirsten Gillibrand walked out onto Stephen Colbert's set on Tuesday and then flew out to Iowa for the weekend, the only competition for attention among the expected heavyweights was Kamala Harris, who was doing a mostly biography-focused tour to promote the book she obviously wrote as a placeholder for launching her campaign. (Julián Castro announced last weekend and was here in New Hampshire on Wednesday, and John Delaney was campaigning here on Saturday after flying in from Iowa, but so far neither has generated nearly as much steam.)
For Warren, that was two weeks dominating media coverage, two weeks getting crowds of hundreds who probably would have showed up for whoever the first heavyweight to go to Iowa was.
That gave her the first crack at questions that dominated early speculation and coverage of the 2020 Democratic primary race: When was it going to get started already? What were people going to do about taking super-PAC money? What happens when Donald Trump tweets his way in? What happens when people bring up Hillary Clinton? How are people going to handle women running this time around? How open are campaigns going to be to reporters chasing them down for comment on everything?
While the rest of her opponents have been huddling, locking down the final logistics around their launches, Warren has been laying down markers. She was even the first 2020 candidate to be portrayed on Saturday Night Live, played by Kate McKinnon this weekend.
It's early yet. More than a year until the Iowa caucuses. A lot of campaign to go. But Warren's hoping these early moves matter, because she was the one who got to answer first.
Now no candidate can get away with accepting super-PAC cash without seeming to be going against Warren and the standard she's set. No reporter can credibly write anymore about "likability" or echoes of Clinton—even her prospective opponents leapt to Warren's defense when those topics, suffused with suggestions of sexism, became part of the early coverage of her exploratory-committee announcement.
Not just that: As big of a flop as the rollout of her DNA test in October was, and as much as it remains a topic for the chattering class, the issue has been neutralized among her opponents, at least for the moment. Trump greeted her entry into the race with two tweets. One mocked her percentage of Cherokee ancestry, and the other used his racist "Pocahontas" nickname and said that she should have live-streamed "from Bighorn or Wounded Knee instead of her kitchen, with her husband dressed in full Indian garb." They will make it next to impossible for any of her opponents to pick at that controversy, or to employ similarly low-ball politics about her or anyone else, without seeming to play into Trump's hopes of dividing Democrats.
Along the way, Warren's decision not to respond to the cyberbully in chief and to instead pause before dismissing and condemning him has laid out a path that Democratic voters have been hungering for even if Democratic tweeters haven't been.
"I can't stop Donald Trump from hurling the racial insults that he throws out on a regular basis, but what I can do is decide how I'm going to live my life," she said on Friday in New Hampshire to a man who was clearly a fan but also clearly frustrated that she let herself be drawn in by Trump on this.
After years of dodging almost every reporter and interview request that came her way, she's now also trying to make a point about media engagement to her competitors, deliberately appealing to reporters in the most basic, but often most effective, way: talking to them. She only spent a few minutes in front of the microphones that assembled outside her house the day the announcement video went out, but that was enough to make an impression on a press corps battered by Trump's abusive behavior toward the press and by Clinton's dripping disdain and distance during all of 2016.
There's an energy bubbling off Warren's already growing team. They know she's had a good couple of weeks; they like the crowds she's getting; and they like hearing about each set of new staff hires, which have been impressing even skeptics in the political world for the level of skill and experience she's been able to nail down.
That energy is also showing up in the response Warren has been generating more widely. Since she announced her exploratory committee, 50 percent of the people who've donated to her campaign had never donated to her before, according to Warren-campaign aides. Her digital staff, which by last year was already bigger than what most of the other campaigns will be able to assemble for months still, have been going through the data on those new people and comparing their issue concerns with those of the people on their existing list.
The size of that list of emails and phone numbers is a closely kept secret, and her aides declined to say how much it's grown since New Year's. But right after her announcement video went out, they turned the key on a personalized-texting operation. It centered on existing supporters in the early-voting states of Iowa, New Hampshire, South Carolina, and Nevada, and has already begun generating a huge response from donors, sign-ups from volunteers, and feedback on issues.
From climate change to health care to voters' struggles to pay their rent, Warren addresses issues with serious policy analysis. But so far, none of her prescriptions has become as much of a sensation as her tweets about her dog, to the point that some have looked into starting a separate Twitter account just for him.
At the town hall, another man asked how she expected to win, given the size and dynamics of the field. "I'd like to be able to tell you I have this really great strategy worked out," Warren said, leaning in to the aw-shucks, never-thought-she'd-be-here-running-for-president story she tells. "I don't."
After the town hall ended, when her staff brought her over to the waiting reporters for three and a half minutes of questions, she seemed surprised when I asked her how she thought the race was about to change with a much more crowded field.
"I don't know. I just don't have any idea," she said.
Afterward, speaking just the two of us, she insisted that was really the case. Politics? Strategy? Competition? Nah, she insisted.
"I'm in this race because everything I've fought for, for pretty much my whole grown-up life, intersects with this moment in time, and the only thing I can do is be true to that fight," she told me. "I'm explaining why I'm in this fight. I can't be in this fight for any other reason. This is the heart of what's happening in America."