Democratic Operatives Are Building Beto O'Rourke's Campaign Without Him
The Draft Beto movement is raising money for a 2020 presidential run and releasing a campaign-style video.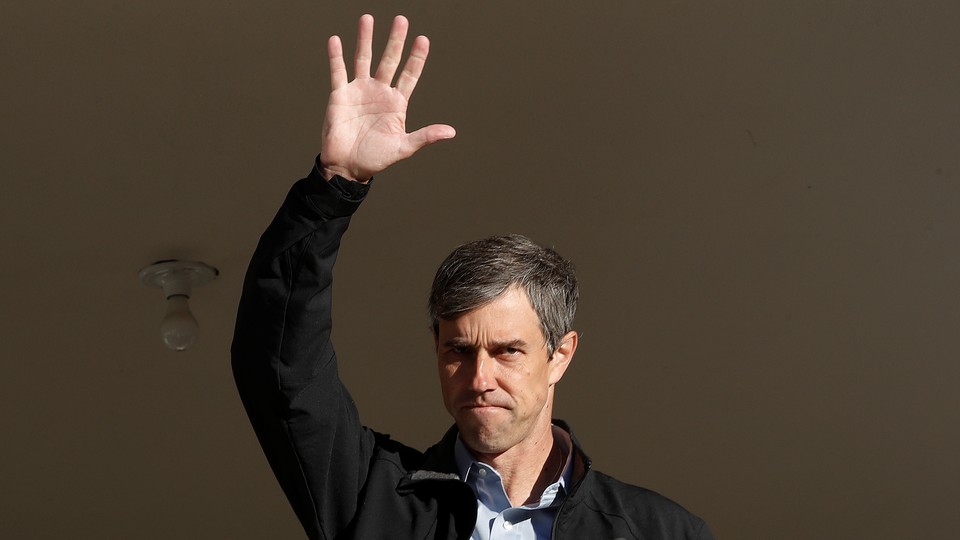 He's running—or they hope he is, and for now at least, they'll settle for a shot of him running in a new web video they're putting out Thursday to try to drum up support and convince Beto O'Rourke that the movement is really there, waiting for him.
Out of a shared office space in Brooklyn and through a network of phone calls and emails, political operatives behind a group called Draft Beto have raised $20,000 from 450 donors and parked the money in an account waiting for the former congressman and Senate candidate from Texas to announce a presidential campaign, probably on Facebook Live, his preferred outlet. The email list is already up to 6,000. House parties have been going on for the past few weeks.
For someone who would get into a presidential race without much buildup or preparation, that could be an important head start.
"What we're doing," said Boyd Brown, a former South Carolina state legislator and active Democrat who's now working with the group, "is essentially building a campaign to hand over to him in the event he runs."
O'Rourke and a small circle of aides and friends have been reaching out to operatives around the country as he gauges whether there really is an appetite for a presidential run that six months ago would have seemed like a ridiculous joke and now seems like one he could enter as a front-runner. Meetings are being brokered, connections being made for people to have what-if conversations about how it might work.
"I think Beto's really having a hard time making a decision, and he's surprised at how hard it is," said Garry Mauro, the last Democrat to be elected statewide in Texas (in 1994, as land commissioner) and someone who's been in touch with O'Rourke recently.
There has been no official contact, but Mauro said O'Rourke is clearly registering how excited people remain about him, and he and his team are aware of Draft Beto. "I don't think for one second that the Draft Beto movement is going unnoticed and doesn't have impact. Of course it does. How could it not?"
O'Rourke didn't respond to a phone call or questions sent by text about what he makes of Draft Beto and whether the group's existence is indeed informing his decision. He's on a road trip, by himself, eating blackberry cobbler and crashing in motels, having conversations, and then posting Bukowski-style essays about what he sees.
"Have been stuck lately. In and out of a funk. My last day of work was January 2nd," he wrote on Medium on Wednesday. "It's been more than twenty years since I was last not working. Maybe if I get moving, on the road, meet people, learn about what's going on where they live, have some adventure, go where I don't know and I'm not known, it'll clear my head, reset, I'll think new thoughts, break out of the loops I've been stuck in."
For someone who became a national sensation speaking off-the-cuff and from the heart, O'Rourke has become an enigma in the past two months. According to several people he's been in contact with, he'll write long, philosophical text messages to people he knows well, but others who reach out pushing him to run get elusive text messages that are noncommittal but friendly and make reference to decisions that lie ahead.
That's more contact than Nate Lerner ever had with O'Rourke—and he isn't talking to him these days. Lerner came up with the concept for Draft Beto in late November, feeling like O'Rourke was the only solution to the country's disenchantment with politics. He was an Obama 2012 reelection-campaign field organizer in Pennsylvania and now runs the Build the Wave PAC, which raises money and support for candidates by sending out mass text messages. He started reaching out to people he knew about Draft Beto, building a network of support and attention. It's gotten big enough already that many people mistake Draft Beto for part of O'Rourke's operation directly and misinterpret every utterance from the group as a window into his thinking.
That, Lerner says, is the point.
"It's more to show him that that energy's there and that it's real, and also to keep him in the news and to keep his supporters engaged, provide an outlet for him," Lerner said.
This week, Draft Beto branched out with an expanded list of experienced operatives around the country, and more are expected to be named in the coming days. With a big Democratic field taking shape for the 2020 election, experienced operatives are in high demand. It's notable that so many are willing to sign on with Draft Beto when they could be taking paying jobs with candidates who are actually running.
"We have stepped out on a limb of our own volition, and people have assumed that we may be crazy, because there are people who are actively putting together teams and we went with the guy who is not," said Brown, the former South Carolina state legislator, who was brought into Draft Beto by his friend Tyler Jones, an operative in the state who just ran Joe Cunningham's campaign to flip a House seat blue in November. Jones himself was brought into the group after Lerner reached out to him.
Brown said that since he signed on with Draft Beto, he's been flooded with messages on LinkedIn and so many emails that he's turned off the notifications on his phone. County parties have invited them to speak on O'Rourke's behalf, as have chapters of College Democrats in the early primary states. Brown said he's also had success persuading some political players and donors to hold off picking a candidate until they see whether O'Rourke runs. "What we're doing is making sure he doesn't lose out on anybody while he takes his time," Brown said.
But Draft Beto wants to attract more operatives, and Lerner is hoping that the video out Thursday will help the cause go viral. The video is set to the synth keyboard intro to The Who's "Baba O'Riley," which O'Rourke famously rocked out to in a campaign video shot while he waited in line at a Whataburger drive-through in Texas after one of his Senate debates with Ted Cruz.
The new video features clips of him decrying what's become of American politics, interspersed with shots of President Donald Trump and the Trump rogues' gallery of Paul Manafort, Carter Page, Michael Cohen, and more. It then shifts to shots of people all over television talking about him before segueing to a gallery of photographs of him in his old punk band or with his children. There's a clip of him saying, "We're going to shine through at this moment of division," and it ends with a collection of inspirational moments from last year's Senate campaign and his concession speech in November, promising that "we will see you out there, down the road."
Since losing, O'Rourke has waffled on his campaign-trail pledge that he wouldn't run for president in 2020 and has made almost all his public statements since in Facebook Live chats, including one last week, after Trump's national television address on the government shutdown, and another from the chair of his dental hygienist.
Draft Beto has been casting about without him. To fit with O'Rourke's no-PAC-money rule from the Senate campaign, the group worked with a campaign-finance lawyer to establish an account that holds the money they've raised. Those funds would be transferred to him within 10 days of his announcing as a candidate.
Draft Beto's organizers don't have access to any of the money themselves for operating costs or salaries, wary that people might otherwise accuse them of trying to make money off his name. Nor do they have talking points from him or his staff. But they have coalesced around his most important public statements and provide them to anyone who reaches out and asks about hosting house parties to drum up support. They also provide tips on how to get coverage in the local press and how attendees should be sure to take pictures to help fan the flames on social media.
"We're not going to be able to provide a ton of guidance, but we're going to be able to get it off the ground," Lerner said.
Michael Trujillo, a Los Angeles–based political consultant who signed on this week, first heard about Draft Beto from a friend who attended his birthday party recently. The friend was Michael Soneff, who'd just signed on as the Nevada and California director for Draft Beto—and who, a few weeks later, called Trujillo and asked him to sign up.
Now Trujillo is spending a little time each day trying to make more connections. He reached out to Mandate Media, a firm that worked with O'Rourke when he was in the House, to see whether they'd sign up to work for Draft Beto. He put in a call to the former chair of the Latino caucus in California, seeing about support.
After working on Hillary Clinton's campaigns, Trujillo said O'Rourke's freshness pulled him in—and that, anyway, he hasn't been impressed enough with any of the other candidates to leave other clients behind for them. He hopes this translates to a job on a campaign, if there is one.
"This is our way of raising our hands and saying through the press, 'If you're ready to jump in, here we are,'" Trujillo said.
"Draft" movements don't have a great track record. For the 2004 election, several websites and small groups urged retired Army General Wesley Clark to join the race, comparing him to Dwight Eisenhower, raising money, and building email lists for him. After about six months, Clark jumped into the race, but his campaign lasted only about six months.
In 2015, a more experienced group of operatives and activists at the group MoveOn.org launched Run Warren Run, trying to persuade Massachusetts Senator Elizabeth Warren to enter the primaries. She never bit, and eventually they gave up, announcing that though "we've illustrated the huge opening that exists for her, we're resting our case and will stop actively trying to draft her into the race."
Meanwhile, a few young, inexperienced campaign workers put together a group called Draft Biden to try to persuade Joe Biden, then vice president, to run. They raised more than $100,000, commissioned meme-ready, Obama-style graphics of Biden driving a car, and became a point of contact for those close to Biden, who they hoped would convince him to run. As it turned out, the people who actually worked on planning a potential Biden campaign didn't even know who the organizers were.
The people working on Draft Beto say they hope to be more like Ready for Hillary, a group founded in January 2013 that built up a massive email list and other resources. It was eventually absorbed by her campaign. But that was with much more time than O'Rourke has right now to decide whether he's going to pull the trigger.
Adam Parkhomenko, the Ready for Hillary founder, said he'd advise the Draft Beto team to raise money for its own operations to pay for signs, stickers, and other materials that it can start handing out at events, at least until O'Rourke has a campaign operation that can produce those. "They could be filling a vacuum at all these events," Parkhomenko said.
Based on his own experiences after Ready for Hillary folded, Parkhomenko also recommended that Draft Beto remain active as a separate entity, even if some of the people involved move over to a campaign staff. "The vast majority of them can be most useful to him on the outside," Parkhomenko said.
Lerner said he and others involved with Draft Beto have been discussing three options for what to do if O'Rourke does launch a campaign: fold, redirect to another cause, or function as a supportive PAC so long as an official campaign doesn't feel that would hurt his brand.
Lerner envisioned a scenario in which O'Rourke waits a few months to decide and then enters as a kind of white knight. That would spark excitement, of course, but would also come at the cost of not putting together an operation while all the other candidates get even more of a head start than they already have.
"Hopefully, we would have established the building blocks for that kind of approach," Lerner said, then paused for a moment. "I'd love for him to announce in February as well."