Democrats Are Newly Emboldened on Gun Control
Exit polls in November showed that 59 percent of voters in House races favored "stricter gun-control measures."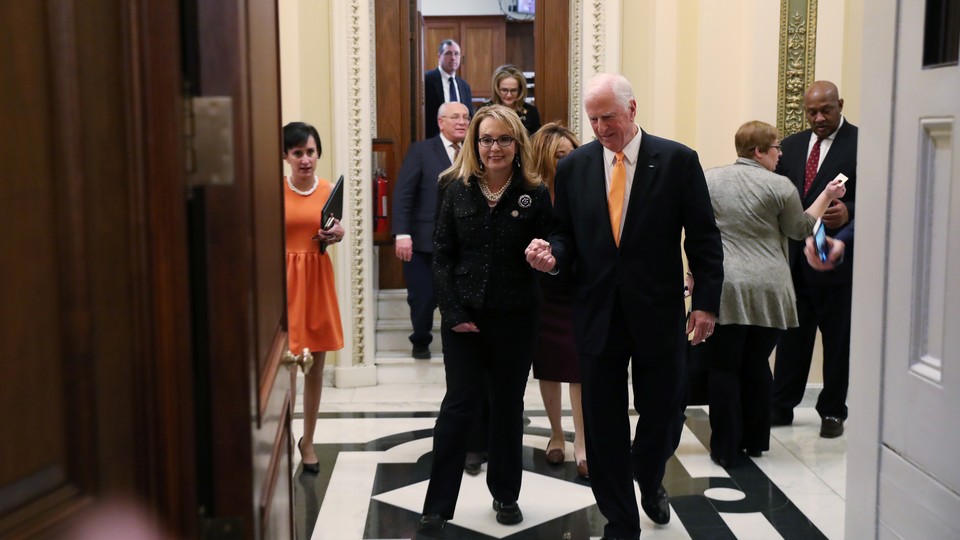 In July 2001, at a meeting in Indianapolis, national Democratic chairman Terry McAuliffe told party brethren that gun control was an issue they were wise to avoid. Nobody in the ballroom challenged him. The consensus at the time was that Democrats had lost the House seven years earlier, when Newt Gingrich's GOP picked up 54 seats, because President Bill Clinton had signed a ban on the sale of assault weapons. And in 2001, many Democrats believed that Al Gore had lost the recent presidential race because southern white males had tagged him as a gun controller.
There was ample evidence that the assault-weapons ban was just one of many factors that fed the Democratic wipeout in 1994, and that Gore's concern about gun violence (which he rarely voiced) did not trigger his defeat; in fact, he won gun-friendly Michigan and Pennsylvania. But Democrats at the turn of the century lived in terror of the NRA. And McAuliffe, in his speech—which I covered as a political reporter—seemed most concerned that his party was alienating gun owners and cultural conservatives. In his words, "We've got to figure this issue out." That was code for "Let's not talk about this issue at all." Which helps to explain why John Kerry, during his 2004 Democratic presidential bid, dressed in duck-hunting garb to convey his respect for the gun ethos and the NRA.
But flash forward to the present day. Democrats have indeed figured the issue out—by morphing from wimps to warriors on gun reform.
Largely overlooked during the government stasis in Washington is the news that House Democrats celebrated their return to power by touting legislation to expand background checks that would cover most firearm purchases—even those made at gun shows and online. The chief sponsor, Representative Mike Thompson of California, was once a recipient of NRA money and a B+ rating from the NRA. But now he's hailing the gun-reform bill as "a decisive step to help save lives," with strong support "from public polling to the ballot box."
The Democrats' championing of gun reform is not currently a first-tier story, but a new massacre would likely make it so (although the shooting deaths Wednesday of five people in a Florida bank has barely registered). Going forward, there will be a vocal counter-narrative to the ritual Republican "thoughts and prayers," and the U.S. Supreme Court's decision this week to take a gun case that could expand Second Amendment rights will further fuel the issue. But this time the Democrats, unlike their forebears in the recent past, will not be firing blanks.
The political winds have decisively shifted. According to the exit polls released last November, 59 percent of the voters in the congressional elections favored "stricter gun-control measures," with only 37 percent in opposition. Of those who supported more gun control, 76 percent voted for House Democratic candidates. The NRA nevertheless insisted in a postelection statement that "gun control was not a decisive factor on election day," but it appears that the ever-mounting national casualties—from Sandy Hook to Parkland to the Pittsburgh synagogue, with 116,000 shooting victims annually, 35,000 deaths annually, and historically high gun violence in schools—have undercut the NRA's power and its purist defense of the Second Amendment.
At ground level, perhaps the strongest electoral evidence was the race for Gingrich's old district in suburban Atlanta. A Democrat won there for the first time since 1979, and the gun issue was pivotal. Lucy McBath, a self-described "mother with a mission," entered elective politics to stand up for gun victims, prompted by the shooting death of her teenage son. Meanwhile, in suburban Denver, Jason Crow, a former Army Ranger, ran a gun-reform campaign and knocked off Mike Coffman, an NRA-backed House incumbent. In red Texas, the Democrat Lizzie Fletcher, armed with a long list of gun-reform proposals, toppled John Culberson, an incumbent with an A rating from the NRA. In Arizona, the Democrat Ann Kirkpatrick—who had earned an A rating from the NRA in 2010—won her House race after stumping for tougher background checks and a new assault-weapons ban.
And in Pennsylvania, four Democratic women won suburban seats after touting gun reform—in districts formerly held by Republican men. Mary Gay Scanlon vowed on her campaign site to "reduce the plague of gun violence," ranking it as a first-tier issue, with education and health care. Madeleine Dean had previously co-founded a gun-safety group, PA SAFE Caucus, and told the press in December, "Women will bring a different perspective to this [House] conversation. We are mothers, we are grandmothers—that's what I am first and foremost when I talk about the issue of gun violence." Susan Wild said during the campaign, "We are living in a country that is like the Wild, Wild West, but with AR-15s. To me, I hesitate to say this, but it's only a matter of time until gun violence comes to the Lehigh Valley … I'm a huge advocate of sensible gun reform … I'm tired of all the talk, and I want action." And Chrissy Houlahan has tweeted that she's "still thinking of the Sandy Hook victims and their families," and she feels a personal connection. Her cousin Peter was one of the first responders.
The climate change is profound, particularly when one recalls what happened 10 years ago, when President Barack Obama's attorney general, Eric Holder, called for a restoration of the assault-weapons ban that Congress allowed to expire in 2004. The NRA quickly flexed its muscle, and 65 cowed House Democrats, many from swing districts, formally protested Holder. When Obama's chief of staff passed the word that Holder should keep his mouth shut about guns, Holder quickly dropped the idea and simply said, "I respect the Second Amendment."
Granted, new House Democratic calls for an assault-weapons ban, stronger background checks, and a lifting of the 23-year ban on federal firearms research will likely die in the Republican Senate. But Democrats—buoyed by their historic gains in suburban House districts, particularly among independents and Republican-leaning women—believe that gun-reform policy is good politics, with the goal of rebuilding the party's brand for 2020.
And Democratic confidence is abetted by the recent rise of the well-funded gun-reform movement helmed by Michael Bloomberg, the former New York City mayor, and Gabby Giffords, the former Arizona congresswoman who was seriously wounded in a mass shooting. Democrats are clearly more comfortable talking reform, knowing that the NRA is getting pushback at the grassroots level. Indeed, the NRA (which has its own problems right now, reportedly with Special Counsel Robert Mueller) and other gun-rights groups were actually outspent by gun-reform groups during the 2018 campaign, by roughly $2.4 million—a heretofore unthinkable development.
A little more than three years ago, the conservative activist Grover Norquist confidently declared, "When [Democrats] start to say … that people with guns are somehow connected to mass murders, that's what turns voters off." Democratic candidates will happily test that proposition in 2020. It's a safe bet that none will wear duck-hunting clothes.