Why Democrats Have Suddenly Started Talking About Impeachment
A BuzzFeed report says President Trump directed Michael Cohen to lie to Congress, prompting the talk of impeachment even before the special counsel finishes his probe.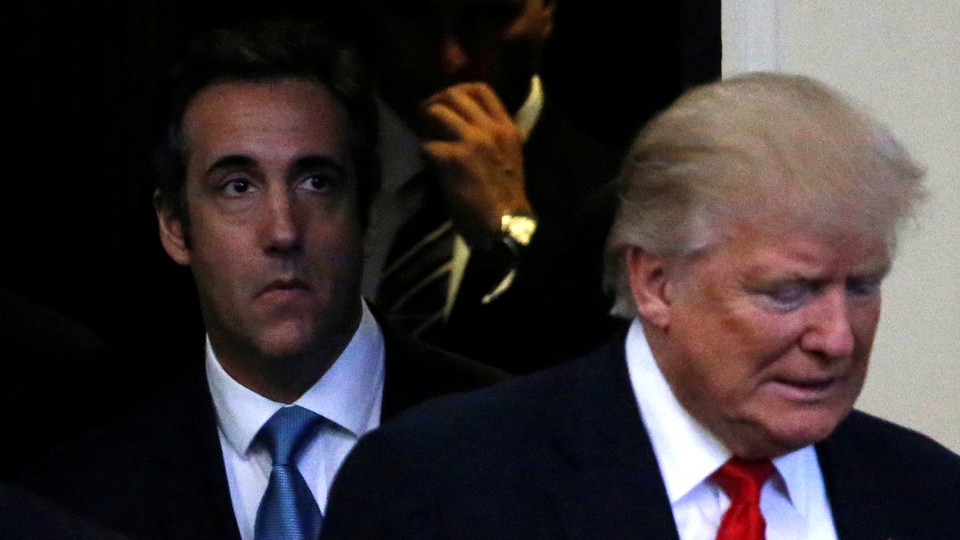 Updated at 9:16 p.m. ET on January 18.
Late Thursday night, BuzzFeed News published a report that, if true, could prove historic: President Donald Trump allegedly directed his then–personal lawyer, Michael Cohen, to lie to Congress about a real-estate deal he was pursuing in Moscow during the 2016 election. Trump immediately denied the story, but for many Democrats, including those who had previously cautioned against impeaching the president before Special Counsel Robert Mueller produces his findings in the Russia investigation, the report was cause to consider proceeding with impeachment before the Russia probe is finished.
After almost two years of near-complete silence, the special counsel's spokesman issued a statement late Friday night calling parts of the story inaccurate. "BuzzFeed's description of specific statements to the special counsel's office, and characterization of documents and testimony obtained by this office, regarding Michael Cohen's congressional testimony are not accurate," said the spokesman, Peter Carr. BuzzFeed News' editor in chief, Ben Smith, stood by the story, saying in a statement: "We stand by our reporting and the sources who informed it, and we urge the Special Counsel to make clear what he's disputing."
Earlier on Friday, however, Democrats made it clear that if it were confirmed that the president asked a witness to lie on his behalf, it would be cause for impeachment.
"If the @BuzzFeed story is true, President Trump must resign or be impeached," Democratic Representative Joaquin Castro, a member of the House Intelligence Committee, wrote on Twitter. Democratic Senator Chris Murphy weighed in, too. "If Mueller does have multiple sources confirming Trump directed Cohen to lie to Congress, then we need to know this ASAP," he wrote. "Mueller shouldn't end his inquiry, but it's about time for him to show Congress his cards before it's too late for us to act."
Democratic Senator Jeff Merkley followed up on Friday morning: "If this report of Trump suborning false testimony is confirmed, then Trump committed a felony and must resign or be impeached," he wrote. "This is obstruction of justice," Democratic Representative David Cicilline, a member of the House Judiciary Committee, told CNN. "If the facts are true, this is suborning perjury. It's an impeachable offense." Representative Jamie Raskin, a member of House leadership, told CNN, "This is a completely impeachable offense, if this report is true." He said Congress would need to hear from "everybody who was involved" in the alleged conspiracy before moving forward with impeachment.
The comments marked a noticeable shift in what had been the standard party line on the possibility of impeachment—that Democrats should wait to act until after Mueller issues his final report. But the attorney-general nominee Bill Barr's refusal to commit to providing Mueller's findings to Congress and to the public, combined with BuzzFeed's implication that the president committed a felony while in office, has given Democrats a new sense of urgency—and they won't necessarily wait to hold Trump accountable, I'm told, if they conclude that he knowingly obstructed justice to hide his involvement in business negotiations with the Kremlin during the election.
"The conduct alleged by BuzzFeed is consistent with other, independent evidence of Donald Trump as candidate instructing others to lie and Donald Trump as president obstructing justice," Democratic Representative Eric Swalwell, who sits on both the House Intelligence and Judiciary Committees, told me. "Evidence is not a conclusion. It must be tested. We should do all we can in Congress with the subpoena power and oversight responsibility to see if Trump acted this way. I don't think anyone will be surprised if it's confirmed."
A White House spokesman, Hogan Gidley, told Fox News on Friday that the allegation was "ridiculous." "I'm not going to give any credence or credibility to Michael Cohen," he said. But Mueller has documentary evidence to support Cohen's claims, according to BuzzFeed, and its reporting is not the first piece of evidence that Trump has sought to obstruct the federal and congressional Russia investigations. The FBI opened an obstruction inquiry after Trump fired former FBI Director James Comey—who was leading the investigation into his campaign at the time he was ousted—and told the Russians that dismissing Comey took "great pressure" off him. Trump's decision to draft a misleading statement on his son's behalf about a meeting with the Russians at the height of the election to obtain dirt on his opponent, Hillary Clinton, has factored into the obstruction probe, too, according to The New York Times.
But the allegation that Trump asked Cohen to lie to Congress, which would be a federal crime, is "the most serious to date," says Democratic Representative Adam Schiff, the chairman of the House Intelligence Committee. "These allegations may prove unfounded, but, if true, they would constitute both the subornation of perjury as well as obstruction of justice," Schiff said in a statement. "Our committee is already working to secure additional witness testimony and documents related to the Trump Tower Moscow deal and other investigative matters. As a counterintelligence concern of the greatest magnitude, and given that these alleged efforts were intended to interfere with our investigation, our Committee is determined to get to the bottom of this and follow the evidence wherever it may lead."
Representative Jerry Nadler, the chairman of the House Judiciary Committee—the panel with the power to begin impeachment proceedings against the president—also promised to "get to the bottom of it." And even Barr, Trump's attorney-general nominee, who wrote a 19-page memo arguing that Mueller's obstruction inquiry is "fatally misconceived," acknowledged in that same memo that obstruction is an impeachable offense. "If a president knowingly destroys or alters evidence, suborns perjury, or induces a witness to change testimony, or commits any act deliberately impairing the integrity of availability of evidence, then he, like anyone else, commits the crime of obstruction," Barr wrote. "Indeed, the acts of obstruction alleged against Presidents Nixon and Clinton in their respective impeachments were all such 'bad acts' involving the impairment of evidence."
The FBI began investigating whether Trump was a Kremlin agent in the chaotic days following Comey's firing in May 2017, opening a counterintelligence probe into the president to determine whether he was acting in Russia's interests rather than in America's, according to the Times. FBI leaders believed that Trump's attempt to obstruct the Russia investigation—he told NBC's Lester Holt that he fired Comey because of "this Russia thing"—was itself a serious national-security issue.
But the first in-court evidence that Trump might have been compromised by Russia while Russian President Vladimir Putin was waging a direct attack on the election didn't come until last November, when Cohen pleaded guilty to lying to Congress about the timing of his negotiations to build a Trump Tower in Moscow—and about how often he discussed the deal with Trump during the campaign. Cohen contacted the Kremlin "asking for assistance in connection with the Moscow Project" in January 2016, and was encouraged by Trump to travel to Moscow to clinch a deal during the election, according to BuzzFeed. He is scheduled to testify before the House Oversight Committee on February 7 before he begins a three-year prison sentence in March.
With Democrats in control of the House, Trump could well be impeached. But removing him from office, which would require an affirmative vote from the Republican-controlled Senate, is another question entirely. A spokesman for Republican Senator Richard Burr, the chairman of the Senate Intelligence Committee, declined to comment on the BuzzFeed report, but indicated that the committee still wants to hear from Cohen on this and other issues. "Mr. Cohen has had, for months now, a request to return to the committee to provide additional closed-door testimony," the spokesman, Ben Khouri, said. "I will let the House members comment about impeachment or not," Democratic Senator Mark Warner, the ranking member of the Senate Intelligence Committee, told reporters on Friday. "Our investigation, which is the only remaining bipartisan investigation, is continuing, to try to get all the facts and get them out to the American public."