Pete Buttigieg Thinks All the 2020 Democrats Are Too Old
The mayor of South Bend, Indiana, has announced his candidacy, promising "intergenerational justice."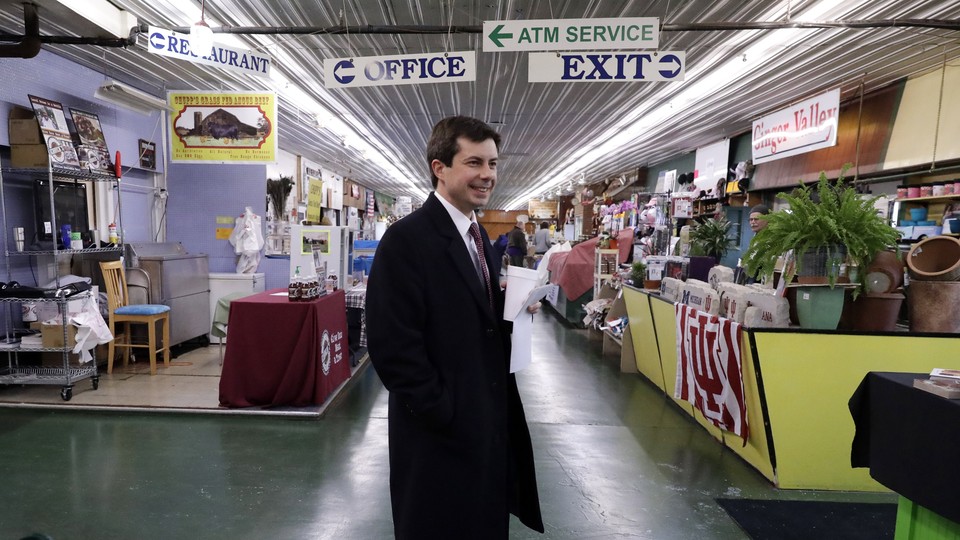 Pete Buttigieg, the Millennial mayor of South Bend, Indiana, will formally launch an exploratory committee on Wednesday and make official the presidential run he's been not-so-subtly edging toward for the past year and a half. His run will be explicitly about a generational contrast not just to the people in power, but to most of the people running in his own party.
"I think a lot about intergenerational justice. Short-term versus long-term helps to explain a lot of the policy disagreements that happen between the parties, and I would argue that in most ways we are the party with more long-term thinking," Buttigieg said, in his first interview officially discussing his run.
Donald Trump and Rudy Giuliani have both said that if there are bad consequences to what they're doing, they'll be dead and gone by then.
Trump is turning 73 in June, and Giuliani will be 75 in May. Buttigieg just turned 37 over the weekend.
"If you're my age or younger, you were in high school when the school shootings became widespread; you're going to be dealing with climate change for most of your adult life in specific, noticeable ways," Buttigieg told me recently over a lunch of tempura fried chicken in New York. "You're going to be dealing with the consequences of what they've done to the debt; you're on track to be the first generation ever to make less than your parents, unless something changes; and your generation furnished most of the troops for the post-9/11 wars. It just gives you a very different relationship to political decision makers and decision making."
For all the growing power of young voters, Buttigieg (it's Maltese, pronounced Boot-uh-judge, and means, roughly, "lord of the poultry") is one of the few candidates under 50, and one of the even fewer under 40.
Other than Representative Tulsi Gabbard of Hawaii, who's also 37 and running for president, and Representative Seth Moulton of Massachusetts, who's continued flirting with a run at 40, Buttigieg is the only candidate in the giant field who's a veteran, who did a tour in Afghanistan as a Navy lieutenant. He will be the first and only openly gay presidential candidate. He is also one of the few midwesterners looking at the race, and might end up as the only one who actually jumps in. And he could be the only mayor to run for president in 2020.
Buttigieg, a Rhodes Scholar, is clearly a very smart guy, so he knows this is a long shot, or maybe a loooong shot, just as he knows that ending up with the nomination or the White House would obliterate whatever conventional wisdom is left in presidential politics.
But he's not the only one who thinks that in a field like this, at a time this wacky, when the race might be defined by impeachment or recession or war, anything could happen. He's been encouraged by Howard Dean, who's in love with his youth, and the Barack Obama strategist David Axelrod, who talks about his distinct profile and potential in this moment.
"Pete has the background and profile to do well in Iowa," said another top Obama-campaign alum, who didn't want to be public about praising any one candidate at this moment. "It will be a very crowded field, but caucus-goers will want to hear his vision for the country and give him a shot. South Bend isn't that different from cities in eastern Iowa, too."
Buttigieg has been making the most of those connections. In November, he got together with the Obama mega-donor Robert Wolf when the University of Notre Dame played Syracuse University at Yankee Stadium, and talked up the story of South Bend and his ambitions for more. "The people who know him better than me feel he's one of those special guys," said Wolf, who concurs.
Buttigieg was back in New York in January to record the audio version of his new book in a studio a few blocks over from where we were eating. Shortest Way Home is his story of quitting the fancy but amorphous consulting job he had, like all of his Harvard friends who'd moved to either coast, and heading back to the small city he grew up in. He ran for Indiana state treasurer at 28 and got crushed. He turned around and ran for mayor the next year, winning in a blowout.
But the book, which will be out in March, is obvious about the greater political mission it's part of—the subtitle is One Mayor's Challenge and a Model for America's Future, the cover photo is a shot of him crossing the street and rolling up his sleeves, and the epigraph is a proverb from Afghanistan, where he served.
My interview with Buttigieg paused briefly so that he could taste the wasabi honey that came with the fried chicken. He dipped his fork in, tasted it. Considered. "That sauce," Buttigieg announced with the intrigued wonderment that's his natural tone, "has a beginning, a middle, and an end. That's fantastic."
He is slight and soft-spoken, and looks even younger than he is. He has thoughts. He has theories. He's spent the past year wowing the intelligentsia at dinner parties and in aggressively courted press coverage. He comes across more as a pretty regular guy than as a rip-roaring politician who'll get people riled up at rallies.
Except crowds take to him. In March, I saw people line up for an hour to shake his hand and take photos after a speech he gave to the Kansas Democratic Party at the Topeka Ramada. In December, a few days after announcing that he wasn't going to run for a third term in City Hall, he was in Des Moines as one of the featured speakers at the holiday party for Progress Iowa, a statewide activist organization.
"The reaction that I saw in the crowd while he was speaking was that he inspired people and got people fired up. He just really connected," said Matt Sinovic, the executive director of Progress Iowa.
Sinovic said he couldn't put his finger on exactly why—maybe it was Buttigieg's youth, or maybe some of what he was saying, but the personal connection was palpable to him among the 300 people in the room, the organization's largest turnout ever.
There's a big difference between that and getting enough votes for the third-place finish in the Iowa caucus that Buttigieg figures he probably needs to prove he's serious.
"Whether it's him or whether it's any of these candidates, all of them are going to want to have that kind of impact," Sinovic said. "He certainly shows that he has that ability. He has that capacity to connect."
Buttigieg doesn't have a tactical plan of the states to prioritize. But he does talk about how "political affinity is so overdetermined" and how he's overcome being unknown and overlooked in his past campaigns by putting himself out there and talking to people. He's basically unknown nationally, but he makes sure to note that "an average member of Congress who's been in office for 12 years has been on national television probably 10 times more than I have. But I have been on television 10 times more than they have, total."
He's run a city, and along the way he's led it through a revival and modernization that has earned him some notice. So now all he has to do is convince people that he'll be a better president than all the candidates with national experience, and a more viable candidate against Trump than all of those with higher name identification and bigger bank accounts.
Buttigieg's answer: "Part of it would be the strength of some ideas that are compelling. And part of it would be demonstrating that at least the experience of a mayor of a struggling city is government experience that in many ways is better preparation than some other, more traditional pathways into the office, right? That's our job: to make that case. It's not an easy one, but I can do it."
The plan is to transmogrify the ins that he's built up with the insiders and turn them into enough recognition to get himself a moment in the sun.
He doesn't have much time.
The first two Democratic debates are in June and July, each a mix of front-runners and long shots. Even the strongest candidates right now view those as moments likely to help define the race, and they'll all be looking for breakout moments. As Buttigieg himself acknowledges, he'll likely have to get to the stage with some momentum and profile already behind him so that he's spending his allotted minutes doing more than correcting the pronunciation of his last name and explaining where South Bend is.
"I'm not like the others. And that's going to be really important. The other thing is, 'How much depth is there to your account of how America works, how politics works, and where the world is going in our lifetime?' " he said. "Mine will have to be an account of how the country and the world works, which makes more sense than what the others are saying."
Being the toast of the Democratic circuit over the past year has meant that Buttigieg hasn't been spending a lot of time in South Bend. He's about to spend even less time there, though his term goes all the way through the end of the year. He'll be traveling to Iowa, New Hampshire, and all the other states presidential candidates rush through, with appearances in Washington, D.C., and meetings with donors in New York, California, and beyond.
That's exactly the kind of far-from-home itinerary that people in Los Angeles and New York have griped about when thinking about their own mayor going national and maybe running for president. Buttigieg says no matter where he is, the people of South Bend will get "a full-service mayor," and that in this, being a small-city mayor is an advantage. But he also argues that he'll help the city by being a walking commercial for South Bend's growth, and by bringing more reporters and supporters in to see him and what he's done there. He's a particular fan of Dyngus Day, the Polish holiday celebrated the Monday after Easter by people spending the day stuffing themselves full of sausages and beer.
"South Bend, in many ways, is our message," he said.
He's also privately talked up the possibility of tapping into a network of gay donors and supporters, in the way Howard Dean did for the 2004 campaign because of his support for civil unions, which at the time put him far out ahead on LGBTQ rights. One of the people Buttigieg has laid that plan out to argued that with gay marriage legal, the energy may have dissipated, historic as his candidacy is.
When I floated that response to Buttigieg, he tensed up. Whoever said that must be from a big city, he figured. (He was right.)
"In one sense, obviously that's correct, but also you can still get fired in Indiana for being gay. There's no rule against that. Not in South Bend, we have an ordinance about this, but in other parts of Indiana it's all the time. We had a kid beaten to death for being gay in South Bend last year. So it's not like the fight's over," Buttigieg said. "Some people may not find this interesting anymore." For others, it "may really mean a lot to them to—especially the older generation, who, you know, spent most of their lives at a time when it was inconceivable you could be out and in office anywhere. They're just so thrilled to live to see this."
Buttigieg didn't come out himself until the spring of 2015, right before the Supreme Court same-sex-marriage decision, when he was already running for his second term. He got married last June at a South Bend church with about 200 guests, including Axelrod, and walked with his new husband from the ceremony to the city's gay-pride parade, adding rainbow beads around their necks to go with their dark-blue wedding suits.
It was another demonstration of how much the world has changed, and how quickly, Buttigieg said. Younger Americans can't get mortgages, because they're drowning in student debt; economic mobility is sputtering because there aren't enough good-paying full-time jobs; bridges are falling apart; debt is mounting because generations of government have kicked the can down the road; and it's the people who haven't been in power who are going to be around when the bill comes due. And when China is trying to collect on that bill.
"Consequences are being exposed now. And I do think there's a way generationally to say, 'Look, we weren't around when you all decided for some reason it was okay to, like, not have D.C. be a state, but we think that's dumb, doesn't make any sense, and nobody can explain to us why that's right, so we're going to change that,' " Buttigieg says.
Very Millennial, I tell him.
"I don't mean that in a disrespectful way. When I took office, I drilled into people, especially people retained from previous administrations, that the one phrase that is just not welcome here is We've always done it this way," Buttigieg said. "Now, if you can explain why we've always done it this way, for some reason why this is better, then of course, but not if We've always done it this way is literally the only reason we've ever done it this way."
Austin Mayor Steve Adler, who's 62 himself, said voters "are going to be looking for people that are real successful problem solvers, and people that have demonstrated skill sets, and he offers a new generational perspective." Adler hails from the home state of two of the younger 2020 Democrats, Julián Castro and Beto O'Rourke, and he said Democrats are lucky to see all of them looking at the race. About Buttigieg, he said, "He's different."
So different that he'd become the first Millennial, the first mayor, the first gay person, the first person from South Bend, and the first virtual unknown to be elected president. That's a lot.
"There's a moment where you need to prove that you're viable," Buttigieg said. "Up to that moment, low expectations can be pretty useful."