Michael Bloomberg's Secret Plans to Take Down Trump
Whether or not he runs for president, the former New York City mayor is building the most powerful political organization in America.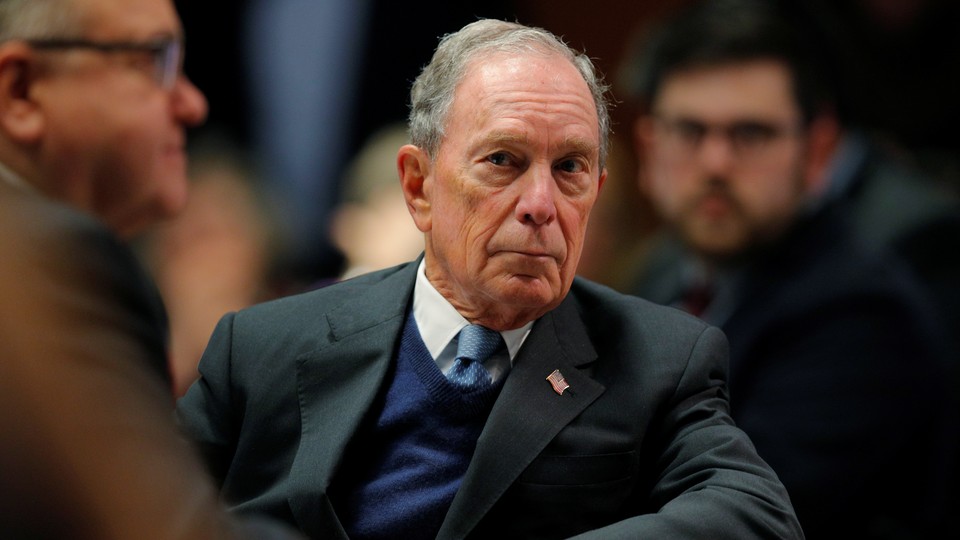 Michael Bloomberg has bigger plans for 2020 than running for president. The billionaire and former New York City mayor has been openly dreaming of the White House for 25 years, and spent huge amounts of time and money four times over the past 10 years trying to figure out a way to get himself there.
But he has hesitations about this race, too. He's not sure there is a realistic space in the Democratic primaries for his centrist record. And he almost certainly won't run if Joe Biden does, members of his team believe.
While no final decision has been made, his aides have been working on a fallback that only a man worth $40 billion can afford. Bloomberg is pouring hundreds of millions of dollars into a data-centric political operation designed to ensure one goal: crush Donald Trump.
Though a budget has not been set, this effort would almost certainly become the biggest and most powerful political organization in the country overnight. It would also be the only real counter to the operation that Trump's campaign put together in 2016, which reached out to millions of voters in a more targeted, under-the-radar way, and helped deliver the election to Trump by shaping voters' thinking for months and then activating them on Election Day.
The goal, as it's been put at points in private meetings: "All the data."
A group of about 10 political and tech consultants meets every Thursday, usually in the converted Upper East Side mansion that is the headquarters of Bloomberg's foundation and private offices. Discussions are led by Bloomberg's top political aides, Kevin Sheekey and Howard Wolfson, as well as Brynne Craig, Hillary Clinton's 2016 deputy field director and, for the past two years, a senior adviser to Bloomberg's Everytown for Gun Safety group. Patti Harris, who was Bloomberg's No. 2 in City Hall and remains a trusted adviser, joins for some of the meetings.
Bloomberg is briefed separately by Sheekey and Wolfson, without the outside consultants.
The meetings have been going on for months, and have been kept a closely guarded secret.
A Bloomberg spokesman, Jason Schechter, declined to comment. The plan was to go public only once Bloomberg makes a final decision on 2020, and once they'd settled on the shape of the new group. But some details appear set, according to people aware of what's being discussed: The team wants to collect data about voters on an unprecedented scale, match those data with consumer data, and then hire a team of engineers to do high-level analyses, looking for new ways to identify potential voters, and new ways to appeal to them. They want to match voter data to consumer information and social-media profiles, and look for new ways to break through.
Then they want to build a new "tech stack," or system for processing and applying the data. The goal, they say internally, is to fundamentally change the core Democratic infrastructure.
All of this work would be done in service of a Bloomberg candidacy, but people involved have come away seeing this as laying the groundwork for an alternative. Presentations are made about how and where the data can be drawn from, and then where they can be housed. The group has looked at potential vendors to help fill gaps.
Throughout, Bloomberg aides have argued that they believe private corporations are much more advanced in data collection than anything that exists in politics, and they need to use that as their model.
Leaders of the discussions have talked about establishing the group as an independent expenditure, rather than a PAC, which would put it in place for one election cycle, with the sole goal of beating Trump. They haven't decided whether they'd want anything to persist past 2020, or what would happen to all the data collected if the group were to disband.
All these data would almost certainly feed a huge investment that could make Bloomberg the biggest political spender on television and online advertising.
Much of the thinking is informed by Bloomberg's experience in the 2018 midterms, when he spent more than $100 million to become the single biggest Democratic donor, winning in 21 of the 24 races where his Independence USA PAC got directly involved.
This may yet turn into an effort on behalf of a Bloomberg campaign, with his advisers carefully watching Biden's moves to help them decide what to do. They doubt there's room in the Democratic field for both. The two have been allies, particularly on gun control, and hold similar positions to the center of many of the more progressive Democrats running. They are also both white men in their mid-70s, seen as figures of the establishment.
Whatever his concerns about Biden, Bloomberg has continued acting and sounding like a presidential candidate—making anti-Trump speeches in Virginia and Washington last week, blasting ex–Starbucks CEO Howard Schultz for flirting with an independent campaign on Monday, heading to New Hampshire to talk policy and eat pizza on Tuesday. But he and his team are carefully assessing the likely hard fit for his record and positions in the 2020 race as it's shaping up.
"They feel like they have a candidate with potential, staff, dollars, strong name ID, and [they] are assessing the road ahead," said one person who's been in touch with Bloomberg's team. "They know they can't wait forever, but also understand that they have more bandwidth to assess the field and opportunities—more than many, if not most."
Some operatives around the country have been asked whether they'd be interested in joining a campaign if he does run, along with others who work for Bloomberg LP, Bloomberg Philanthropies, and the other groups he controls.
Aides have also been in conversations with other political leaders around the country—Sheekey, for example, talked with several mayors, including Louisville, Kentucky, Mayor Greg Fischer while they were in Washington for the U.S. Conference of Mayors meeting last week.
And Bloomberg continues highlighting strengths from his own record on gun control and climate change, as well as taking swings at Elizabeth Warren for her proposal to raise taxes on the ultra-rich, and at other Democrats for supporting free college tuition. He said that he'd release his own version of a Green New Deal soon. Even as other candidates made it official over the past month, Bloomberg has kept up a busier schedule on the trail than any of them, though a lull in events is expected over the next few weeks.
In New Hampshire, he also took more digs at Trump, saying at one point in his speech at Saint Anselm College, "He failed at business, and now I think it's fair to say he is failing at government."
But Bloomberg also looked at running for president in the past three elections—coming so close in 2016 that ads were scripted and a potential running mate selected—only to determine that he couldn't win (though those times he planned to run as an independent, not a Democrat). He has been seriously considering a 2020 run since the summer, infuriated by nearly every decision of Trump's presidency. Serious meetings about the data effort began in the fall.
Meanwhile, Bloomberg's aides have continued asking around for intel on what Biden will do, believing there's likely only room in the race for one of them.
Bloomberg suggested as much himself when the two appeared together at the National Action Network breakfast in Washington on Martin Luther King Jr. Day.
"Whatever the next year brings for Joe and me," Bloomberg said at the breakfast, "I know we'll both keep our eyes on the real prize, which is a Democrat winning the White House in 2020 and getting our country back on track."