Tom Steyer Wants the 2020 Democrats Supporting Impeachment
The billionaire founder of Need to Impeach is planning to turn his 7 million supporters loose on all of the presidential candidates. Their campaigns aren't pleased.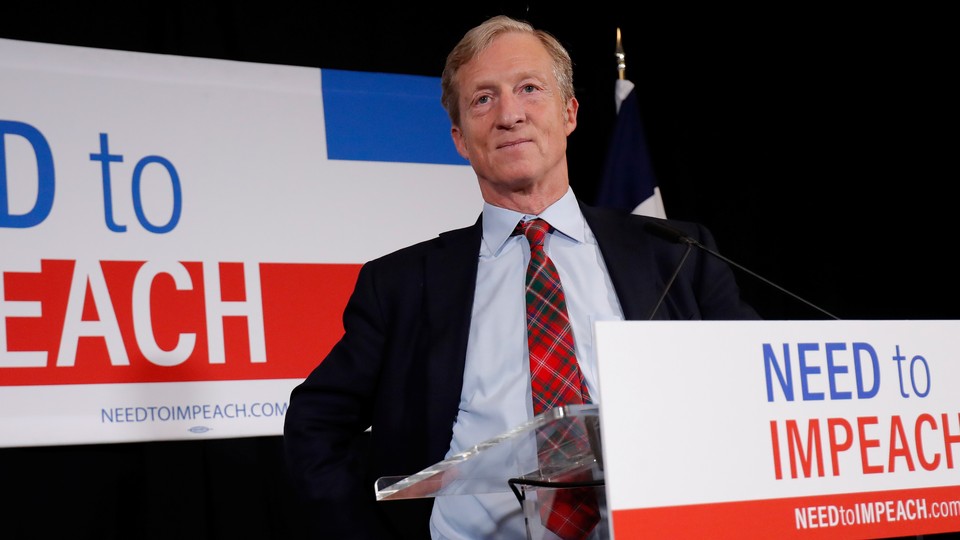 Tom Steyer is launching an effort to make every Democrat campaigning to run against President Donald Trump first come out in support of impeachment. Volunteers from Steyer's organization, Need to Impeach, already showed up at several of Elizabeth Warren's events earlier this month during her first swing through Iowa and tried to pin her down on impeachment.
Soon, Steyer's team will expand that effort as other candidates swing through the early-voting states. More is in the works, as the San Francisco–based billionaire and impeachment activist promises to put in another $40 million, on top of the $50 million he invested last year, to turn the list of 7 million people who've signed his online petition to impeach Trump into a "force on the ground" for pressing the issue.
He's a new, and so far unique, presence in American politics: a man with essentially unlimited resources on a single-minded mission, who believes any gripe he gets is more proof that he's right. To some, Steyer is helping make the conversation around impeachment part of the mainstream. To others, he looks like he's on a long, pointless ego trip.
Steyer and his staff plan to spread out over the country and on TV, canvassing nationwide and showing up at presidential-campaign events, while intensifying online outreach to his list of 7 million supporters, the largest independent political operation in the country. They'll kick off the new phase with an "impeachment summit" scheduled for next week in Washington, D.C.
"If you're against impeachment, don't bother running. Save your time. Drive an Uber," Steyer said while driving to New Hampshire last week for his latest town hall.
Interest appears to be spiking: With 5,000 to 6,000 people signing up each day during the midterms, Steyer aides say that Need to Impeach is averaging 25,000 new names daily.
Though most presidential candidates, and Democratic leaders overall, have been ducking any talk of impeachment, Steyer figures they won't be able to spend the next year at events with die-hard Democrats without getting pressed to take a position.
He wants to do everything he can to speed that along.
Good luck with that, the campaigns say. An adviser to one candidate said Steyer had turned his credibility into "burnt toast," chasing a presidential run that, like previous flirtations with running for governor and Senate in California, ended abruptly, just before he seemed ready to announce.
"Serious people who want to hold this president accountable for his crimes know it has to come after [Special Counsel Robert] Mueller's findings become public," the candidate's adviser said.
It's worse than that, said an adviser to another candidate: "He should save his money on this, because it's misguided and will fail. The American people deserve the facts, and that can only happen after Mueller finishes his report. Anything before that will backfire."
Between the shutdown and its potential to spark a broad economic downturn, every week of new revelations about Trump's investments, and all his erratic moves, Steyer said everything comes back to the same core question: "If you're not willing to deal with the crisis in America, which is Donald Trump, then really, why should you be president?"
The impeachment summit will end with supporters heading to Capitol Hill to deliver a prewritten impeachment resolution, modeled on the one that was written for Richard Nixon, "authorizing and directing the Committee on the Judiciary to investigate whether sufficient grounds exist for the impeachment of Donald John Trump, President of the United States." The full House would have to pass this to start the process.
The Need to Impeach supporters will also bring a set of draft articles of impeachment, with 10 charges, according to a draft document shared with The Atlantic:
Accepting unconstitutional foreign and domestic government emoluments; conspiring to solicit and then conceal illegal foreign assistance for his presidential campaign; making and concealing unlawful secret payments to procure his office; Obstructing the administration of justice; directing law enforcement to investigate and prosecute critics and political adversaries for improper purposes; abusing the pardon power; advocating illegal violence and undermining equal protection of the laws; reckless endangerment by threatening nuclear war; undermining the freedom of the press; cruel and unconstitutional imprisonment of children and their families, misuse of the military for political purposes, and other unlawful conduct and abuses of power at the southern border.
These are meant to be a model and to spur the House into creating its own, though "if the House legislative counsel wants to make some minor tweaks, we'd be okay with that," joked Ron Fein, the legal director of Free Speech for People, a nonpartisan group focused on constitutional issues, which prepared the documents.
Representative Brad Sherman of California, who introduced his own set of articles of impeachment on the first day of the new session of Congress, as Democrats moved into the majority, did not return requests for comment on what he thought about Steyer's effort and the suggested focuses.
But Steyer's focus won't be on just the presidential candidates. After convening 300 top activists and delivering the model resolutions to the House as part of the summit, Need to Impeach plans to launch efforts in about 10 targeted Democratic districts, including those of House Judiciary Chairman Jerry Nadler and House Intelligence Committee Chairman Adam Schiff.
"This summit is basically to say, 'It's not just one guy off in San Francisco giving his opinion; it's millions of people around the country telling you to do your jobs'," said Kevin Mack, the chief strategist for Need to Impeach.
But most presidential candidates, at least for now, remain reluctant to touch the topic of impeachment—including those currently in the House and Senate, who might eventually have a vote in a resolution or subsequent trial.
To date, it's been reporters more than voters who've been asking.
That reached a new froth late last week after a Thursday-night BuzzFeed News report, since called "not accurate" by Mueller's spokesman, alleged that the president had directed his former attorney to lie to Congress about a project in Moscow. In the day between the original publication of the article and the Mueller response, former Housing and Urban Development Secretary Julián Castro said in an interview on The View that "if it's true, then he should be impeached." Castro's spokeswoman did not respond when asked what he'd say given what has come out since. Former Representative John Delaney of Maryland, meanwhile, made a similar statement in New Hampshire on Friday, saying, "If this is confirmed, then the president has obstructed justice, and then it's appropriate for the House to push forward with impeachment."
Others have been more circumspect. Asked after a town hall in Claremont, New Hampshire, on Friday night where she stood on impeachment in light of the BuzzFeed story and other developments, Elizabeth Warren called them "a reminder of the urgency of protecting the Mueller investigation. The Mueller investigation has already produced more than two dozen indictments or guilty pleas. It is absolutely critical that Mueller be able to finish the investigation and make a full public report to the American people. That's how we'll know what's happened."
Asked Monday in Washington, D.C., during her first press conference as a declared candidate whether she believes that Trump has committed impeachable offenses, Kamala Harris noted that being on the Senate Intelligence Committee limits what she can say publicly about investigations that are under way. But she also steered her answer back to how much Mueller has uncovered so far, and said he needs to be able to follow the indictments and evidence wherever it leads him, with "no interference with that process because the American public has a right to know what actually went on, and then we'll make a decision." That decision, she said, might be made by the courts or it might be made by Congress.
That's also how Kirsten Gillibrand answered when asked by a reporter in Iowa on Friday. "We have a bipartisan piece of legislation that needs to be voted on now. I don't know why Senator [Mitch] McConnell is unwilling to let us vote on this legislation, and what it would do is guarantee that Mueller can't be fired for any reason other than cause."
Meanwhile, Steyer said he doesn't regret pulling out of the presidential race himself—though he also wouldn't rule out possibly getting in down the road. "Life is uncertain. You have to make some choices. I thought this was the right thing to do at the right time," he said.
For now, Steyer wants to talk only about how to make others get rid of Trump before 2020. "We are living in his personal hell. He's bringing it to us on a daily basis," he said. "And we've got to get out of it."