Bill Barr Breaks With Trump on the Mueller Probe
The attorney-general nominee attempted to assuage Democrats' fears that he would be beholden to the president, but parts of his testimony still left them unnerved.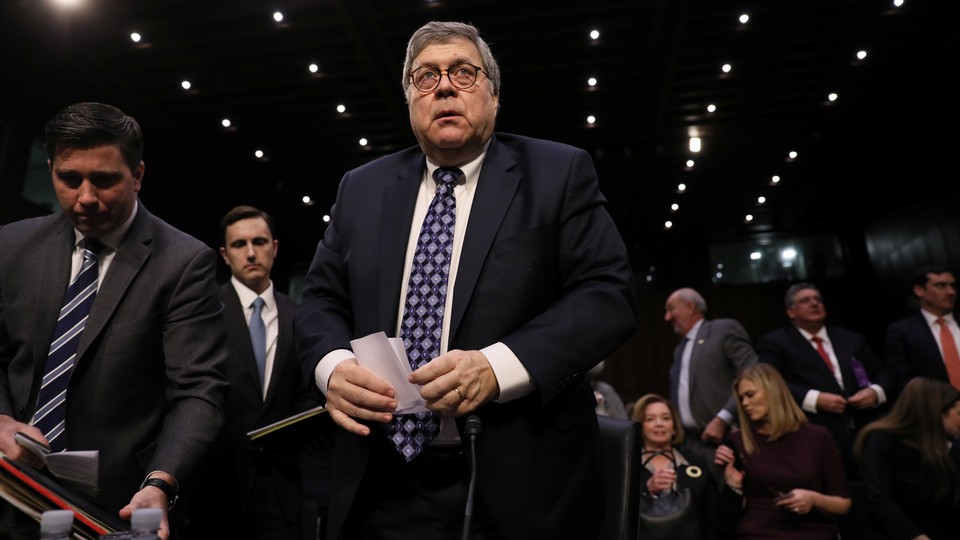 Senate Democrats were undoubtedly heartened to hear from President Donald Trump's attorney-general nominee, Bill Barr, that he does not believe Special Counsel Robert Mueller is on "a witch hunt" and that he would allow Mueller to complete the Russia probe unimpeded.
But they also appeared considerably unnerved as Barr defended a lengthy memo he wrote attacking Mueller's obstruction inquiry as "fatally misconceived," dodged questions about making Mueller's final report public, and refused to commit to recusing himself from the investigation if advised to do so by ethics officials.
As the likely next head of the Justice Department—Republicans have majority control of the Senate, all but ensuring his confirmation—Barr will be at the center of a tug-of-war between Trump, who has sought to exert greater control over the Justice Department and FBI, and Mueller, who is probing a potential conspiracy between the Trump campaign and Russia to win the 2016 election. Barr is set to replace Jeff Sessions, who was ousted in November following a year-long public humiliation campaign led by the president. Trump never forgave Sessions for recusing himself from the Russia investigation early on in his tenure.
Seeking to assuage Democrats' fears that he would be beholden to the president, Barr said he feels he can "truly be independent" and would "not be bullied into doing anything I think is wrong." If Trump directed him to fire Mueller without good cause, he said, then he "would not carry out that instruction."
"I want Special Counsel Mueller to discharge his responsibilities as a federal prosecutor and exercise the judgment that he's expected to exercise under the rules and finish his job," Barr said. He also said he "would not allow" Trump to fire a U.S. Attorney "for the purpose of stopping an investigation," and did not rule out the possibility that Mueller could subpoena Trump. "Well, the question from me would be, What's the predicate?" he said of a potential subpoena. "I don't know what the facts are. And if there was a factual basis for doing it, and I couldn't say that it violated established policies, then I wouldn't interfere."
Nevertheless, Democrats peppered Barr with questions about an unsolicited, 19-page memo he wrote last June, attacking Mueller's obstruction inquiry as "fatally misconceived" and arguing that Mueller should not be allowed to subpoena the president about obstruction. Barr's views on the obstruction inquiry have taken on new significance in light of a new New York Times report that frames that aspect of the investigation as a national-security imperative. The Times provided a new window into how top FBI officials' perception of the Russia investigation shifted after Trump fired former FBI Director James Comey, who was leading the federal probe of his campaign team. "Not only would it be an issue of obstructing an investigation," the FBI's former top lawyer, James Baker, told lawmakers last year. "But the obstruction itself would hurt our ability to figure out what the Russians had done, and that is what would be the threat to national security."
FBI leaders, in other words, felt that Trump's attempt to obstruct the Russia investigation—he told NBC's Lester Holt that he fired Comey because of "this Russia thing"—was itself a serious national-security issue.
Ranking Member Dianne Feinstein asked Barr how he could oversee an investigation that he had attacked while being in the dark about the facts. The memo, she said, raises "serious questions" about Barr's views on executive authority and whether he thinks the president is above the law. Barr replied that the memo was "narrow in scope" and did not make the argument that a president could never obstruct justice. He also defended his decision to write it in the first place: "It's very common for me and other former senior officials to weigh in on matters that they think may be ill advised and may have ramifications down the road," he said. It isn't clear, though, why Barr gave the memo to Trump's personal lawyers, including Jay Sekulow and Emmet Flood, if his intention was to warn prosecutors of the consequences of an obstruction inquiry.
Barr also played down a meeting he had with Trump in June 2017, set up by U.S. Ambassador to Israel David Friedman, about the possibility of "augmenting" Trump's defense team. He turned down the offer and said he didn't hear from Trump again until he was under consideration for the attorney-general job.
Senate Democrats also seemed particularly irked by Barr's claim that he would not necessarily follow ethics officials' advice if they recommended, given his memo and contacts with Trump and his legal team, that he recuse himself from the Mueller investigation.
"Under the regulations, I make the decision, as the head of the agency, as to my own recusal," Barr said when asked by Democratic Senator Pat Leahy whether he would seek and follow their advice on recusal. "So I certainly would consult with them, and at the end of the day, I would make a decision in good faith based on the laws and the facts that are evident at that time." Democratic Senator Kamala Harris doubled down on that response, asking under what circumstances Barr would break with career ethics professionals on the recusal question. "If I disagree with them," Barr replied curtly.
Senate Judiciary Committee Democrats are wary of the precedent set by Acting Attorney General Matthew Whitaker, who disregarded ethics officials' advice that he recuse himself from the Mueller investigation due to his past statements and writings criticizing that probe.
"The poor judgment Mr. Whitaker demonstrated in rejecting the advice of career ethics officials should not establish a precedent for Mr. Barr or any other senior DOJ official to similarly disregard the independent assessment of conflicts of interest by career DOJ staff," they wrote in a letter to the Justice Department's inspector general last week.
Ultimately, though, Democrats seemed most concerned about Barr's unwillingness to commit to making the final Mueller report public. In recent days, Rudy Giuliani, one of Trump's personal lawyers, has said that he hopes Trump's legal team will get to review and "correct" any report before it is given to Congress or made public. Barr shot that down during the hearing—"that will not happen," he said. He would only commit to acting "consistent with regulations and the law" when it comes to public disclosure of the report. He also left the door open to Trump using executive privilege to block the release of some material.
"I don't have a clue as to what would be in the report," Barr said. "In theory, if there was executive-privilege material to which an executive-privilege claim could be made, it might—someone might raise a claim of executive privilege."