Beto O'Rourke Stopped Raising Money Months Ago
If the Texas Democrat and social-media phenom decides to run for president, he won't start with a pile of new cash.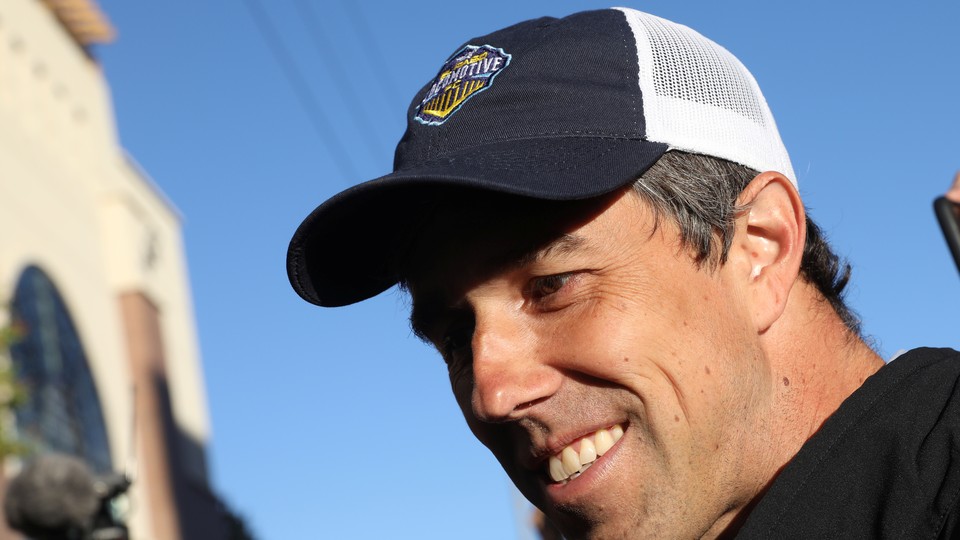 Beto O'Rourke would have two major advantages if he jumps into the presidential race: a virtuoso feel for social media that has made him a viral sensation, and an eye-popping ability to raise massive amounts of money.
Since losing his Senate race against Ted Cruz last fall, he's been showing up on Facebook Live and in Medium posts talking about a road trip he took through the Midwest, recounting haphazard conversations with people at restaurants and roadside museums, clearly looking for a sense of himself and the mood of the country.
But he's stopped fundraising—which means he wouldn't be able to start any campaign with a pile of cash built up over the three months since he started flirting with the idea of a 2020 run.
While there continues to be major interest both among supporters and rival presidential campaigns about what he will do, O'Rourke has struck many people in the political world as notably hesitant to make the leap into the race. Some have wondered if a stealth operation that would surprise people with its strength is under way—but at least in terms of money, the juice is not there.
"Recurring gifts stopped on Election Day. Additionally, our ActBlue account has been turned off since then and, therefore, donations have not continued to come in," said the O'Rourke spokesman Chris Evans, referring to Democrats' favored online-fundraising tool. This has stopped the flow of money from small-dollar donors who made monthly contributions. Some interested donors who've reached out have gotten very fast, personal replies via email, but O'Rourke has told them that he isn't ready to meet.
He has, however, continued to have conversations with key political figures as he tries to decide what to do. Among them: Tom Vilsack, the former two-term governor of Iowa and the Obama-administration agriculture secretary who briefly ran for president himself in the 2008 race. He remains a powerful and in-touch figure in the first caucus state. O'Rourke's former chief of staff, David Wysong, has also been having more operational conversations, as has his former campaign aide Becky Bond.
Because the Senate and the presidency are both federal elections, money O'Rourke raised in his 2018 campaign account could easily be transferred over to a presidential campaign. Elizabeth Warren, Kirsten Gillibrand, Kamala Harris, and others with Senate accounts are expected to take advantage of this. Warren and Gillibrand both raised millions of dollars last year in reelection campaigns that were widely known to be precursors to 2020 runs, and will be able to start their national campaigns with nest eggs to power them through the early stages of the primary.
The announced presidential candidates have so far been largely focused on reaching out to donors, rushing to bank as much as possible ahead of the end of the first quarter, in March, since fundraising numbers will serve as the first early indicator of how the campaigns are being received outside of media coverage. But O'Rourke, if he runs, would also have to compete with his own history: None of the other candidates would dream of raising anywhere near $38 million in a quarter. That's how much O'Rourke raised in the final quarter of his Senate race. Though he would likely be able to instantly activate a huge online-fundraising response if he ran, falling short of his performance in the Senate race could be interpreted as demonstrating less actual enthusiasm among the public than all the chatter about him would suggest.
A campaign-finance filing covering the end of 2018 is due January 31 to the Federal Election Commission. Evans did not respond when asked how much O'Rourke would report having left over in his account. But he said that if any checks have been deposited since O'Rourke's loss, the transfer would have occurred "perhaps if someone mailed a donation in the final week of the campaign and it didn't get processed until the 7th or 8th" of November. "There hasn't been any fundraising since the election," Evans added.
O'Rourke's online engagement has also been dipping. A Facebook Live chat he did in response to President Donald Trump's Oval Office address on immigration earlier this month began with about 2,600 viewers. By the end, after an hour of him walking around his El Paso neighborhood trying to show the calm reality of a border town, and looking at the decorations in friends' homes, and then sitting on a couch and chatting at length, the viewers steadily dropped to just over 1,000.
But interest remains: Wednesday evening at a house party in New Hampshire hosted by the unaffiliated group Draft Beto, participants took turns reading from some of O'Rourke's Medium posts. The Draft Beto group continues to add support, announcing new operatives who signed up in California just last week.