The Atlantic Politics & Policy Daily: No Holds Barred
William Barr, Trump's nominee for attorney general, was grilled by the Senate Judiciary Committee during the first day of his confirmation hearings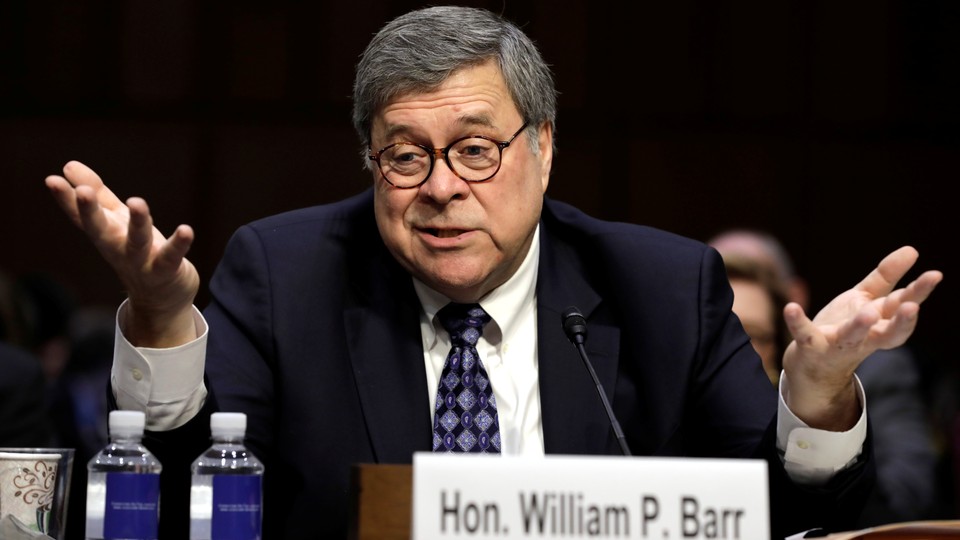 What We're Following Today
It's Tuesday, January 15. A bipartisan meeting of senators on Monday led to no consensus, and a group of Democrats rejected the president's invitation for lunchtime talks today, as the federal government shutdown stretches into its 25th day.
Barr None: On the first day of confirmation hearings for President Donald Trump's nominee for attorney general, Senate Judiciary Democrats grilled William Barr about an unsolicited memo he authored last year calling part of Robert Mueller's probe "fatally misconceived." Barr defended the memo to the committee, but also said that he thinks Mueller is a "straight shooter" who is not on a "witch hunt," and that he would allow the probe to finish.
An Odd Pair: What do Arnold Schwarzenegger and Barack Obama have in common? They're both on the campaign trail for redistricting reform, reports Edward-Isaac Dovere. The year 2020 will bring a presidential election as well as a consequential census, which will be followed by a nationwide redistricting process.
The Burden of Proof: The string of interactions between Trump, his associates, and Russia are now long enough—and strange enough—to warrant an explanation, writes David A. Graham.
Why Now?: Representative Steve King's xenophobia has been in public view for many years. Russell Berman explores why Republicans are just now starting to condemn him.
---
Unthinkable
(Mikhail Klimentyev / AFP / Getty)
Two years into President Trump's first term in office, The Atlantic looks back on the moments that have defined his presidency. Unthinkable is our catalog of 50 incidents, ranked—highly subjectively!—according to both their outlandishness and their importance. At number four: Putin and Trump meeting, without chaperones.
Join the conversation: Which moments from the Trump presidency would you add to this list? Email us at letters@theatlantic.com with the subject line "Unthinkable," and include your full name, city, and state. Or tweet using the hashtag #TrumpUnthinkable.
---
Snapshot
Trump stands in front of a table full of fast food in the State Dining Room of the White House, assembled in preparation for a reception for the Clemson Tigers college football championship team. (Susan Walsh / AP)
---
The Conversation
After a visit to the Lincoln Memorial last week, George Packer wrote that this iteration of the government shutdown was "what the suicide of a great democracy looks like." Atlantic readers responded:
"I found the article very moving until I got toward the end. Then I was disappointed," Mary I. Williams of Elizabethton, Tennessee, wrote. "This nation is dividing and picking sides. I had hoped I was reading a neutral article, one that was based on the concerns of its people. Instead, at the end you seem to blame President Trump for all of the issues and the shutdown. Yes, he made the decision to shut down, but we seem to have two equally stubborn opposing sides."
---
Ideas From The Atlantic
The President's Big-Mac Feast Was an Argument About Government, Political Messaging, and Himself (Megan Garber)
"Taste was not, by all appearances, a top concern when it came to the culinary offerings that the White House presented to visiting members of the Clemson Tigers football team on Monday evening. It was the visuals, instead—items from McDonald's, from Wendy's, from Burger King, from Domino's, carefully piled atop silver platters—that were the point … This was a thoroughly Trumpian strain of spectacle, meant to hijack attention and go viral." → Read on.
The Clemency Process Is Broken. Trump Can Fix It. (Rachel Barkow, Mark Holden, and Mark Osler)
"There are more than 3,000 people left in prison serving mandatory sentences under the old firearm-enhancement law and the three-strikes provision that imposed a life sentence … For clemency to reach those thousands, the country needs a process that fairly, thoroughly, and efficiently evaluates candidates for a commutation (or shortening) of their sentence under the Constitution's pardon power." → Read on.
Why Did the Border Patrol Union Switch Its Position on the Wall? (Conor Friedersdorf)
"As recently as January 4, the website for the Border Patrol union stated, 'The NBPC disagrees with wasting taxpayer money on building fences and walls along the border as a means of curtailing illegal entries into the United States.'" → Read on.
What Kissinger Knew That Pompeo Does Not (Martin Indyk)
"If Pompeo were Kissinger, he would have seized on MBS's momentary defensiveness after the Jamal Khashoggi murder to persuade the prince to change course in Yemen. Instead, Pompeo glad-handed MBS in Riyadh, gave lip service to Yemen in his speech, and left the hard work there to Martin Griffiths, a United Nations envoy." → Read on.
---
What Else We're Reading
◆ Why America's Largest Migrant Youth Detention Center Closed (Tanvi Misra, CityLab)
◆ Alexandria Ocasio-Cortez Has Turned the Corporate Media Into an Agent of Socialist Change (Eric Levitz, New York)
◆ The Left Critique of Bureaucracy (Nathan J. Robinson, Current Affairs)
◆ If Trump Doesn't Act Like He's President, Will the Courts? (Adam J. White, Commentary)
---