The Early States' Stranglehold on the Presidential Primary
Changes in political fundraising and communication have the potential to shake up 2020. But Iowa and New Hampshire will likely be as influential as ever in cutting down the Democratic field.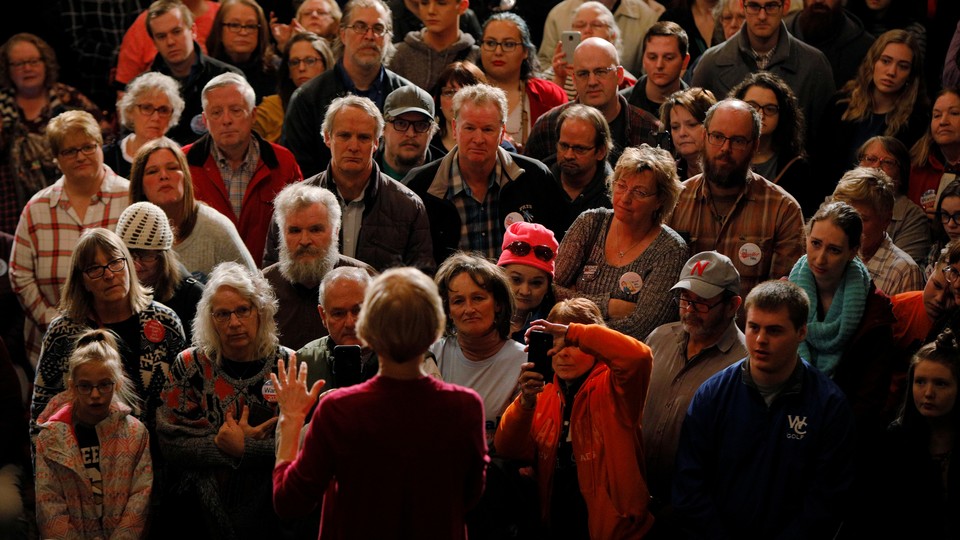 For 2020, Democrats appear virtually certain to assemble the largest and most diverse collection of presidential contenders in the party's history. And with the rise of online fundraising, ever-expanding opportunities to communicate through social media, and the proliferation of political news on the internet and cable television, the candidates, more than ever before, may have an opportunity to make themselves known to voters.
But even with all these new developments, many veteran Democratic strategists believe the window of opportunity for candidates to emerge as viable contenders may be as narrow as ever—and as dependent as always on success in Iowa and New Hampshire, the states that have winnowed the field for generations.
"You have to do something in either Iowa or New Hampshire, or you become irrelevant very quickly," says Tad Devine, a senior strategist on Senator Bernie Sanders's 2016 campaign, whose experience working in presidential primaries dates back to the 1980s. "I still think those voters have the loudest voices."
One of the most unpredictable dynamics of the 2020 Democratic race is how and when this kaleidoscopic field will narrow into a top tier of serious contenders. Given the size and diversity of the assembling gaggle, it's possible that the race will produce a long and inconclusive struggle, with several candidates establishing durable geographic and demographic bases of support that prevent any one from consolidating a clear advantage. But it's also possible—even likely, the strategists say—that the early states will reduce the field as ruthlessly as they have historically, effectively marginalizing almost all the candidates long before any voters in the largest states have had an opportunity to weigh in. If that's right, the vast majority of Democratic voters will still be choosing among a much smaller group determined largely by voters in Iowa and New Hampshire, with South Carolina and, to a lesser extent, Nevada joining in the culling.
Bill Carrick, the longtime Democratic strategist, notes that for years campaign operatives have formulated "theories" about how the new dynamics of fundraising and communications might allow candidates to surmount early losses and emerge later in the process—but have yet to actually demonstrate the case. "We can imagine that there is somebody who could survive not doing well in the first four states," Carrick says. "But we still don't have an example of that."
The Democratic field this year could be the largest since the modern primary system began in 1972. Both that year and in 1976, roughly a dozen Democratic candidates competed for the nomination. In those nominating races, won by George McGovern in 1972 and Jimmy Carter in 1976, six of the Democrats mounted campaigns serious enough to attract at least 500,000 votes nationwide during the primaries. No race since has been nearly as sprawling.
The 2020 field appears highly likely to blow past those mileposts. With this week's announcements by Senator Kamala Harris of California and Mayor Pete Buttigieg of South Bend, Indiana, eight Democratic candidates have taken formal steps toward running. Another dozen—including former Vice President Joe Biden, former Representative Beto O'Rourke, former Governors Terry McAuliffe and John Hickenlooper, and sitting Senators Bernie Sanders, Amy Klobuchar, Cory Booker, and Sherrod Brown—are seriously exploring joining them. Whether measured by gender, race, age, or sexual orientation, this year's field seems certain to offer the widest range of options ever to Democratic voters.
The field's potentially record-breaking number is a function of both short- and long-term dynamics. The most important near-term factor is the perception that Donald Trump, with his approval ratings stuck below 45 percent, is a vulnerable incumbent. Perhaps even more important may be long-term changes that have lowered the barriers to mounting a competitive campaign. Changes in communications technology and fundraising have vastly democratized the process in comparison with earlier decades, when candidates found it difficult to emerge without support from powerful fundraisers, hardheaded party leaders, and influential media voices.
The rise of online fundraising has made it easier for candidates to build a national financial base. Social media allows them to communicate directly to millions of potential voters at very low cost. And the seemingly bottomless appetite for political news on the internet and cable television—including televised debates and town halls—helps candidates build name identification and amplify their message to primary voters, activists, and donors alike.
These same structural changes that have made it easier for candidates to enter the race could disrupt the traditional mechanisms through which they have been forced out of it.
Historically, candidates have been winnowed from the field by three principal forces. The most important has been fundraising, which typically atrophies if they don't perform well early on, especially in Iowa and New Hampshire. "You run out of money, you are out of gas, you can't continue," says the veteran Democratic strategist Joe Trippi, who served as Howard Dean's campaign manager in 2004. "I still think that's the only reason anybody gets out of the race ever."
The second factor has been that candidates who lag in the initial contests invariably receive less media attention. Finally, they face the third winnowing force, what Devine calls a catch-22 among voters: Most voters will only support candidates they believe can win, and they take their cues on who can win from the earliest results. "The vote is too meaningful for them in this primary process," Devine says. "They are not going to waste it on somebody who doesn't have a legitimate chance of winning."
The new dynamics of fundraising and communication may largely neutralize the first two factors. Trippi, who pioneered the use of online fundraising in Dean's campaign, says the huge pool of small donors that Democrats have assembled since the early 2000s could allow even candidates who don't run well in Iowa, New Hampshire, and South Carolina to raise enough money to compete in the larger states that come later. "The harsh fundraising dive that happens to many candidates when they don't perform in Iowa and New Hampshire may not be as steep," he says. And while media attention will likely be curtailed for candidates who finish out of the top tier in Iowa and New Hampshire, the prevalence of televised debates, as well as the ability to communicate directly through social media, will leave them more capacity to reach voters in large numbers than earlier also-rans in the first states.
But the third traditional winnowing factor—the credibility and momentum that flow from performing well in Iowa and New Hampshire—may be undiminished, giving those early states the same power they've had before. Amid all the other changes in the process, Democrats since 1976 have only once selected a nominee who didn't win either the Iowa caucus or the New Hampshire primary, and even that example comes with an asterisk. In 1992, home-state Senator Tom Harkin won Iowa, and Bill Clinton, the eventual nominee, only took second in New Hampshire (though his finish, after battling back from a cascade of scandals, nevertheless gave him momentum as the self-proclaimed "comeback kid").
In every Democratic-nomination contest since 2000, the total number of primaries and caucuses won by candidates who did not first win in Iowa or New Hampshire is just five. In 2004, John Edwards won his home state of North Carolina and neighboring South Carolina, and Howard Dean won his home state of Vermont and Washington, D.C. (which voted that year before Iowa and New Hampshire). When retired General Wesley Clark took Oklahoma in 2004, he became the only Democratic candidate in this century who, after losing Iowa or New Hampshire, won a state in which he didn't have a home-court advantage.
This pattern hasn't always been so inviolate. Through the 1970s and 1980s, and as late as 1992, candidates who didn't win Iowa or New Hampshire—including McGovern in 1972, Jerry Brown in 1976 and 1992, and Jesse Jackson and Al Gore in 1988—won a meaningful number of later primaries, even if McGovern was the only one who captured the nomination. (None of the others even came close.)
The shifting demography of the Democratic coalition could dilute Iowa's and New Hampshire's influence this year. South Carolina, with its large African American population, and Nevada, with its heavy presence of Latinos, may be receptive to different candidates than virtually all-white Iowa and New Hampshire are. Harris, for one, is betting on the former, while former Housing and Urban Development Secretary Julián Castro is banking on the latter. But as many Democratic strategists note, even in 2008, Barack Obama didn't surge in polls among South Carolina's African American voters until he demonstrated his viability by beating Hillary Clinton in Iowa.
Trippi says that while it now may be possible to raise money without strong performances in the early states, it could be impossible to catch a candidate who gains significant momentum from a victory or two there. Even waiting for South Carolina or Nevada—much less the bigger states later on the calendar—exposes candidates to the enormous risk of being passed by someone who emerges from Iowa and New Hampshire on a "rocket ship," as Trippi puts it. "If Beto launches out of Iowa," he says with a laugh, "good luck, Kamala Harris."
Devine's assessment is very similar. Candidates, he believes, might have more capacity than before to survive poor showings in the early states if they have raised enough money before those results come in to buy "meaningful" amounts of television advertising in the larger states that vote on March 3 (including California, Texas, and North Carolina). But even if they can build that financial firewall, he says, they face the risk that voters will quickly discount them if they perform poorly in the first results. "You have to establish with voters that you can win," Devine says flatly.
Carrick likewise believes that even with all the new fundraising and communications opportunities, it will be difficult for more than two candidates to sustain truly competitive campaigns past the first four states. "There is no example of somebody who has gotten a pass to states later in the calendar who hasn't done reasonably well in the first set of states," he says. "Since the beginning of the modern primary process, the early stages of the campaign have allowed for two viable contenders to move forward, but we've never allowed for the third one. And we've had an abundance of theories about how that possibly could happen, but it's always ended up, particularly since 1976, with two people in a face-off."
This could be the contest that finally breaks that pattern, with three or even four candidates from this vast field plausibly competing well into 2020. But it could also be the race that shows that no matter what else changes, the one constant in the presidential nomination process is that Iowa and New Hampshire shape the outcome more than any other state that follows.