The Coming Democratic Drama Over Medicare for All
The policy's supporters could run up against the same problems that Republicans faced in trying to repeal Obamacare.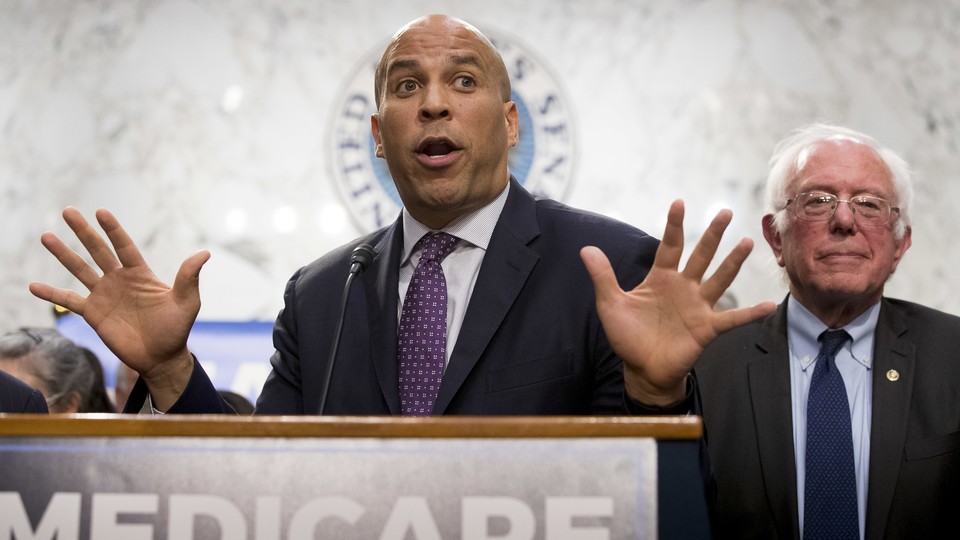 As more Democrats propose moving beyond the Affordable Care Act, the party may be steaming toward the same iceberg that sank Republican efforts to repeal the law.
The GOP's drive to rescind the ACA ran aground in part because it pitted the party's predominant ideology against the material interests of its changing electoral coalition. The growing liberal discussion about replacing the ACA with a government-run, single-payer health-care system—an idea that received a powerful boost when Senator Kamala Harris embraced it at a CNN town hall this week—could present Democrats with a mirror image of the same problem.
During the ACA debate, Republicans failed to recognize the degree to which their traditional priority of minimizing government involvement in health care could threaten the financial security of the older and working-class whites now central to their electoral fortunes. Similarly, Democrats may be underestimating how much of their new coalition—which increasingly relies on well-educated whites in major metropolitan areas—may resist entrusting the health-care system entirely to government control.
Like the debate over taxes, the one over single-payer health care, often described as Medicare for All, could become one of the principal crucibles in which the Democratic Party confronts its changing identity. It will test how a party increasingly drawn toward populist economics confronts the challenge of managing a political coalition growingly reliant on voters who are thriving financially and attracted to the party largely on cultural grounds. The Medicare for All debate sharpens that tension because the college-educated voters moving away from the GOP in the Donald Trump era overwhelmingly receive insurance through their employers—and polls show that the vast majority of them are satisfied with that coverage.
At the CNN town hall, Harris took the most aggressive position in the internal Democratic debate: Government should eliminate private health insurance and fund virtually all health-care services directly. "The idea is that everyone gets access to medical care and you don't have to go through the process of going through an insurance company, having them give you the approval, going through the paperwork, all of the delay that may require," she told the moderator, Jake Tapper. "Let's eliminate all of that. Let's move on."
Those comments drew immediate criticism from Republicans, but Harris hasn't retreated from her support for a single-payer system. In the Senate, she's also endorsed Democratic legislation that would expand health-care coverage more incrementally, such as the bill from Senators Chris Murphy and Jeff Merkley that would create a robust public competitor to private insurance companies on the ACA's exchanges. Lily Adams, the communications director for Harris's campaign, says the senator still supports those ideas. But Adams reaffirmed that, as president, Harris would push as her own priority a Medicare for All plan that eliminates private health insurance (except for the small amount of supplemental coverage permitted in the single-payer legislation from Senator Bernie Sanders that Harris has endorsed).
"She believes we need to get profit making out of health care," Adams said. "That's a better way, a smarter way, to do this. That's her bottom line."
But the idea of trying to completely eliminate private insurance unnerves many veterans of the health-care fights under former Presidents Bill Clinton and Barack Obama. After the ACA's passage, Obama—who had famously promised that those who like their insurance plan could keep it—faced a huge backlash after only a few hundred thousand people in the individual insurance market were forced to give up coverage that did not meet the law's standards. Ending private insurance would affect the 181 million Americans who today receive health insurance through their employers, according to census figures.
The share of Americans who receive coverage through work is significant: about two-thirds of adults with a high-school diploma, three-fourths of those with a two-year college degree, 87 percent of those with a four-year degree, and 90 percent of those with graduate education. Not surprisingly, that means extremely large percentages of adults receive health coverage through their employers in many of the affluent suburban districts that powered the Democratic takeover of the House last November.
More than four-fifths of the population receives employer-provided coverage in a wide range of districts that Democrats flipped from the GOP in 2018, including suburban seats in Northern Virginia and New Jersey, and seats in Chicago, Minneapolis, and Detroit, according to census results. And roughly three-fourths receive health insurance through their employers in districts that Democrats won elsewhere: in northeast Iowa; Irvine, California; Salt Lake City; Virginia Beach, Virginia; and the suburbs of Richmond, Virginia; Atlanta; Des Moines; Kansas City, Kansas; and San Diego. By contrast, in the much more working-class New York City district won by the liberal champion Alexandria Ocasio-Cortez, just 56 percent of the residents have employer-provided insurance.
Very few of the winners in these suburban seats endorsed the single-payer idea, as the journalist Libby Watson has tabulated. (The law professor Katie Porter, who beat Republican Mimi Walters for the California seat centered on Irvine, was one of the rare exceptions.) And many longtime Democratic health-care experts are dubious that most of these suburban members would ever vote to eliminate private health coverage for their constituents—especially when the options of allowing younger adults to buy into Medicare or creating a more robust public option could also substantially expand coverage without provoking as much of a potential backlash.
The Center for American Progress, a leading liberal think tank, implicitly reflected that perspective last year when it issued a universal coverage plan that allowed those with private insurance to maintain it if they preferred. "We did that because we want to have a system where everyone in America has health insurance, but you don't face the legitimate concern that people have about losing coverage that may even be better than the Medicare plan that's available," said Neera Tanden, the president and CEO of CAP, who advised Obama during the ACA battle and who earlier served as Hillary Clinton's chief policy adviser. "At the end of the day, we thought choice for individuals was really important if you have employer-provided insurance."
Democrats recognize that they can't seriously advance any universal-coverage plan unless and until they recapture the White House. But it's clear that single-payer advocates are gathering more momentum than ever before in the party. In addition to Harris, Democratic Senators Elizabeth Warren, Kirsten Gillibrand, and Cory Booker—all either announced or likely 2020 presidential candidates—have endorsed the legislation from Sanders (a possible candidate himself) to eliminate private health insurance and replace it with a single government-run system. Representative Pramila Jayapal of Washington is expected to introduce similar legislation in the House soon, with co-sponsorship from about half of the Democratic caucus.
The single-payer idea is also attracting increasing interest from organized labor, which historically has been ambivalent about proposals that would eliminate its role in delivering health-care benefits for its members. "There's lots of discussion about this," says one high-ranking union official who spoke on the condition of anonymity to discuss internal deliberations. "The only real resistance is from Building Trades and Teamsters who administer big health-care plans and have mixed feelings. They're torn between cost increases and a legacy sense of the importance of being the source of member insurance. If Dems move Medicare for All, unions will likely push it strongly." Groups that advocate for single payer are mobilizing to build awareness of the policy: The National Nurses United union, one of the leading supporters, is organizing dozens of events across the country in early February.
Polling consistently shows that Democratic voters' initial reaction is to support these ideas. In the latest monthly health-care tracking poll by the nonpartisan Kaiser Family Foundation, four-fifths of Democrats (and 56 percent of all adults) said they supported "a national health plan, sometimes called Medicare-for-All, in which all Americans would get their insurance from a single government plan."
But the same survey found much more hesitation, even among Democrats, when respondents were told that such a plan could mean higher taxes, longer waits for treatment, and the elimination of private insurance companies. Support among the general public in the Kaiser poll plummeted to just 37 percent when respondents were told it could eliminate private insurance companies. Support sagged to the same level when respondents were told it could require most Americans to pay more in taxes. Only one-fourth still backed the idea if it meant longer wait times for care.
Most self-identified Democrats still supported the proposal when told it would eliminate private health insurance or require higher taxes, according to more detailed results Kaiser provided to me. But both possibilities roughly doubled opposition among Democrats, to about two in five. And a substantial majority of Democrats, nearly two-thirds, said they would oppose single payer if it meant longer waits.
The shifts were even more dramatic among the broader population of college-educated whites, whom Democrats increasingly rely on in elections, and the working-class whites whom the party is hoping to pry back from Trump. Support from both groups dropped to only 34 percent when respondents were told private insurance could be eliminated, and to about one in four when they were told single payer could mean longer waits. Higher taxes were less of a deal breaker for college-educated whites: 45 percent of them (compared with only about one-third of non-college-educated whites) said they would still support single payer if it required more taxes on most Americans, as analysts have estimated it would. (Supporters argue that while the system shifts costs from employers and consumers to the government, it would increase efficiency by squeezing out insurance companies and reduce the nation's overall level of spending on health care.)
The Democratic pollster Geoff Garin, who has polled extensively on health care, says the Kaiser results—and the findings of his own recent survey for the advocacy group Protect Our Care—underscore the turbulence in the health-care debate, especially after the defeat of GOP efforts to repeal the ACA. "I don't think there is a settled opinion on this," Garin says, referring to the single-payer idea. "And there are definitely serious questions that the supporters of Medicare for All will have to navigate. But I think there is an openness to significant change in the way people receive their health-insurance coverage."
In the near term, Garin says, Democrats don't need to resolve these questions: His survey, like the Kaiser poll, found that voters, including Democratic partisans, want Congress to focus this year mostly on defending and improving the ACA—for instance, by maintaining patient protections and doing a better job of controlling costs.
"People want a conversation about universal coverage," says Leslie Dach, the founder and chair of Protect Our Care. "But this is a complicated issue. Do people fully grasp what it means for their employer insurance, what [it means] for other aspects of the health-care system? At the same time, there's a critical agenda that is in front of the Congress today that is straightforward and hugely meaningful."
But the longer-term debate over the party's direction on health care, sharpened by Harris's declaration on Monday, looms as a probable centerpiece of the party's 2020 nominating contest. Several likely candidates, including Ohio Senator Sherrod Brown and former New York City Mayor Michael Bloomberg, have already signaled they will propose more incremental changes to expand coverage. In Garin's survey for Protect Our Care, Democrats split exactly in half on whether they want the party to pursue reforms that build on the existing employer-based system or replace it entirely with a single-payer structure.
How that debate sorts out—through the 2020 primaries and beyond—will gauge the new balance of power among Democrats, as the party still envisions itself as the voice of the struggling, but represents a growing number of the comfortable.