'Wisconsin Has Never Seen Anything Like This'
Republicans carried out their plan to strip authority from the incoming Democratic governor, and what was remarkable was how little disagreement there was about why they did it.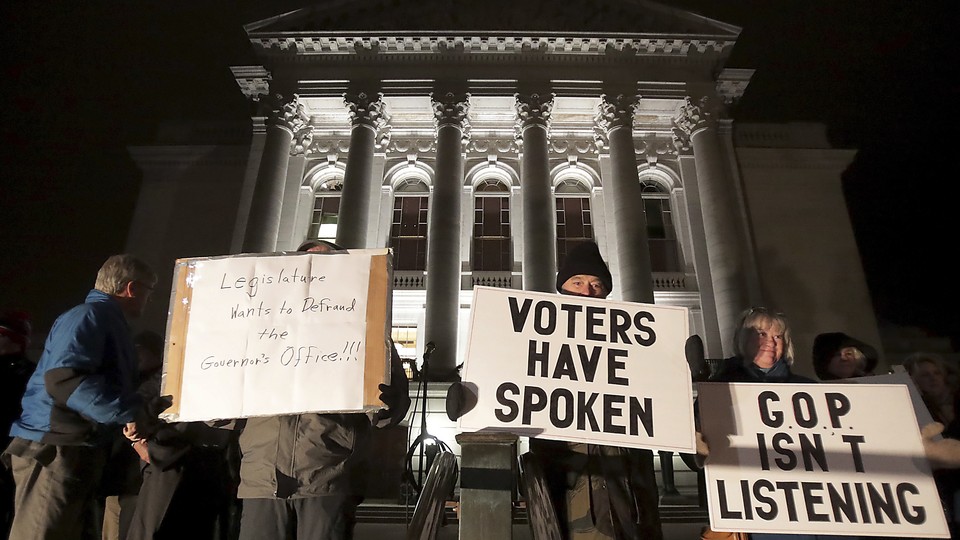 In the early-morning hours Wednesday, Republicans in control of the Wisconsin legislature carried out their plan to neuter the Democrats whom the state's voters elected to lead them scarcely a month ago.
In party-line votes, Republicans passed legislation to limit the ability of the incoming governor, Tony Evers, and attorney general, Josh Kaul, to deliver on their campaign promises to protect the Affordable Care Act, expand infrastructure spending, and overhaul the state's economic-development agency. They dramatically scaled back early voting in Wisconsin, and across a range of areas, they shifted power from the state's executive branch—to be administered by Democrats come January—back to the GOP-controlled legislature.
The Republicans did all this in an extraordinary lame-duck session over the protests of demonstrators who swarmed the state capitol in Madison and over the complaints of Democrats astonished that a defeated political party would act so brazenly in apparent defiance of the verdict that voters had just rendered.
Yet what was equally remarkable about the legislation that squeaked through the legislature in Wisconsin was how little disagreement there was about what, exactly, it represented. Democrats declared it a naked power grab—a charge the Republicans barely disputed.
They said plainly that they were worried that Evers would have too much power to undo conservative policies enacted over the past eight years under Governor Scott Walker, the Republican whose bid for a third term was rejected. So, the Republicans explained, they needed to take back some of that power before Evers had a chance to use it. "We do not believe that any one individual should have the opportunity to come in and with the stroke of a pen eliminate laws that have been passed by our legislature and found constitutional by our courts," said Robin Vos, the speaker of the state assembly, in a briefing with reporters before an all-night session of the legislature.
"We did have an election," Vos continued. "Whether everyone here likes it, I respect the fact that Tony Evers is the governor and is going to be starting on January 7. But he's not the governor today, and that's why we are going to make sure that the powers of each branch are as equal as they can be."
"The system," Vos said, "right now is heavily weighted toward the executive."
When Walker was governor, the imbalance of power was not a problem, Republicans readily admitted. "We trusted Scott Walker," state Senate Majority Leader Scott Fitzgerald told a conservative radio host Monday. "We don't trust Tony Evers right now in a lot of areas."
Vos said Republicans, including Walker, had been discussing some of their proposals as far back as the spring. But the idea of stripping so much authority from the governor and the attorney general was not litigated during the election, Democratic State Senator Jon Erpenbach said. "There was no talk of this happening until now," he told me in an interview.
What was litigated during the campaign were many of the pledges that Evers and Kaul made that, because of the legislature's moves on Wednesday, they may now be powerless to carry out. Both had said they would withdraw Wisconsin from a lawsuit challenging the Affordable Care Act's prohibition on insurer discrimination against people with preexisting conditions. If Walker signs the new law, they would have to get the legislature's approval first. Evers also vowed to disband the Wisconsin Economic Development Corporation, the entity that signed and oversees the state's much-criticized contract with FoxConn, the Taiwanese electronics manufacturer. Under a bill passed Wednesday, the legislature would assume temporary power over the WEDC, and Evers would lose the ability to appoint its leader.
The GOP's response to the Democratic victories in Wisconsin appears to be modeled on what Republicans in North Carolina did to weaken the Democrat Roy Cooper after he won the governorship in 2016. And in Michigan, Republican legislators are considering similar legislation to shift power away from the incoming Democratic governor, Gretchen Whitmer, who will succeed Republican Rick Snyder next month.
Facing opposition in their own ranks, Wisconsin Republicans did scale back or drop some of the proposals included in a 141-page plan they released late Friday. The package approved on Wednesday cleared the state Senate by just a single vote, 17–16, after one Republican sided with Democrats against the measure. One scuttled idea would have changed the date of the presidential primary in 2020 to help the reelection bid of a conservative state-supreme-court justice. While the final bill reduced early voting to two weeks from as many as six, the GOP scrapped changes that would have limited the number of hours and days it could be available within that shorter window. And the legislature did not weaken the attorney general's office as much as Republicans initially proposed.
But the final legislation approved on Wednesday remained a far-reaching bill that will undercut Evers in significant ways. "Wisconsin has never seen anything like this," Evers said in a statement after the vote. "Power-hungry politicians rushed through sweeping changes to our laws to expand their own power and override the will of the people of Wisconsin who asked for change on November 6."
The bills now go to Walker, who has indicated he will sign them. "Hopefully, the governor finds it in his heart to veto some of this stuff, if not all of it," Erpenbach said. "He's got a legacy he needs to worry about, and I tend to believe this is what he'll be known for."
"That," he added, "would be such a stain on his eight years in office."
Assuming Walker signs the bills, the next fight might occur in the courts, as Democrats have said they will consider lawsuits challenging the constitutionality of the legislature's actions. A previous attempt to limit early voting was thrown out, and advocacy groups in Wisconsin were already discussing litigation on Wednesday.
Vos said he welcomed the possible challenges, expressing confidence in the legitimacy of the legislature's actions. He and Fitzgerald, the Senate majority leader, were also betting that their GOP members—many of whom hail from gerrymandered legislative districts—can defend their bills when they next face the voters themselves. "I don't think anyone's losing their seat over this," lamented Erpenbach. "But when they get home, they'll start to notice people looking away when they walk in the room."
Indeed, Republicans may have rushed through their legislation after a debate that occurred in the dark of night, but they were surprisingly forthcoming about why they were doing it. Without the new limits on Evers's power, Vos said, according to Wisconsin Public Radio, "we are going to have a very liberal governor who is going to enact policies that are in direct contrast to what many of us believe in."
That liberal governor, and those liberal policies, may be what Wisconsin voters wanted when they elected Evers last month. But after Republicans in the legislature insisted on having their say on Wednesday, that agenda may not be what the voters actually get.