The White House Has No Plan for Confronting the Mueller Report
Nervous aides expect the president to lead the way, tweet up a storm—and, Rudy Giuliani promises, fight back.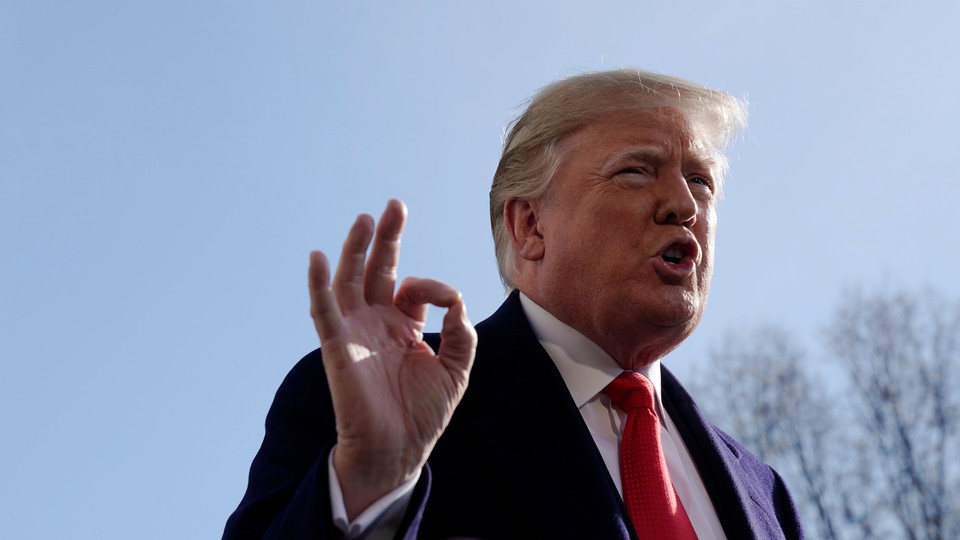 Nobody knows how the White House plans to respond to the Mueller report—including the people who work at the White House.
The special counsel is reportedly nearing the end of his probe. Sentencing memos are dropping. Plea deals are being struck. The president's legal team expects a response to his written interview "soon."
When the report will hit is the question. That it will hit, and that it will contain at least some new problems for President Donald Trump and those close to him—especially as House Democrats take the majority—seem certain.
But while most organizations, political or otherwise, might take the time to prepare for this kind of slow-moving train, the Trump White House is all but winging it. According to a half-dozen current and former White House officials, the administration has no plans in place for responding to the special counsel's findings—save for expecting a Twitter spree.
The one thing they do know, Rudy Giuliani told me, is that they're going to fight.
If Robert Mueller's team tries to subpoena the president, "we're ready to resist that," Trump's attorney said.
Giuliani said it's been difficult in the past few months to even consider drafting response plans, or devote time to the "counter-report" he claimed they were working on this summer as he and Trump confronted Mueller's written questions about the 2016 campaign.
"Answering those questions was a nightmare," he told me. "It took him about three weeks to do what would normally take two days."
There are numerous other reasons no response plan has been produced, White House sources said, including the futility of crafting a strategy that Trump will likely ignore anyway. There have also been few frank conversations within the White House about the potential costs of Mueller's findings, which could include impeachment of the president or the incrimination of his inner circle. Those close to Trump have either doubled down on the "witch hunt" narrative, they said—refusing to entertain the possibility of wrongdoing—or decided to focus on other issues entirely. Former Press Secretary Sean Spicer has even taken to treating the probe like a game: On Wednesday he tweeted a (quickly deleted) link where followers could place bets on "how many tweets containing #mueller" the president will send "before the investigation is up."
Attempting to plan "would mean you would have to have an honest conversation about what might be coming," a former senior White House official, who requested anonymity to speak freely, told me.
The lack of planning for potential outcomes of one of the highest-stakes investigations of the past two years illuminates many of the key operating principles of this White House—a follow-the-leader approach, a frequent resort to denial, and a staff constantly in flux. Many of those tactics have allowed Trump to maintain favor with his base, but Mueller's report will represent the biggest test yet of how they fare against legal, rather than political, challenges. And that test was likely sharpened on Tuesday night, when Mueller revealed in a court filing that former National-Security Adviser Michael Flynn had cooperated extensively with his investigation.
It's not that White House officials are altogether unwilling to confront the topic. But many current and former White House staffers I spoke to stressed the problem that has plagued them since the beginning of Trump's presidency: making plans and sticking to them when the "communicator in chief" will, inevitably, prefer his own approach.
"We would always put together plans with the knowledge that he wouldn't use them or they'd go off the rails," one recently departed official told me. "And at this point, with Mueller, they've decided they're not even going to do that."
"It's like, 'Jesus, take the wheel,'" the source added, "but scarier."
Nevertheless, the thinking is that it's "safer to follow POTUS's lead," the former senior official said. This has allowed staffers to "focus on other pressing matters," the official allowed, "but leaves you naked when it comes to the final scene of this play."
Giuliani initially pushed back on the prediction that Trump would take center stage after the report drops. "I don't think following his lead is the right thing. He's the client," he told me. "The more controlled a person is, the more intelligent they are, the more they can make the decision. But he's just like every other client. He's not more … you know, controlled than any other client. In fact, he's a little less."
For Giuliani, letting Trump guide the response post-report may not be ideal, but "I don't think there's anyone in the world that can stop Donald Trump from tweeting," he acknowledged. "I've tried."
The dearth of communication about the probe has left the president's top lieutenants on Capitol Hill anxious about the fallout, according to multiple congressional GOP sources. "We haven't heard from the White House at all on this. You'd think there'd be more of an effort to have a coordinated response," one senior Republican aide, who spoke on the condition of anonymity so as not to damage the aide's relationship with the White House, told me. "Members want to help, but can't if they're not getting any information."
There was the sheer problem of finding time—Giuliani recalled one instance when they were working on the list and Chief of Staff John Kelly broke in to tell Trump about the migrant caravan, which grabbed the president's attention immediately. And there was the specificity of the questions themselves: "He's got a great memory," Giuliani said. "However, basically we were answering questions about 2016, the busiest year of his life. It's a real job to remember."
The president has also devoted much of his energy to following Paul Manafort's case rather than prepping for the full report. "The thing that upsets POTUS the most is the treatment of Manafort," Giuliani said. When Trump learned that the former campaign chairman was in solitary confinement, Giuliani said, "he said to me, 'Don't they realize we're America?'"
Throughout it all, West Wing officials have been hamstrung by a vacant White House counsel's office. In October, Trump appointed Pat Cipollone to replace Don McGahn for the top post. But according to Politico, a "longer-than-expected security clearance process" has prevented Cipollone from taking over and building out his team over the past two months, a frustrating situation as the Mueller report nears and House Democrats prepare their oversight demands. Yet even with McGahn, who focused the bulk of his tenure on shuttling through Trump's judicial picks, prepping for the Mueller probe was not top of mind.
The Trump team's strategy in advance of the Mueller report is a far cry, for instance, from how the Clinton White House prepped for the Starr Report. "I'm not trying to argue retroactively that we were geniuses," former Clinton Press Secretary Joe Lockhart told me. "But our strategy was very clear: We were never going to have the president talk about the investigation, ever. He was never going to portray himself as a victim, that he was being treated unfairly, even though, yes, he thought that privately."
Lockhart said the team focused extensively on a counter-report so that it could deliver a robust rebuttal immediately. "We wanted people to look at the reports side by side, as a he-said-she-said, instead of have just one bombshell, unrefuted report."
Yet Lockhart and a former George W. Bush communications official, who asked for anonymity to speak freely, both suggested that the Trump White House may struggle more with a variable that they, in their respective administrations, didn't: honesty. "We would've been able to make some set of contingency plans," the former Bush official told me, "because there at least would have been a circle of people who knew what was possibly coming."
"If there's no sense in the White House and legal team of what really happened [during the election]," Lockhart echoed, "you have to have maximum flexibility in your response."
Perhaps, he suggested, leaving it to Trump—and his Twitter feed—is the best way to accomplish that.
And for now Trump's allies, even those caught up in the investigation themselves, are fine with that. With this president, there's "not really" a need for a plan, Roger Stone told me. "Trump holds all the cards."
Asked whether the White House had a plan in place for when Mueller closes in, the spokesman Hogan Gidley declined to comment.