A Close Reading of Trump's Friday Tweetstorm
The president unleashed a series of charges, complaints, and conspiracy theories aimed at undercutting a forthcoming report from Special Counsel Robert Mueller.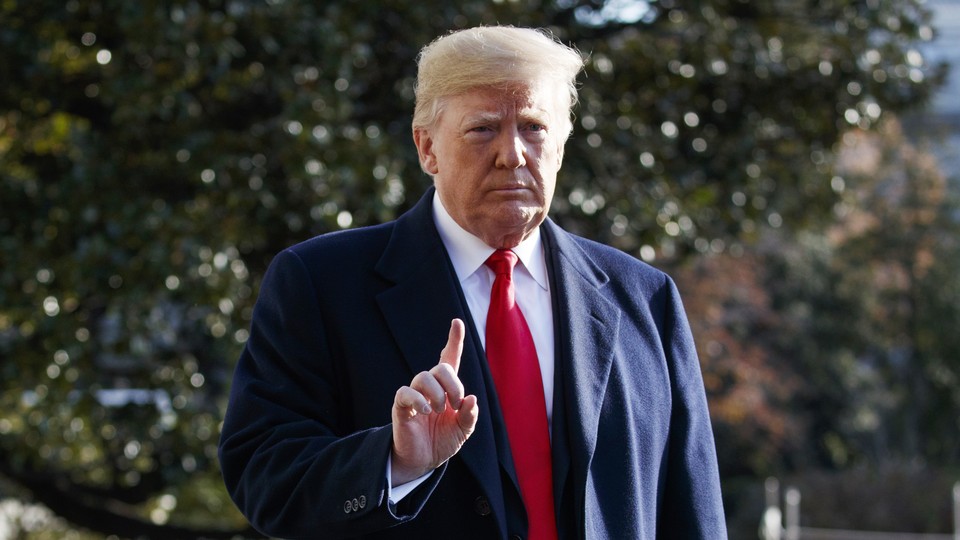 The first presidential tweets on Friday morning landed nearly an hour before dawn on the East Coast, and they were a doozy—even for Donald Trump.
In the span of five lengthy (for Twitter) posts, the president unleashed a series of charges, complaints, and conspiracy theories aimed at undercutting a forthcoming report from Special Counsel Robert Mueller and directing the nation's attention, once again, back toward the opponent he defeated two years ago.
Embedded within was a familiar cast of characters (Mueller, James Comey, the Clintons) along with a new face (Andrew Weissmann, a prosecutor on Mueller's team); an attack on Trump's current deputy attorney general, Rod Rosenstein; at least one lie (that Trump did not know Jerome Corsi); a misspelling (bye when it should be by); and the introduction of a surprising new story line presenting the disgraced energy firm Enron as the victim of an overzealous prosecutor.
Let's unpack these tweets one by one, starting with the first missive, sent at 6:18 a.m. eastern time:
Trump starts off with two of his favorite targets: Mueller and Comey, the former FBI director whose firing by the president led to Mueller's appointment just a few months into Trump's presidency. Comey happens to be meeting behind closed doors Friday with the House Judiciary Committee after Republicans rejected his request to testify in a public hearing. Mueller and Comey worked together for years at the highest levels of the Justice Department, but to call them "best friends" is probably an exaggeration.
Then Trump makes an abrupt turn toward Corsi, the right-wing conspiracy theorist and longtime Roger Stone associate who has been telling anyone who will listen in recent days that he's about to be indicted for perjury by Mueller's team because he refused to strike a deal for a lighter sentence in exchange for his cooperation in the probe. Corsi appears to have been Stone's back channel to Julian Assange and WikiLeaks, the repository of hacked Democratic emails. The president claims that he doesn't know Corsi, but Corsi told NBC News last month that he had recordings of four or five conversations with Trump that took place in 2011, when both men were promoting the lie that then-President Barack Obama was born in Kenya and not a U.S. citizen.
The "woman in charge of prosecuting" Corsi is an apparent reference to Jeannie Rhee, one of Mueller's prosecutors who, according to The Washington Post, represented the Clinton Foundation in a lawsuit brought by Larry Klayman, who is now representing Corsi.
In classic thriller-writing style, Trump concludes with "A total Witch Hunt" followed by an ellipsis, directing readers to stay tuned for his next tweets.
Here, Trump sticks to a recurring theme—that Mueller's investigation is hopelessly tainted because the former FBI director hired too many investigators with ties to Democrats for his team and is focusing only on the Trump campaign ("Republicans only") while ignoring unspecified crimes committed by "the Campaign of Crooked Hillary." In fact, the scope of Mueller's investigation was prescribed by Rosenstein, the deputy attorney general who appointed the special counsel and who himself was nominated to his office by Trump.
The president then turns his attention to Weissmann, the veteran prosecutor who led the government's case against Paul Manafort, Trump's former campaign chairman. Weissmann made his name as a federal prosecutor going after the mob in the early 1990s, but it was his success in bringing down the corporate titans Enron and Arthur Andersen a decade later that Trump apparently considers "horrible and vicious."
The president is correct in referencing a blip on Weissmann's record: In 2005, the Supreme Court did unanimously overturn a conviction Weissmann had secured against Arthur Andersen for shredding Enron documents on the basis that the prosecution had persuaded the judge in the case to adopt a legal threshold for the jury that failed to require sufficient proof of guilt. But the Court did not rule on whether the accounting firm acted with criminal intent, and both companies remain etched in the public consciousness as emblems of corporate fraud—not exactly the sympathetic victims that Trump suggests they are.
These next tweets continue Trump's pressure campaign against Mueller in advance of his report, a working-the-ref strategy that thus far has shown no signs of shifting the special counsel's focus. But the president resurrects his criticism of Rosenstein in a curious way. Trump alludes to the memo that he instructed Rosenstein to write in May 2017 summarizing the deputy attorney general's view that Comey deserved to be removed as FBI director over his handling of the investigation into Hillary Clinton's email server the previous year. But then the president suggests that Rosenstein himself is "totally conflicted" as the deputy attorney general overseeing Mueller's investigation.
Trump has reportedly considered removing Rosenstein several times over the past year, but he remains on the job. The early-morning tweetstorm came less than a day after Trump thanked Rosenstein publicly at a White House Hanukkah party on Thursday night.
With that, the president took a short break from tweeting about the Mueller probe. He offered a quick update on trade negotiations with China—"going very well"—before returning to the topic of Mueller later in the morning. He contradicted his own attorney, former New York Mayor Rudy Giuliani, who told The Atlantic's Elaina Plott that the White House had no time to devote to writing its counter-report to Mueller's findings. "That is Fake News," Trump tweeted. "Already 87 pages done, but obviously cannot complete until we see the final Witch Hunt Report."
What is less clear about the president's tirade on Friday morning is why he felt the need to deliver it. Was this simply Trump unloading after several days of relative restraint owing to the national mourning period for the late President George H. W. Bush, who was finally laid to rest on Thursday afternoon? Has Trump learned new information about what Mueller has on him, or what the special counsel might disclose in anticipated sentencing memos for Manafort and Michael Cohen, Trump's former attorney? Or is it merely Friday?
The president, as usual, didn't say. By mid-morning, Trump had returned to the business of running the country. He left the White House shortly before 10 a.m. to board a plane for a speech in Kansas City, stopping at the cameras—almost as an afterthought—to announce the man he wants to serve as the 85th attorney general of the United States.