The Trump Administration's Lowest Point Yet
Even by the standards of a president who has stumbled from crisis to crisis, the current moment has peril broader and deeper than perhaps ever before.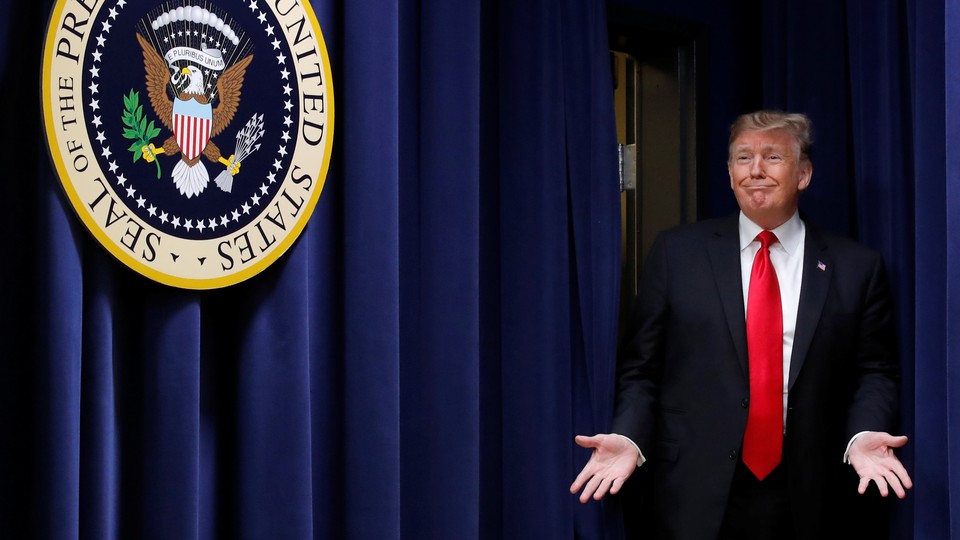 Since the start of the Donald Trump administration, a morbid watch has been kept: Though the president is adept at creating his own crises, either intentionally or not, experts noted that he had not faced a full-scale crisis that was not of his own making. Those are the times that test presidents. How would Trump react when his moment came?
It's fitting that during Advent, the season of waiting before Christmas, a crisis has arrived. But while it is, yet again, Trump's own creation, it may be just as consequential as the calamity that the president's critics have long feared. For the past two years, the nation and the administration have stumbled from crisis to crisis, yet the breadth and depth of the current peril might exceed even the period around James Comey's firing in May 2017 and the aftermath of Trump's meeting in Helsinki with Russian President Vladimir Putin in July 2018.
Friday dawned with the government heading inexorably toward a shutdown, driven by Trump's intractable demands for a pricey and likely futile border wall. His administration is in chaos after Defense Secretary James Mattis, the most widely respected figure in the administration, announced his resignation Thursday in a stunning letter. His is only the latest of several high-level departures. Republican leaders are furious over the president's plans to withdraw U.S. troops from Syria and Afghanistan. Stock markets in the United States and overseas are tumbling. Meanwhile, Special Counsel Robert Mueller's probe continues to chip away at the foundations of the presidency, gradually compiling an astonishing chronicle of lawlessness and corruption in Trump's inner circle—with much of Mueller's work still either incomplete or not public.
The Mattis resignation has sparked panic in Washington, but the shutdown is, for now, the more urgent crisis. Funding for large portions of the government runs out on Friday. Although Trump bragged last week that he'd be "proud" to shut down the government over Democrats' refusal to fund his border wall, Congress and the White House on Thursday seemed headed for a quiet stopgap funding measure to keep the government running until February.
But then Trump was seemingly bullied into blowing up the compromise by harsh criticism from his allies in the right-wing media, including Rush Limbaugh, Laura Ingraham, and Breitbart News. The White House announced that he would not sign any bill without wall funding. Neither Trump nor anyone else has any viable plan for bridging the gap, other than hoping that nine Democrats in the Senate will flip and vote for a wall their party despises. Although Trump tweeted Friday morning that "if enough Dems don't vote, it will be a Democrat Shutdown!" they have little incentive to go along with him, because he has already publicly boasted that he would take the blame.
As the government braced for a closure that could drag into the Christmas holiday, Mattis's exit arrived unexpectedly. Though the defense secretary, a retired four-star general, had disagreed with Trump repeatedly in the past, his resignation was an astonishing rebuke of the president. Cabinet members seldom resign in protest, and his letter avoided praise for Trump while delivering harsh implicit criticism of the president's disdain for alliances and affection for authoritarianism.
Mattis's exit horrified not only Democrats and anti-Trump conservatives, but also some of the president's closest allies. In what passes for a hair-on-fire reaction by Mitch McConnell standards, the Senate majority leader said, "I am particularly distressed that he is resigning due to sharp differences with the president on these and other key aspects of America's global leadership."
Mattis was frequently reckoned to be a crucial brake on Trump's worst impulses, protecting him from decisions even more disastrous than the ones he made. Whether that was true will likely become clear soon. Yet Mattis resigned because he was unable to dissuade Trump from announcing a precipitous withdrawal of American troops from Syria (in which the president falsely claimed that ISIS was defeated) or stop the president from an expected announcement of a pullout from Afghanistan. These decisions are in keeping with Trump's campaign promises, but the hasty, nonstrategic methods of withdrawal rattled even critics of both military engagements.
Hawks were even more upset. Senator Lindsey Graham, the South Carolina Republican, lashed out at the announcements and questioned Trump's choice. "The only reason they're not dancing in the aisles in Tehran and ISIS camps is they don't believe in dancing," he said. While Graham has always favored military intervention, his criticism is notable because he has become a leading stroker of the president's ego. The matter threatened to drive a spike between Graham and Trump, with the White House adviser Stephen Miller lambasting the senator on CNN Thursday evening.
It's not just Washington that's jittery. U.S. stocks fell on Thursday, their second straight day of large losses. While Trump has long boasted about the stock market as an indicator of his economic prowess, the markets have had a bad year. While America fitfully slept, Asian stocks also sank. The poor results have some analysts wondering whether the global economy is headed for a recession, and while presidents have limited control over the economy, at least some of the troubles can be traced to Trump. American stocks fell in reaction to a Federal Reserve interest-rate increase; Trump replaced the more dovish Fed Chair Janet Yellen earlier this year with Jerome Powell, who has proved more eager to hike rates. Meanwhile, Asian markets have been unsettled by Trump's tariff threats. The president, who shows little real understanding of global trade, does not seem to have grasped that hurting China might drag down U.S. markets, too.
After Mattis's exit, there will likely be more soon. Chief of Staff John Kelly was once perceived to be among the "adults in the room" (always a dubious moniker), though his reputation was tarnished by errors and Trump sidelined him months ago. Kelly is leaving the White House this month, and Trump, unable to get his top pick as a replacement, has tapped Mick Mulvaney, his chief budget aide, as the acting chief of staff. Interior Secretary Ryan Zinke is leaving, chased by a passel of scandals and investigations; Commerce Secretary Wilbur Ross might not be far behind.
Since Attorney General Jeff Sessions was sacked last month, Matthew Whitaker has been acting in his stead. On Thursday, the Justice Department announced that Whitaker would not recuse himself from overseeing Mueller's investigation into Russian interference in the 2016 election. Washington Post reporting revealed that Justice Department ethics officials have said that Whitaker ought to recuse himself, but he overruled the recommendation.
Despite antagonism from Whitaker, Trump, and the attorney-general nominee William Barr, Mueller has been moving quickly and effectively, racking up indictments and guilty pleas rapidly. This week, Trump's first national-security adviser, Michael Flynn, was in court, but his sentencing was delayed after a federal judge questioned the lenient sentence Mueller's team had recommended and asked whether Flynn might have committed treason. Mueller is also bearing down on Roger Stone, a longtime Trump associate suspected of serving as a conduit between the Trump campaign and WikiLeaks for the dissemination of emails stolen by Russia.
Despite occasional reports that Mueller is nearly finished with his work, there's little public evidence that's the case, and the breadth of the corruption and dishonesty he has exposed in Trump's inner orbit is already breathtaking. Mueller remains likely the greatest existential threat to Trump, which is one reason the president continues to feverishly attack him at every turn.
The president, who has never appeared to be up to the task of running the country, is acting more erratically and impulsively than ever. "Inside the Oval Office on Thursday, Trump was in what one Republican close to the White House described as 'a tailspin,' acting 'totally irrationally' and 'flipping out' over criticisms in the media," the Post reported.
Such horrified anonymous quotes are a staple feature of the Trump presidency. They have spilled out in quotes to the press, in books by the authors Michael Wolff and Bob Woodward, and in the infamous anonymous op-ed by a self-proclaimed resister inside the administration. The Mattis resignation letter is surprising because it puts criticisms out in public. It also follows fired Secretary of State Rex Tillerson, who earlier this month called Trump "undisciplined" and said the president had repeatedly wanted him to do illegal things.
As a matter of democratic norms, it's good news when these criticisms come out from behind closed doors—far better than quiet sabotage actions. Yet the fact that Mattis, Tillerson, and others are speaking publicly is a troubling indicator of just how bad things seem to them.
Of course, there have been moments of acute crisis before, even amid the constant stream of crises. In one incredible 10-day stretch in May 2017, Trump fired Comey, disclosed sensitive classified information to Russian officials, threatened Comey, and gave a disastrously incoherent interview to The Economist. That same week, the public learned that Trump had pressured Comey to drop an investigation into Flynn.
In August 2017, Trump reacted sluggishly to white-supremacist violence in Charlottesville, Virginia, and insisted that there were "very fine people on both sides."
In January of this year, Trump grappled with the release of Wolff's book, botched his own positions on immigration and intelligence policy, referred to African and Latin American nations as "shithole countries," and canceled a trip to Britain in a fit of pique.
In July, Trump met with Putin in Finland, followed by a bizarre press conference in which he deferred to the Russian leader, sided with Russian denials about electoral interference over the unified conclusions of his own intelligence officials, and mused on allowing Russia to interrogate a former American ambassador to Moscow.
Yet while it is early, this moment seems perhaps even graver. There are fewer guardrails on Trump than ever before, as he replaces experienced and steady hands with more sycophantic ones. The scale of the current crisis is also unusually wide, taking in foreign wars, the global economy, the basic functioning of the federal government, and a major corruption investigation. Nor is this a simple if devilish confluence of related problems. The only common denominator in each of these is the president, a bull in a global china shop. Even if one, or two, or three of these problems could be resolved, it would leave the others. Perhaps it is no coincidence that Friday is the darkest day of the year.
The status quo is unsustainable, and yet it is impossible to predict any breaking point. The criticism that Trump is sustaining from Republicans is scathing. However, GOP leaders harshly criticized Trump after Comey, after Charlottesville, and after Helsinki, but eventually slunk back into alignment with him. Even Graham was back to attacking Democrats for their "hate" of Trump by Thursday night. Perhaps there are real cracks in the Republican wall of begrudging support for Trump, but past experience suggests there's no reason to expect a true shift. The Democratic takeover of the House in January seems unlikely to solve anything; Congress is already in a stalemate, and the investigations that Democrats have promised will only further inflame Trump.
In January 2018, I wrote that practically everyone understood that the Trump presidency was a disaster: Democrats and Never Trump Republicans, of course, but also his allies, his aides, and even the president himself, who seems deeply unhappy—as he should be, given the direction of his presidency and his country. Yet there was no prospect for any conclusion. Trump shows no sign that he would resign. Democratic leaders remain wary of impeachment, and even if they did pursue it, the Senate would not convict and remove Trump. Invoking the Twenty-Fifth Amendment remains a pipe dream. The only certainty, I wrote, was more crises like that one. And now here we are: another crisis like that one, yet even worse, and still no exit.