Trump's Ability to Manipulate the News Cycle
The president uses his copious "executive time" to deflect media attention from multiple scandals.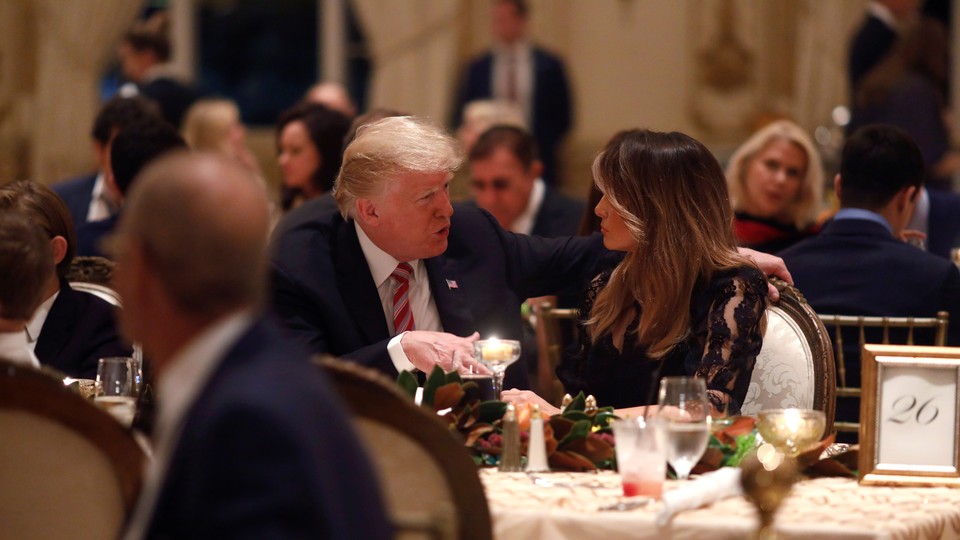 As the number of scandals surrounding the White House grows, so does, it seems, the president's free time—and his ability to change the narrative.
It would take an exceptionally bad string of events to crown any one week the most tumultuous of Donald Trump's presidency, but the past few days have been a strong contender. The Department of Justice implicated Trump in a scheme to pay two of his alleged former mistresses for their silence during the campaign, something he previously claimed to know nothing about. His longtime fixer, Michael Cohen, was sentenced to prison for campaign-finance violations, and revealed that he was readily cooperating with the special counsel in the Russia investigation. Trump boasted on live TV that he had the votes in the House to pass a $5 billion package to fund his border wall, only to learn by week's end that not enough members had stuck around town to even try. Finally, the public learned that prosecutors are investigating whether Trump's inaugural committee accepted donations from foreign nations.
All of this, and yet on Wednesday, for example, the day after his spectacle of a meeting with Democratic leaders about a possible government shutdown, Trump reportedly didn't show up to work until noon. And on Thursday, the president enjoyed nine and a half hours of "executive time"—his blocked-off periods to phone outside advisers, tweet, and watch cable news—according to an official White House schedule shared with me.
He also firmed up his holiday plans, his team placing a travel hold on his schedule between December 21—the deadline to fund much of the government—and January 6, when he will likely be at his Mar-a-Lago resort, according to a source familiar with the matter.
This isn't to say, though, that the president hasn't been getting things done this week, according to Rudy Giuliani. "As mayor, some of my busiest days had an open or relatively open calendar," Trump's lawyer told me.
Indeed, for any other president confronting Trump's potential legal and political woes, this spike in unstructured time might seem strange. But for this president, it's an opportunity to dangle new carrots in front of the public, and to watch reporters flock to them in real time.
This week thus showcased not only how the White House's problems show no signs of ebbing, but also how, in spite of them all, Trump can still convince people to look elsewhere.
Much of Trump's executive time, according to sources close to the president, is spent scanning headlines and "obsessing," in the words of one former senior White House official, over the stock market. Trump views both as key metrics of his presidency, and enjoys his ability to influence them within moments of hitting "Send Tweet" from the residency. Rather than try to put out existing fires, the sources said, Trump prefers to spark new ones that play to his penchant for showmanship and intrigue.
As news outlets dropped one troubling story after another this week, Trump did just that. In one of the more surreal moments of his presidency, he sporadically invited reporters into the Oval Office on Tuesday to look on as he and Senate Minority Leader Chuck Schumer and House Minority Leader Nancy Pelosi brawled over how to keep the government funded.
At the same event, he indulged reporters' questions about who he would pick to replace John Kelly as his chief of staff. It was perhaps exactly the question he'd hoped for: Earlier that morning, during a stretch of executive time, he'd tweeted that "over ten are vying for and wanting the White House Chief of Staff position"—sending journalists scrambling to report the most up-to-date list possible.
Trump would adopt an Apprentice-like posture about the position for the rest of the week. In a meeting with Republican governors-elect on Thursday, he told reporters that the search for the next chief of staff was "down to five finalists." He raved about the candidates, calling them "really good ones" and "terrific people."
The diversion appeared to work. Twitter was abuzz on Wednesday when The Wall Street Journal scooped that the president had asked Congressman Mark Meadows to stay in the House rather than troop to the West Wing. On Wednesday, a reporter citing "two sources" tweeted that Newt Gingrich topped the list, prompting a flurry of opinion pieces as recently as today about whether Gingrich would be a good pick. (This, despite Gingrich's apparent disinterest: I texted him Wednesday and asked whether he wanted the job, to which he promptly responded, "No.")
Thursday evening, HuffPost reported that Jared Kushner was up for the gig. CBS quickly confirmed the report, but less than an hour later, the White House had knocked down the rumor. At the end of the night, Axios broke that Chris Christie had just met with Trump about the job.
All of which is to say that by Thursday night—nearing the end of a week that marked the conviction of one of Trump's closest associates, an investigation into Trump's inaugural committee, and uncertainty about a government shutdown—much of Washington was consumed by palace intrigue.
Many of Trump's allies, though, have started to wonder at what point a few hours' worth of tweets during executive time won't be enough to paper over the issues confronting the White House.
Current and former White House officials told me they were worried, for example, about the political fallout that could come if Trump doesn't make good on his promise to build the wall. Next Friday's government-funding deadline likely represents Trump's last chance to get a significant down payment on the wall, given that it will be a nonstarter in a Democratic-led House next year. The current and former officials said that if Trump misses this opportunity, it's unclear how he will explain it to his base ahead of 2020.
"His Republican base would rather him close the government than cave on the funding," Gingrich told me. "He has to fight for it."
"It's an existential threat to his reelection if he can't get it done," a former senior White House official echoed. "A vast swath of the Trump base is going to say, 'You said the wall was going to be easy and Mexico was going to pay for it, and none of that happened.' It's going to be really tough to have a reelection campaign where you try to explain away that fact."
The former official was quick to note, however, that Trump could very well succeed in convincing his base that there has, in fact, been "tremendous progress" on the wall, as he's inaccurately claimed this week.
Each source I spoke with for this story said that Trump may always be able to tweet away his political problems. But Mueller's investigation is another matter entirely.
"I don't know what happens with the Russia investigation," the former senior White House official said. "But if it's bad, all the executive time in the world won't help him."