Why Trump Can't Find Anyone to Be His Chief of Staff
Sure, the job is terrible—but that's not new. What's different is that this president can't use the same leverage that predecessors such as George H. W. Bush and Bill Clinton did.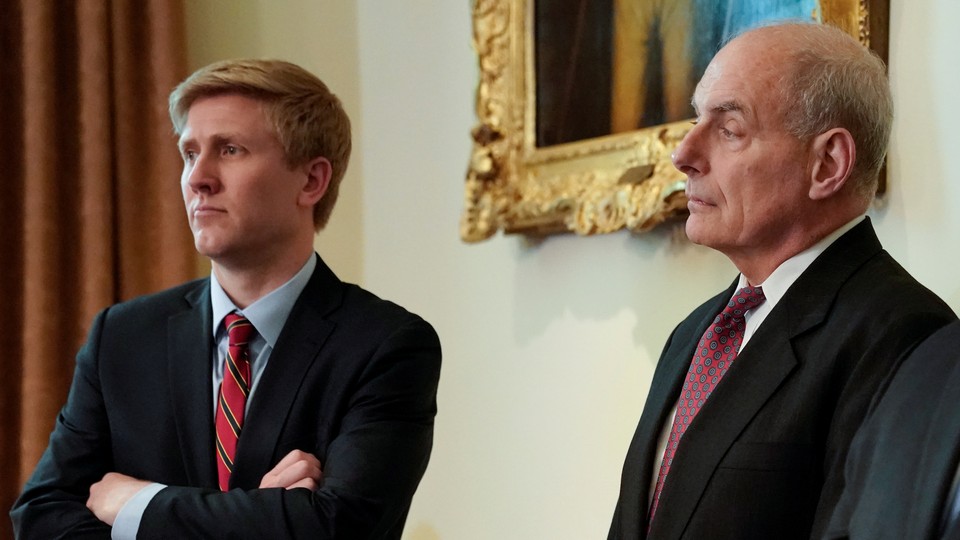 Donald Trump is, infamously, not the sort of man used to getting no for an answer. And while the frequent demurrals from candidates for administration jobs must have started to accustom the president to rejection, Nick Ayers's decision not to take the White House chief-of-staff position must still come as a bitter shock.
Ayers has been the presumptive top presidential aide for as long as the incumbent John Kelly's future has seemed dim—which is to say for months. Yet when Trump on Saturday finally announced Kelly's exit, Ayers didn't want the role.
Three other leading candidates have already said they don't want it either, including Mick Mulvaney, the director of the Office of Management and Budget; Treasury Secretary Steven Mnuchin; and U.S. Trade Representative Robert Lighthizer. Another rumored contender, Representative Mark Meadows, released a statement saying it would be an honor to serve in the job.
There's a simple explanation, which is that it's an awful job. Just look at Kelly, who, despite a career as a four-star Marine general, was barely able to temper chaos; ended up in a poisonous relationship with the president; and emerges with his reputation stained. Anyone taking the job is dealing with an undisciplined boss facing serious legal jeopardy and a reelection campaign that will be bruising and could very well end in a loss.
But however unprecedented many aspects of the Trump administration are, this one is not unique. You don't have to go very far back to find cases of first-term presidents facing legal problems or dim political prospects who have replaced their chiefs of staff. Examining how Bill Clinton and George H. W. Bush were able to persuade candidates to take the job shows why Trump is likely to struggle to find a top-caliber recruit.
In 1988, Bush had cruised to election, with the help of James Baker, not that Baker was delighted about it. ("Do you think I enjoyed leaving the office of secretary of Treasury, being fifth in line to the presidency, to come over here to be called a handler?" he snapped at a reporter.) But by summer 1992, the 41st president was faltering. He'd had to sack Chief of Staff John Sununu in an ethics scandal, and Samuel Skinner, the replacement, was dispatched to the presidential campaign as Bush tried to fend off a challenge from Arkansas Governor Bill Clinton.
That left Bush without a chief of staff, and he set his sights on Baker, who had previously enjoyed a very successful stint as Ronald Reagan's chief of staff. Baker didn't want the job, just as he hadn't wanted to run the 1988 campaign. He now had an even more enviable job as secretary of state. But Bush twisted his arm, as only Bush could: The men had decades of history together. In the wake of Bush's death at age 94, Baker has recounted how Bush helped him recover from his grief after his first wife died of cancer, in 1964. (Bush's solution in that case was also to draft Baker into a job—running a U.S. Senate campaign.)
The chief of staff's job, then as now, wasn't desirable.
"Baker has his work cut out for him when he jumps to the White House," Fred Barnes reported in The New Republic. "He not only has to take charge of the campaign against Democratic presidential nominee Bill Clinton. He's got to take charge of Bush. Disciplined, focused, task-oriented in the first thirty-three months of his presidency, Bush has lost control in the last nine."
Baker, faced with a desperate request from an old and close friend, could hardly say no, so he took the job.
As it happened, it wasn't enough: Bush lost to Clinton in November 1992. And less than two years later, Clinton found himself in a dilemma of his own. Clinton's signature policy initiative, an overhaul of the health-care system, had crashed and burned. His administration was beset by scandal, tragedy, and legal investigations. Republicans were headed for a strong midterm result. And Clinton's West Wing was a mess, setting a standard for chaos unmatched until the Trump administration eclipsed it.
Clinton decided that his man was Leon Panetta, then serving as director of the Office of Management and Budget, like Mulvaney. Panetta, like Baker, didn't want the job, preferring to remain where he was and to steer clear of the intramural fighting in the West Wing. But Panetta was the consummate government insider, driven to work by a mixture of ambition and sense of duty. (A former D.C. staffer and California congressman, he later served as secretary of defense and CIA director under Barack Obama.)
So Clinton brought Panetta to Camp David and made a pitch to him based on duty and a little bit of vanity. Panetta recalled Clinton's pitch to me last year: "You know, you could be the greatest OMB director in the history of the country, but if the White House is falling apart, nobody's going to remember you."
Panetta took the job. It turned out better for him than it did for Baker. Clinton recovered from the disastrous 1994, and won reelection two years later. Panetta left the White House on the first day of Clinton's term—getting out in time to avoid the president's impeachment.
The problem for Trump is that he doesn't have old friends—or, by his own account, many friends at all. Nearly all the people who come close to qualifying are ruled out. The businessman Tom Barrack has declined already. Michael Cohen is now, in dramatic fashion, a former friend. Roy Cohn is long dead.
Nor can Trump rely on duty as much of a motivator. When he was initially staffing his administration, he relied heavily on current or former military officers, who strongly respond to calls of duty. But the president has already worked through many of the likely candidates, and it's hard to imagine that any general who's seen how Kelly or H. R. McMaster has had his reputation sullied, or how Defense Secretary James Mattis has been sidelined, would line up to take the job.
That leaves civilians, and few of the ones around Trump are called to the kind of public service that motivated Baker and Panetta. Mnuchin, the current treasury secretary, is a political newcomer who came to Washington not through a sense of duty but for sheer ambition. Mulvaney and Meadows entered politics to push their strong ideological views about government, not to make government function more effectively.
Second-term presidents often rely on homegrown talents—aides who have put in their time in the administration and are now ready for the job. (See, for example, Dennis McDonough, Obama's second-term chief of staff.) But Trump hasn't been around long enough to have that sort of talent, and he chews through staffers so fast that it's unclear whether he ever will.
Of course, Trump will find someone for the job—even if, as Rahm Emanuel argues, he doesn't really want the role to exist. But it's likely to be a lesser candidate, such as Matt Whitaker, the acting attorney general, whose meteoric ascension to that post shocked most people who had encountered him. Another name in the mix is Randy Levine, the president of the New York Yankees—an indication of how few connections Trump has in politics, how tied to New York he remains, and how much he seems to view hiring more as a stunt than as a necessity for success.
The final pick certainly won't be anyone like Baker or Panetta, both of whom are numbered among the most successful chiefs of staff. That's bad news for the president, who desperately needs but would never accept a strong chief. By hiring a candidate who is both less qualified and less empowered, Trump will feed the vicious cycle that has led him to this point, trying to hire a third chief of staff in less than two years.