Stephen Miller as MAGA's Angry Id
On Face the Nation, the president's trusted domestic-policy adviser said the border wall was fundamental to "whether or not the United States remains a sovereign country."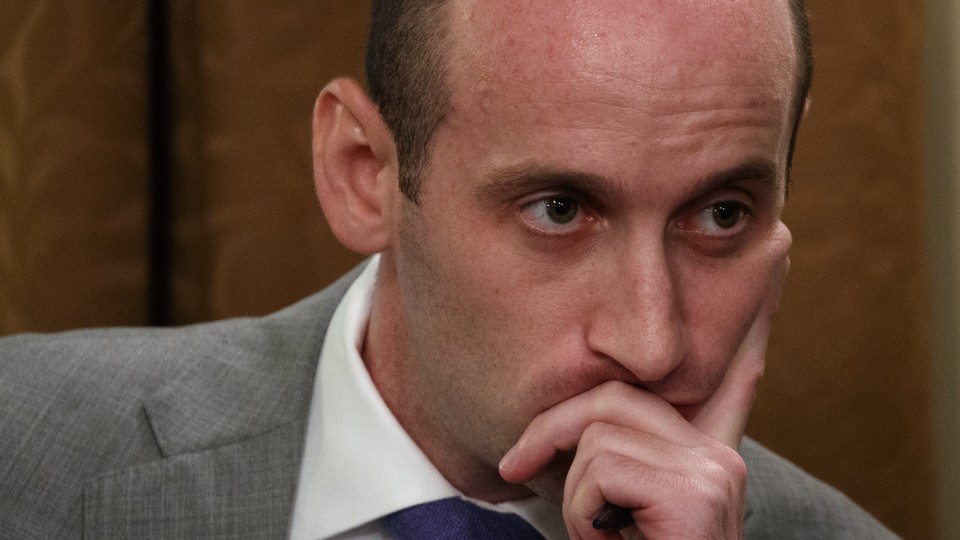 Stephen Miller, President Donald Trump's 33-year-old speechwriter and senior adviser, is a true believer. He was an immigration hard-liner before Trump descended the golden escalator and made anti-immigration sentiment the hallmark of his campaign and his presidency. Miller has been a right-wing provocateur since high school, according to a profile from earlier this year in The Atlantic.
He's made appearances on national television since his college years at Duke University, where he was an early defender of the lacrosse players accused of rape in an incident that divided the campus, and the nation, before the case fell apart. Yet he's rarely seen on TV anymore. This weekend, in his first Sunday-show appearance in nearly a year, he reminded viewers why: The id of "Make America Great Again" is just too angry.
The last time Miller went on a Sunday show was in January, when he fought with CNN's Jake Tapper, who was trying to ask him about episodes from Michael Wolff's factually challenged book. Miller wanted to talk only about what a "political genius" his boss was, rehashing his 2016 election win. When Tapper interrupted Miller's musings with the comment that the president was probably watching and liked what Miller said, Miller objected to Tapper's "snide remark" and launched an attack on CNN as "condescending." Miller tried to tell a story about Trump spontaneously coming up with brilliant lines for a speech, but he had already told that story. Tapper said he had "wasted enough of my viewers' time" and cut off the interview as Miller tried to extend an argument. During the commercial break, Miller kept berating Tapper. The host retorted, "This is the reason they don't put you on TV, okay? This is the reason." Miller reportedly refused to leave the set and was escorted out by security personnel.
On Sunday, he started with an emphatic "Merry Christmas" to the host Margaret Brennan on CBS's Face the Nation. Miller is Jewish, but his firm greeting makes sense in light of his college opinion columns about anti-Christmas bias, including a 2006 piece titled "Attack of the Secularist Scrooges." He tapped his fingers against his other hand, as if impatient for the conversation's end before it had begun.
Brennan asked first about a Texas judge's ruling that found Obamacare unconstitutional, given changes in last year's tax law. Miller delivered the key GOP talking point first, emphasizing that "there's no change immediately in Obamacare." He pivoted to asking whether Democrats would work with Republicans on a plan to replace their party's crown jewel. Echoing another talking point, he accurately pointed out that 80 percent of people who paid a fine under Obamacare's individual mandate made $50,000 a year or less. He spoke in a monotone of long sentences, as if reading from a script.
Then, with a spin that defied common sense, he blamed the Affordable Care Act for "the 28 million Americans who because of Obamacare still don't have access to health insurance." He was criticizing a Democratic law that helped reduce the number of uninsured from 44 million in 2013 to 27 million three years later, because it didn't achieve total coverage.
Still, he was staying calm. When he said that "Obamacare has always been unconstitutional," he let Brennan interrupt him to clarify that the judge's ruling last week hinged on the GOP tax-cut law's elimination of the fine for the uninsured. In 2012, the Supreme Court upheld Obamacare in a narrow decision written by the Republican-appointed Chief Justice John Roberts that classified the fine as a tax and found the law constitutional because of Congress's taxing authority; with the fine removed, the federal judge in Texas ruled that the rest of the law cannot stand alone.
But when Brennan tried to ask a follow-up question about a potential Obamacare replacement, Miller talked over her. The transcript starts to look like a script for Whose Line Is It Anyway? as he interrupts her.
Brennan then turned to Miller's passion, immigration. She asked who bears responsibility for the death of Jakelin Caal, the 7-year-old Guatemalan immigrant who died in U.S. Border Patrol custody about nine hours after she and her father were detained in the New Mexico desert. Miller began with an expression of sympathy before calling her death "a painful reminder of the ongoing humanitarian tragedy that is illegal immigration and the misery that it spreads."
He blamed the large number of migrant families on "left-wing, activist judicial rulings that incentivize the most vulnerable populations to come to our country." He was apparently referring to the 1997 Flores settlement, which sets limits on how long the government can detain migrant children, and a related 2015 ruling. He deployed the dark, dramatic language for which he is known, as in Trump's "American carnage" inaugural speech: "Smuggling organizations profit off death and misery … vicious, vile organizations … grotesque … heinous, smuggling organizations."
Miller's volume grew louder, his voice deeper, and his tone more aggressive. He nearly shouted at Brennan about "a reckless nationwide injunction on the president's order putting thousands of lives at risk." To get in a question about the border wall, Brennan had to interject repeatedly and lean across the table. Once Miller trailed off, she asked whether Trump would allow a government shutdown if Congress doesn't give him enough funding for the wall. Miller said the president is "absolutely" willing, as Trump himself made clear last week in his televised Oval Office argument with top congressional Democrats.
"This is a very fundamental issue," Miller thundered. "At stake is the question of whether or not the United States remains a sovereign country." As he lectured Brennan on the costs of heroin smuggled into the country, he held up his hand to chop the air for emphasis. When Brennan seized the opening and tried to ask whether there will be a government shutdown over Christmas, he repeatedly talked over her as she finished her question:
Miller: As you yourself acknowledged, the largest increases in illegal immigration are categories that are incentivized by loopholes in our laws and loopholes created by activist, left-wing judges including—

Brennan: I didn't say that.

Miller: —the district-court judge who enjoined—

Brennan: I said there are a record number happening right now in the Trump administration.

Miller: —in the categories that correspond with these loopholes.
"Stephen," Brennan said, announcing the interview's end, "it's good to have you in studio."
He'd spoken in long, scripted paragraphs, as though he were reading from a teleprompter. He'd practically shouted his answers in a one-on-one interview, as if he were plowing ahead with a speech despite a noisy heckler, rather than engaging in a conversation. He'd come across as furious, rather than passionate. But then again, there was only one person watching who really mattered.