Mueller's Sentencing Memo for Flynn Doubles as a Warning to Manafort
A heavily redacted document cites the former national-security adviser's "substantial" cooperation as a reason for him to avoid jail. Trump's former campaign chief may not be so lucky.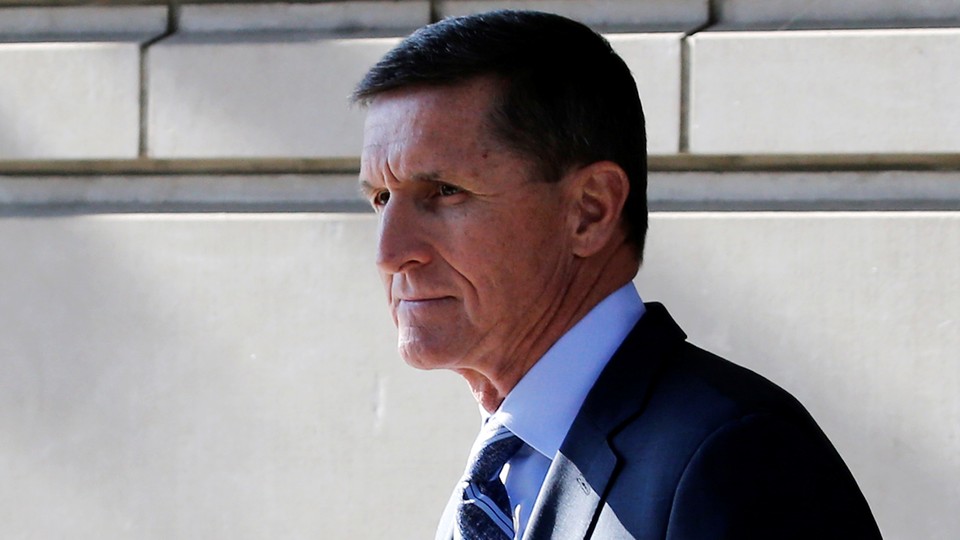 President Donald Trump suggested on Monday that witnesses in Special Counsel Robert Mueller's Russia probe should refuse to cooperate. But in a highly anticipated sentencing memo filed on Tuesday night, Mueller sent a clear message to the current and future witnesses in the Russia investigation: Testify honestly and completely, and you could be spared prison time.
In the memo, Mueller asked a judge that former national-security adviser Michael Flynn serve no prison time for lying to the FBI in early 2017 because of his "substantial" cooperation with the Justice Department since last December. But the memo was just as notable for what it didn't say as for what it did—details about Flynn's cooperation with Mueller's team as part of the investigation into a potential conspiracy between Trump's campaign and Russia are blacked out, as are details about an ongoing criminal investigation to which Flynn is providing assistance. Among the redactions: what Flynn told the special counsel about the Trump transition team's interactions with Russian government officials.
Mueller acknowledged in the memo that the investigations Flynn assisted in are "ongoing," but that it's nevertheless appropriate to move forward with Flynn's sentencing because his "sufficient information is available" to assess the extent of his cooperation.
Flynn's sentencing has been delayed repeatedly since he pleaded guilty to lying to the FBI last December about the nature of his communication with the former Russian ambassador Sergey Kislyak. The delays fueled speculation about his value to Mueller as a witness to a potential conspiracy between the Trump campaign and Moscow, which Mueller has been investigating since May 2017. Now we know that Flynn has been interviewed by Mueller and other attorneys at the Justice Department 19 times since December 2017, and is assisting in other ongoing investigations.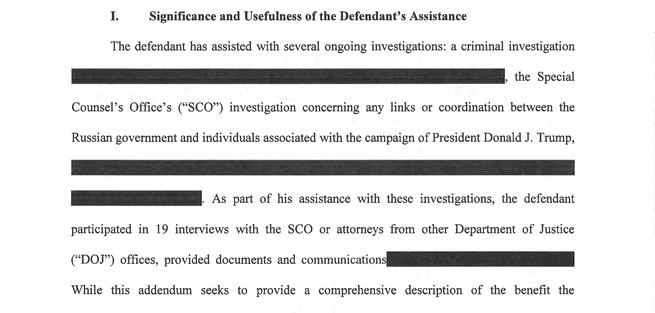 Flynn is the only member of the Trump administration who has pleaded guilty in the ongoing Russia investigation, and his sentencing is set for December 18. Notably, Mueller commended Flynn for agreeing to cooperate early, potentially providing a road map for the probe. As a high-level Trump-campaign surrogate and Trump transition-team member, Flynn was able to give the government details about the interactions between Trump's associates and Russian government officials during the transition period, according to the sentencing memo.
David Laufman, a former high-ranking DOJ official who oversaw parts of the Russia investigation in his role as chief of the Counterintelligence and Export Control Section, said that Mueller was demonstrably pleased with the nature and scope of Flynn's cooperation. "The special counsel's office is to be commended for holding Mr. Flynn accountable for his conduct," Laufman said, "while generously crediting what appears to be his considerable cooperation on multiple issues."
Mueller's evident satisfaction with Flynn's cooperation stands in stark contrast to his characterization of the former Trump-campaign adviser George Papadopoulos's cooperation. Papadopoulos "did not provide substantial assistance" to the FBI, prosecutors said in an August sentencing memo, and was not immediately forthcoming—much of the information provided by Papadopoulos "came only after the government confronted him with his own" records, prosecutors said. Flynn, by contrast, was cooperative from the beginning, they said. Papadopoulos also began speaking to the press before his cooperation with the special counsel's team was fully over, prosecutors said. Flynn has issued no public statements or given any interviews in more than a year.
The memo could also serve as a warning to Trump's former campaign chairman, Paul Manafort, who allegedly lied to prosecutors even after signing a cooperation deal. Last week, more than two months after Manafort agreed to cooperate, Mueller revealed that Manafort had "committed federal crimes by lying to the Federal Bureau of Investigation and the Special Counsel's Office on a variety of subject matters, which constitute breaches of the plea agreement." Prosecutors are expected to detail those alleged lies in a separate report on Friday.
Once Flynn began cooperating with prosecutors, he appeared to be in a position to answer some of the biggest lingering questions in the Russia probe: Did Trump direct Flynn to dangle the easing of sanctions—imposed by President Barack Obama in December 2016—in front of Kislyak during the transition period? And did Trump know that Flynn had misled the FBI when he denied ever discussing sanctions with Kislyak? (If Trump knew the extent to which Flynn was in the FBI's crosshairs when he asked FBI Director James Comey, whom he later fired, to consider "letting Flynn go," that could dramatically bolster the obstruction case federal prosecutors are thought to be weighing.) Furthermore, why did the White House wait nearly three weeks to fire a high-level adviser who was, according to former Deputy Attorney General Sally Yates, vulnerable to being blackmailed by the Russians?
As such, the news of Flynn's extensive cooperation with Mueller could unsettle Trump, who hired Flynn as a high-level surrogate and adviser during the election and kept him on through the transition and into the White House. According to Mueller's filing on Tuesday, Flynn "provided firsthand information about the content and context of interactions between the transition team and Russian government officials." Flynn was in the national-security-adviser job for a little more than three weeks before reports surfaced that he had discussed the issue of sanctions with Kislyak during the transition period, despite repeated denials—to Vice President Mike Pence and the FBI—that the topic had ever come up. Trump has also said he did not know about Flynn's lies to the FBI when he fired him in February 2017—a point that Flynn was in a position to either confirm or deny to the special counsel.
Flynn also may have had knowledge about a "peace plan" that involved lifting sanctions on Russia in return for Moscow withdrawing its support for pro-Russia separatists in eastern Ukraine, which was allegedly hand-delivered to him by the president's longtime lawyer Michael Cohen.
Flynn's lawyer, Robert Kelner, alluded to his client's value in a statement last year as he tried to negotiate immunity deals with the FBI and Congress. "General Flynn certainly has a story to tell, and he very much wants to tell it, should the circumstances permit," Kelner said. Indeed, from the beginning there were signs pointing to Flynn's high value as a cooperator. Flynn failed to register as a foreign agent in 2016 when he was representing Turkish government interests, and failed to disclose payments from Russia's state-owned news agency, Russia Today, when he was renewing his security clearance in January 2016. He also failed to disclose his efforts in 2015 and 2016 to develop nuclear reactors across the Middle East—a joint project with Russia and Saudi Arabia that would have benefited by lifting the sanctions on Russia. Still, Flynn was ultimately charged only with one count of lying to the FBI.
Despite Trump's constant tweeting about the Mueller investigation, which he has repeatedly described as a "witch hunt," the president has not said much at all about Flynn. In March 2017, one month after Flynn was ousted from the White House, Trump said that Flynn "should ask for immunity in that this is a witch hunt (excuse for big election loss), by media & Dems, of historic proportion!" After Flynn's cooperation deal with Mueller came to light, Trump fell back on an old tactic: slamming his election opponent, Hillary Clinton. "So General Flynn lies to the FBI and his life is destroyed, while Crooked Hillary Clinton … lies many times … and nothing happens to her?" Trump wrote. "Rigged system, or just a double standard?"