The Saudi Ambassador Is Back in D.C. Will Anyone Talk to Him?
At least one senator calls for Prince Khalid's expulsion over Jamal Khashoggi's murder.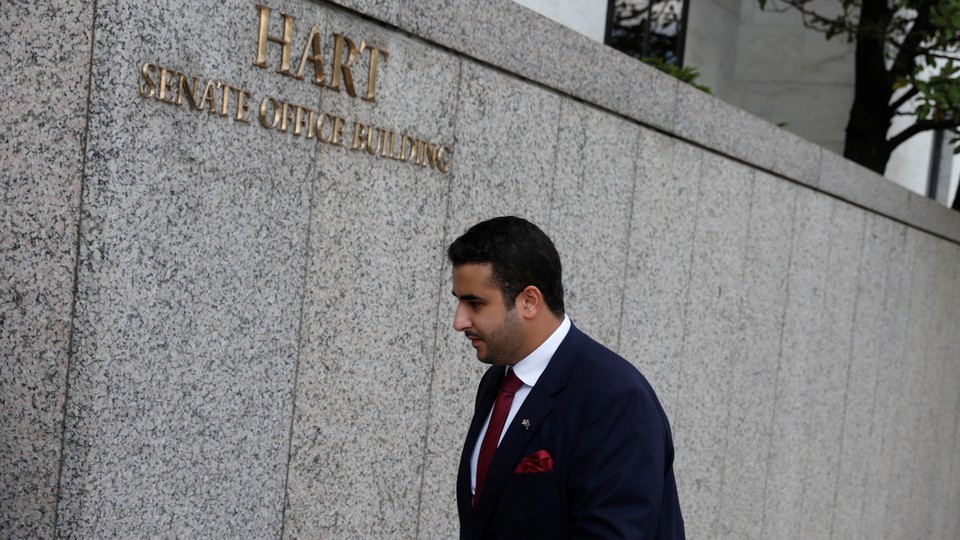 Updated at 3:56 p.m.
The Saudi ambassador to the United States may have quietly returned to Washington, but he's going to have some trouble getting meetings on Capitol Hill.
Prince Khalid bin Salman's return Wednesday came a little more than a month after he left the U.S. capital following the killing of the Saudi journalist Jamal Khashoggi, a murder many senators have blamed on the ambassador's older brother, Crown Prince Mohammed bin Salman. And while Donald Trump's administration has made clear that it wants to move past the killing, an envoy's job is to meet not only with the host country's government, but with an array of other major players.
The question for Khalid, though, is whether anyone wants to be seen with him now. He used to regularly post pictures on his Twitter feed of meetings with various senators, but their disdain for him has only grown as the Saudis' messy explanations for the killing have unfolded. He might have allies in the White House, but he certainly doesn't appear to have any in the Senate.
"I think there are serious questions about whether he should be allowed back," Senator Chris Van Hollen, a Maryland Democrat, said in an interview, because he clearly misled the United States about the murder of Khashoggi."
When asked whether he would take a meeting with the ambassador if one were requested, Van Hollen said, "At this point, I want more information about what his role was, if any, in the plot and the cover-up." The senator called for an intelligence investigation into the envoy's role, adding that if Khalid were found to be complicit, "we should reject him as the emissary from Saudi Arabia."
Van Hollen's remarks are in line with those of other influential lawmakers. Senator Bob Corker, the Tennessee Republican who chairs the Foreign Relations Committee, told CNN Thursday that Khalid was an individual of "zero credibility." Senator Dick Durbin, the Democrat from Illinois who is the second-highest-ranking Democrat in the Senate, went further, saying in a statement: "I said it months ago and I will say it again: we should formally expel the Saudi Ambassador to the United States given the Crown Prince's direct involvement in the kidnapping and murder of Jamal Khashoggi." (Durbin first demanded in October that Khalid be expelled. When Senator Lindsay Graham was asked in November whether the ambassador should return, he said simply: "No.")
The Saudi ambassador left Washington in October amid calls from U.S. officials for the kingdom to clarify its shifting explanations for Khashoggi's death.
Khalid was among those who initially maintained that Khashoggi had left the consulate unscathed, calling himself "a friend" of the journalist. The explanation convinced few U.S. senators. Corker said at the time that the ambassador's statement that the Saudi consulate's surveillance system did not record video but simply live-streamed "was pretty hard for me to believe. And I shared that with him."
Graham, who has emerged as perhaps the toughest critic of the Saudi crown prince in Congress, and five of his colleagues from both parties introduced a resolution Wednesday that holds MbS, as Mohammed bin Salman is known, accountable for Khashoggi's killing.
President Trump says the U.S.-Saudi relationship is far too important to damage regardless of whether MbS ordered the killing. Khalid's return to Washington suggests the Saudi leadership thinks that either the crisis surrounding Khashoggi's killing is over or it has transitioned to a more manageable scale.
"It would almost seem that the Saudis have taken the view that if you can deal directly with the White House, why bother with Congress?" said Simon Henderson, an expert on Saudi Arabia at the Washington Institute for Near East Policy. "And if that's the Saudi view, I think they're making a mistake."