Mueller's Memos and the Alleged Lies of the Trump Lieutenants
The sentencing documents offer the clearest signs yet of how investigators are encircling the president.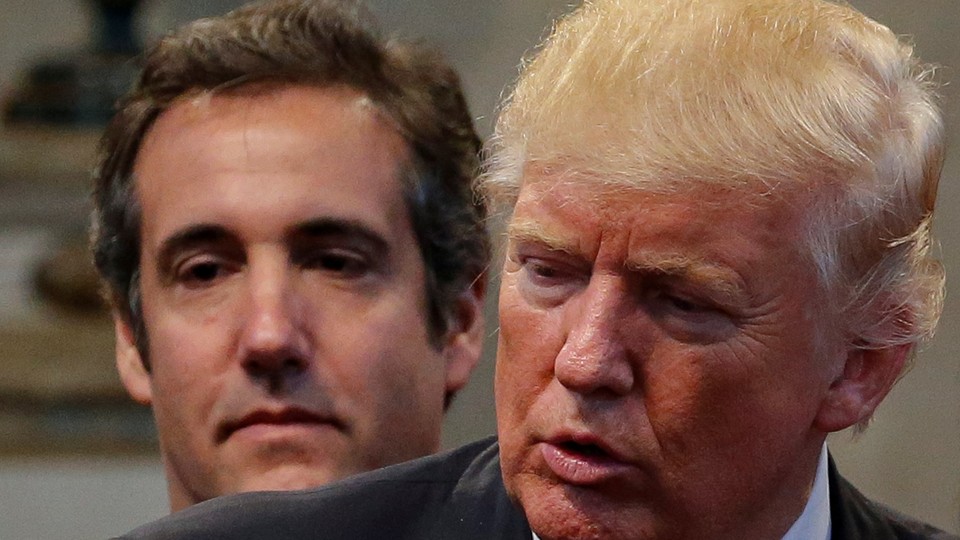 Memos issued by federal prosecutors on Friday about President Donald Trump's longtime personal lawyer Michael Cohen—together with a sentencing memo filed earlier this week about Trump's former national-security adviser Michael Flynn—offer the clearest indication yet of how investigators are encircling the president and perhaps reaching the climax of the 19-month probe into a potential conspiracy between Trump and Russia in 2016.
Cohen and Flynn are among five former Trump associates whom prosecutors have accused of lying either to prosecutors or to Congress over the past year. While much of Flynn's sentencing memo was redacted, Special Counsel Robert Mueller's sentencing memo for Cohen—who has pleaded guilty to charges including tax evasion, bank fraud, campaign-finance violations, and lying to Congress—was highly revealing and contained new details about Trump's posture toward Russia in the early stages of the campaign. A sentencing memo filed by the Southern District of New York implicated Trump in making hush-money payments to two women at the height of the campaign that were "secret and illegal."
Trump tweeted on Friday that he has been "totally cleared" by prosecutors, without offering any evidence as to how he'd reached that conclusion.
Mueller also filed a separate memo on Friday detailing the alleged lies that Trump's former campaign chairman Paul Manafort told prosecutors in violation of his plea agreement. They concerned Manafort's contacts with Trump-administration officials, a suspected Russian spy named Konstantin Kilimnik, a separate Justice Department investigation, and a wire transfer. Much of the document was redacted, but Mueller said text messages show that Manafort was interacting with a "senior administration official" into May 2018.
According to Mueller, Cohen admitted that he and Trump had discussed contacting the Kremlin in the fall of 2015, months after the beginning of his presidential bid, to organize a meeting between Trump and Russian President Vladimir Putin at the U.N. General Assembly in September 2015. The meeting never materialized, but two months later, Cohen "received the contact information for, and spoke with, a Russian national who claimed to be a 'trusted person' in the Russian Federation" who wanted to set up a meeting between Trump and Putin and help Trump pursue a real-estate deal in Russia. Cohen apparently didn't follow up on the invitation. Nevertheless, Cohen provided the Special Counsel's Office "with useful information concerning certain discrete Russia-related matters core to its investigation that he obtained by virtue of his regular contact" with Trump Organization executives "during the campaign."
Cohen has also implicated Trump directly in the campaign-finance violations he pleaded guilty to in August. "Cohen himself has now admitted, with respect to both payments, he acted in coordination with and at the direction of" Trump, New York prosecutors wrote. Last week, Cohen's lawyers told the judge in his case that much of Cohen's misconduct stemmed from a "fierce loyalty" to his boss. "In each case, the conduct was intended to benefit Client-1," Cohen's lawyers wrote, referring to Trump.
Cohen has taken Mueller and federal prosecutors deep inside the Trump Organization, describing how he helped Trump pursue a real-estate deal in Russia well into the height of the election. (Cohen's plea agreement last week included the first in-court evidence that could show how Trump may have been compromised by Russia while Putin was waging a direct attack on the United States.) Trump has taken notice, calling Cohen a "weak person" who made up "stories" to get a "deal" with Mueller.
Cohen has sat for seven interviews with Mueller since August—cooperation that his legal team has been hyping for months. However, the sentencing memos filed by Mueller and the Southern District of New York on Friday for Cohen allege that he was not initially as cooperative and forthcoming as his legal team has led the public to believe.
According to Mueller, Cohen "repeated many of his prior false statements" about the pursuit of a Trump Tower deal in Moscow when he first met with Mueller's team in August. It was only after he was charged by prosecutors in the Southern District of New York, and was facing a prison sentence, that he decided to cooperate fully and admit that his previous statements to the special counsel were false. From that point onward, he went to "significant lengths to assist the Special Counsel's investigation"—a comment that could worry Trump, who is reportedly concerned about what Cohen has told prosecutors.
New York prosecutors, meanwhile, said that they were unimpressed with Cohen's cooperation thus far. They asked that Judge William Pauley "impose a substantial term of imprisonment" for Cohen, despite his previous requests for "extraordinary leniency." Prosecutors said that "the crimes committed by Cohen were more serious than his submission allows and were marked by a pattern of deception that permeated his professional life." They also characterized Cohen as motivated by greed and "a desire to build his own power." Taken alone, prosecutors said, "these are each serious crimes worthy of meaningful punishment. Taken together, these offenses reveal a man who knowingly sought to undermine core institutions of our democracy." (Mueller's team proposed that Cohen serve a sentence concurrent to what the Southern District of New York has recommended.)
New York prosecutors seemed particularly incensed at Cohen's efforts to silence two women, just before the election, about their alleged affairs with Trump. "Cohen's commission of two campaign finance crimes on the eve of the 2016 election for President of the United States struck a blow to one of the core goals of the federal campaign finance laws: transparency," the government wrote. "While many Americans who desired a particular outcome to the election knocked on doors, toiled at phone banks, or found any number of other legal ways to make their voices heard, Cohen sought to influence the election from the shadows. He did so by orchestrating secret and illegal payments to silence two women who otherwise would have made public their alleged extramarital affairs" with Trump. "In the process," they wrote, "Cohen deceived the voting public by hiding alleged facts that he believed would have had a substantial effect on the Election."
It isn't just Trump who may be in legal danger now that Cohen is cooperating—it's also his family members, whom Cohen admitted to briefing on the Trump Tower Moscow deal in 2016. According to Mueller, Cohen discussed the Moscow deal with Trump's family members "within" the Trump Organization. Donald Trump Jr., an executive vice president of the Trump Organization, told the Senate Judiciary Committee last year that he was only "peripherally aware" of the Moscow deal in 2016.
Trump said last week that he was free to pursue business deals while he was running for president. But he never disclosed the deal publicly, and Cohen's guilty plea clearly shows how he lied in the written statement to the House and Senate Intelligence Committees to conceal the Trump Organization's ongoing involvement in the Moscow project from January through June 2016, with the campaign under way.
The project wasn't revealed until August 2017, when The New York Times obtained emails between Cohen and Felix Sater, a Russian American businessman. Sater, who began advising the Trump Organization in the early 2000s and scoped out deals for it in Russia between 2005 and 2006, boasted of his ties to Putin in emails to Cohen in November 2015 and told Cohen that he could get "all of Putins team to buy in" on the Moscow deal. "Our boy can become president of the USA and we can engineer it," Sater wrote. "I will get Putin on this program and we will get Donald elected."