Three Trump Lieutenants, Three Different Approaches to Mueller
The special counsel is expected to file documents about three of the biggest players in the Russia probe this week, highlighting their divergent legal strategies.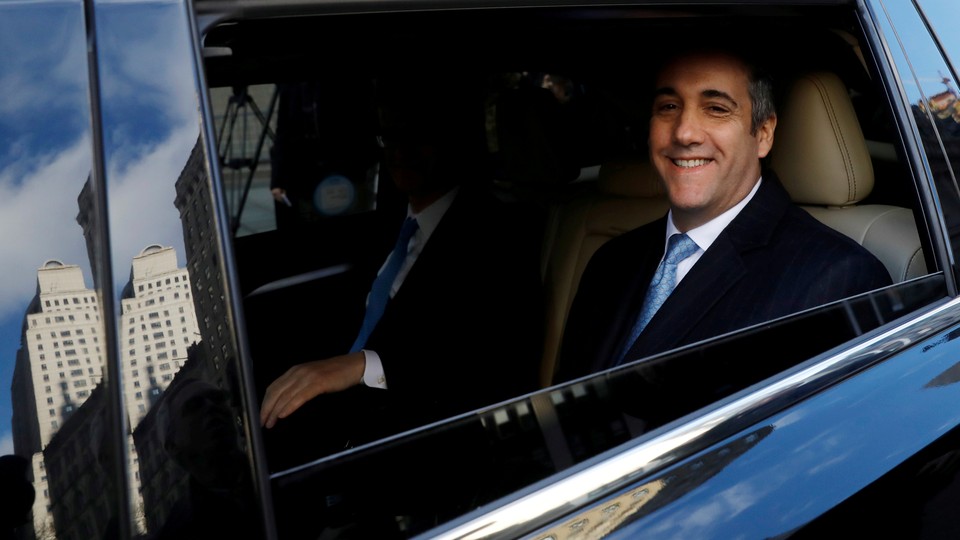 The fateful decision to work for Donald Trump years ago has put a lot of people in the position of making much harder legal decisions. As Special Counsel Robert Mueller, as well as prosecutors in New York and investigators from the House and Senate, zero in on the president himself, they've swept up a series of his lieutenants in what's been called "a classic Gambino-style roll-up": Go after aides, then get them to hand over information.
Denouements in three of the most high-profile cases are expected this week. On Tuesday, Mueller's team is expected to file a sentencing memo for Michael Flynn, the former national-security adviser. Memos on Michael Cohen, Trump's former fixer, and Paul Manafort, who ran Trump's campaign during the summer of 2016, are also expected this week, though the Manafort memo could be under seal. All three men came to Trump via different paths. Cohen was a true believer, an admirer who became a loyal attack dog for Trump's business interests. Flynn was an ideologue who found common cause with Trump's anti-Muslim rhetoric and critique of Barack Obama. Manafort was the consummate mercenary, a washed-up operative looking for a return to glory.
The three men have taken widely divergent approaches to the legal mess in which they find themselves. Cohen has turned dramatically on his former mentor, lashing out in public. Flynn quietly pleaded guilty and has apparently cooperated at length with Mueller. And Manafort, despite having no obvious personal or political connection to Trump, has remained most loyal—holding out on a plea deal, eventually giving in, and then, according to prosecutors, reneging.
Most important, the documents this week could offer an infusion of new information about Donald Trump, his campaign, his White House, and its relationship with Russia. In the process, they'll likely produce far more clarity about what his lieutenants knew, what they told Mueller, and how their differing strategies worked.
Michael Cohen
Cohen was a holdover from the Trump Organization. A Trump acolyte since 2006, he'd worked on various deals and, though he presented himself as Trump's attorney, seemed to function more as a fixer. He emerged as an early cheerleader for Trump to jump into politics, and fulfilled some campaign duties—including having some truly baffling exchanges with reporters—though as his plea deal last week made clear, he also continued to work on a prospective deal to build a Trump building in Moscow. Cohen reportedly wanted a White House job but didn't get one, and began to leverage his Trump connection for profit as a lawyer.
In early 2018, when the seriousness of Cohen's legal jeopardy started to become clear, he initially took a defiant stance. Trump publicly boasted that Cohen would never flip on him (raising the question of what exactly he could flip on), and Cohen told Donny Deutsch he'd sooner jump off a building than betray Trump. He eventually came around. In August, Cohen pleaded guilty in federal court in New York to eight felony counts, including bank fraud, tax fraud, and violating campaign-finance laws—a charge on which he implicated the president in a crime.
Now Cohen spoke of a different loyalty: "My wife, my daughter, and my son have my first loyalty and always will," Cohen told ABC's George Stephanopoulos. "I put family and country first." (Since then, he's taken other shots at Trump, calling for people to vote Democrat, accusing the president of using racial slurs, and more.) Curiously, he did not strike a deal to cooperate with prosecutors at the time, yet he ended up cooperating at length, including testifying for a reported 70 hours to Mueller.
It was only on November 28 that Cohen finally signed a plea deal with Mueller's team, acknowledging that he lied to Congress about the Moscow project during testimony. The plea once again is damaging for Trump, especially because Cohen says in court filings that he told the lies while in contact with Trump's legal team, and in order to bolster Trump's messaging. Now Cohen has asked to be sentenced only to time served for his crimes, citing his cooperation with prosecutors in both New York and D.C. This is an unorthodox approach—cooperating without any deal, then asking for leniency after—and it remains to be seen how well it will work for Cohen. The answer might hinge on just how important his testimony is to Mueller.
Michael Flynn
Flynn seemed like the opposite of Trump: He spent a decorated career as an Army intelligence officer, with all the discipline that entails, while Trump was a flamboyant businessman who avoided military service. But the two men found common cause during the 2016 campaign, united by a fascination with Russia, hatred of Islam, and shared animosity toward Obama, who had forced Flynn out of a job leading the Defense Intelligence Agency. Flynn became a leading surrogate, lending much-needed heft to the Trump campaign and speaking at the Republican National Convention.
Days after the election, Flynn was rewarded with an appointment as national-security adviser. He conducted conversations with the Russian ambassador in that capacity and then, several days after entering the White House, lied to the FBI about those talks. He also lied to Vice President Mike Pence about them. When his lies were revealed by The Washington Post in February 2017, he was fired. Because Flynn had already been under FBI investigation, Mueller took over that probe when he was appointed in May 2017. In November 2017, Flynn cut off communication with the Trump legal team, and the following month, he pleaded guilty to making false statements to the FBI, and also acknowledged false statements in Foreign Agents Registration Act filings.
In other words, Flynn decided to confess quickly, take the pain up front, and try to get back to a normal life as soon as possible. Flynn has a wide range of possible knowledge about Trump, but it's not clear what he has told Mueller or how that might shape the general conversation. His cooperation is expected to buy him a relatively light sentence, though.
Paul Manafort
Finally, and most strangely, there's Manafort. An old-school establishment Republican, he was not particularly ideologically simpatico with Trump, nor was he just a hired gun—the role he long played for unsavory leaders around the globe—because he was working as a volunteer. As my colleague Franklin Foer has reported, Manafort seems to have hoped to leverage the Trump work into rekindling his business and, most important, getting right with an old associate, the Russian oligarch Oleg Deripaska.
Manafort's time at the campaign was short—by late summer 2016, he was too scandal-plagued even for Trump—but in the meantime, he was part of an infamous June 2016 meeting at Trump Tower. He was also present when the GOP platform was edited to soften a critique of Russian meddling in Ukraine.
As it turns out, Manafort was involved in a host of crimes. Mueller produced indictments that laid out money laundering and other financial crimes in great detail, all outside the auspices of the Trump campaign. This was widely seen as a show of strength to convince Manafort to cooperate, but it didn't work, even after his former partner and protégé Rick Gates pleaded guilty to making false statements. He not only insisted on a jury trial, but insisted that he have separate trials in Virginia and D.C., rather than combining them.
The Virginia trial didn't go well for Manafort. Though the judge tangled with Mueller's prosecutors and the jury didn't reach a verdict on every count, Manafort still came out a convicted felon—and with the Washington trial looming. He finally agreed to cooperate and plead guilty in September. But last week, Mueller said in a court filing that Manafort had broken the plea deal by again lying to investigators. Manafort denied lying, but agreed with Mueller's request that his case go straight to sentencing.
Effectively reneging on a plea deal is unusual and risky—it can draw the ire of prosecutors and of courts. Beyond that, it emerged that Manafort had been passing information about Mueller to Trump's legal team for months. That's not illegal, but it's highly unusual for a cooperating witness, and again could prompt Mueller's anger. As my colleague Natasha Bertrand reports, some observers believe that Manafort is angling for a presidential pardon. Trump has conspicuously not ruled that out, and has complained publicly that Manafort has been mistreated.
It's not clear what Manafort told Trump, and whether any of that was useful to the investigation. If public, the Manafort memo should lay some of that out, as well as show the blowback of Manafort's decision to renege on the deal. He seems to be waiting on a pardon from Trump, but it's noteworthy that Cohen and Flynn, both of whom were personally closer to Trump, decided they were better off turning on the president and cooperating with prosecutors than expecting a show of reciprocal loyalty.