The Special Counsel Is Bearing Down on Roger Stone
The longtime Trump adviser appears to have asked an associate to obtain anti-Clinton emails from WikiLeaks during the 2016 campaign.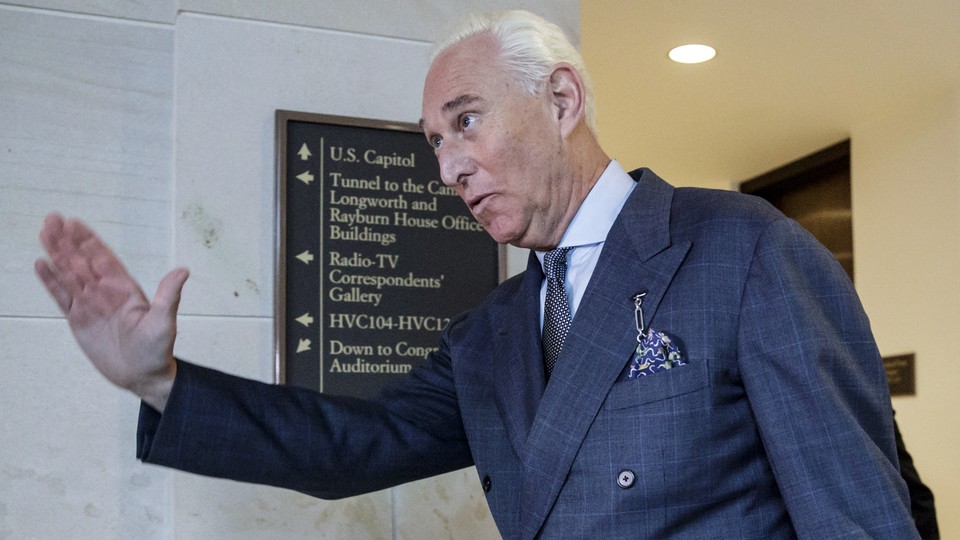 Roger Stone, a longtime adviser to President Donald Trump, appears to be at the center of Special Counsel Robert Mueller's probe into a potential conspiracy between the Trump campaign and Russia because of his uncanny predictions throughout 2016 about WikiLeaks, which published Democratic documents stolen by Russia during the election.
The self-proclaimed "dirty trickster" said several times in 2016 that he was directly in touch with Julian Assange, the founder of WikiLeaks. But he has since walked that back, drawing more scrutiny from congressional and federal investigators and ensnaring several of his contacts in the process. "I had no contact with Assange," Stone told ABC earlier this month, despite the fact that he exchanged private messages with WikiLeaks on Twitter in October 2016. He also said he would never turn on the president. "There's no circumstance under which I would testify against the president, because I'd have to bear false witness against him," Stone said. "I'd have to make things up, and I'm not going to do that."
Now it could soon be Roger Stone's time in the barrel. The House Intelligence Committee voted unanimously on Thursday to release the official transcript of his testimony to Mueller, days after Mueller formally requested it—the last step necessary for prosecutors to bring a charge of lying to Congress, according to The Washington Post.
Mueller's team has proved highly successful so far in getting even Trump's most loyal associates to "flip" on the president using criminal charges as leverage. Just this month, Mueller struck a formal cooperation deal with Trump's longtime personal lawyer Michael Cohen after charging him with lying to Congress about a Russian real-estate deal he and Trump were pursuing in 2016. If Stone is charged by Mueller with a similar crime and decides to cooperate rather than face jail time, it could spell danger for the president. Stone reportedly spoke to Trump regularly during the election, and could be in a position to fill in missing details about the campaign's ties to WikiLeaks.
It's still not clear what Mueller thinks Stone may have lied about in his closed-door interview with the House Intelligence Committee last year. Asked for comment, Stone's lawyer, Grant Smith, forwarded a letter he'd sent to the outgoing Republican chairman, Devin Nunes, on Thursday. "Mr. Stone's testimony provided during the interview was forthcoming, truthful, and wholly consistent with his many detailed public statements on the matters being investigated," Smith wrote. "Mr. Stone never had advance knowledge of the source or content of any releases by WikiLeaks or other organizations, and no person can prove, or truthfully claim, otherwise."
The House panel, for its part, has homed in on at least one area of "deep concern" about Stone's truthfulness: a supplemental statement Stone submitted weeks after his September 2017 testimony in which he identified a New York radio host named Randy Credico as his back channel to Assange. The supplemental statement, obtained by The Atlantic, is "one of the many areas where we have a deep concern that Mr. Stone was untruthful to our committee, especially in light of the new reports," a committee aide told me earlier this month.
In the supplemental statement, Stone insisted that he had merely asked Credico, an acquaintance of many years, to "confirm" Assange's claim in June 2016 that WikiLeaks had Clinton emails that were "pending publication." Credico had discussed Assange and WikiLeaks with Stone that summer, telling Stone in late August that Assange had "kryptonite on Hillary." And in October, Credico predicted damaging email dumps while in London trying unsuccessfully to meet with Assange as a potential guest on his show. But there is no evidence that Credico was Stone's original source of information about WikiLeaks' plans.
The House Intelligence Committee's concerns about Stone's veracity have arisen as a result of a document drafted by Mueller's team and made public recently by another Stone associate and right-wing writer, Jerome Corsi, which indicates that Stone's supplemental testimony didn't tell the full story. The document, called a draft statement of the offense, outlines charges Mueller is prepared to bring against Corsi for allegedly lying to investigators about his role as a back-channel communicator between Stone and WikiLeaks.
The document includes an email Stone wrote to Corsi in July 2016, shortly after WikiLeaks released stolen Democratic National Committee emails. It said, "Get to Assange at Ecuadorian embassy in London and get the pending WikiLeaks emails. They deal with [Clinton] Foundation, allegedly." Days later, while traveling in Italy, Corsi replied to Stone with some news in another email, according to the Mueller document: "Word is friend in Embassy plans 2 more dumps. One shortly after I'm back. 2nd in Oct. Impact planned to be very damaging … time to let more than Podesta to be exposed as in bed w enemy if they are not ready to drop" Clinton, Corsi wrote, referring to Clinton's campaign chairman, John Podesta.
The recently revealed interactions between Stone and Corsi appear to strengthen Credico's denials that he served as Stone's key back channel to Assange. They also reveal that Stone wasn't just looking for confirmation that Assange had the goods, as he told the panel in his supplemental statement. He was actively seeking out more stolen emails. And not through Credico beginning in August 2016, but through Corsi beginning in July 2016, according to the Mueller document.
Shortly thereafter, Stone famously predicted on Twitter that it would soon be Podesta's "time in the barrel." WikiLeaks later released the stolen Podesta emails one month before the election. Mueller has reportedly been trying to determine whether Stone and WikiLeaks coordinated that release to distract from the damaging Access Hollywood tape, which showed Trump making vulgar comments about women. The emails were dumped just minutes after the tape was released on October 7.
Stone's communications with Corsi in November 2017 have also raised questions about whether they intended to make Credico a fall guy. Following Stone's identification of Credico as his "intermediary" to WikiLeaks in his supplemental statement, the House Intelligence Committee subpoenaed Credico to testify as part of its ongoing Russia probe on November 28, 2017. Two days later, Stone emailed Corsi, asking him to write publicly about Credico ahead of his testimony, according to the Mueller document. Corsi replied, "Are you sure you want to make something out of this now? Why not wait to see what Credico does? You may be defending yourself too much—raising new questions that will fuel new inquiries. This may be a time to say less, not more."
Stone agreed to "wait a day," according to emails in the Mueller document, citing Credico's intention to plead the Fifth—a move that Stone apparently encouraged, according to Credico, and that Mueller's investigators are reportedly examining as part of a broader inquiry into whether Stone tried to intimidate Credico into cooperating with his version of events.
Stone is far from the only witness that House Intelligence Democrats are concerned about—Democratic Representative Eric Swalwell told MSNBC earlier this month that the committee had "pages of lies" told by witnesses that it was waiting to turn over to Mueller to cross-examine. All Mueller has to do is ask.