What Utah Voters Really Want From Mitt Romney
New polling data show a large majority of Utahns want the senator-elect to stand up to President Trump. But experts and activists in the state say that he'll need to walk a fine line.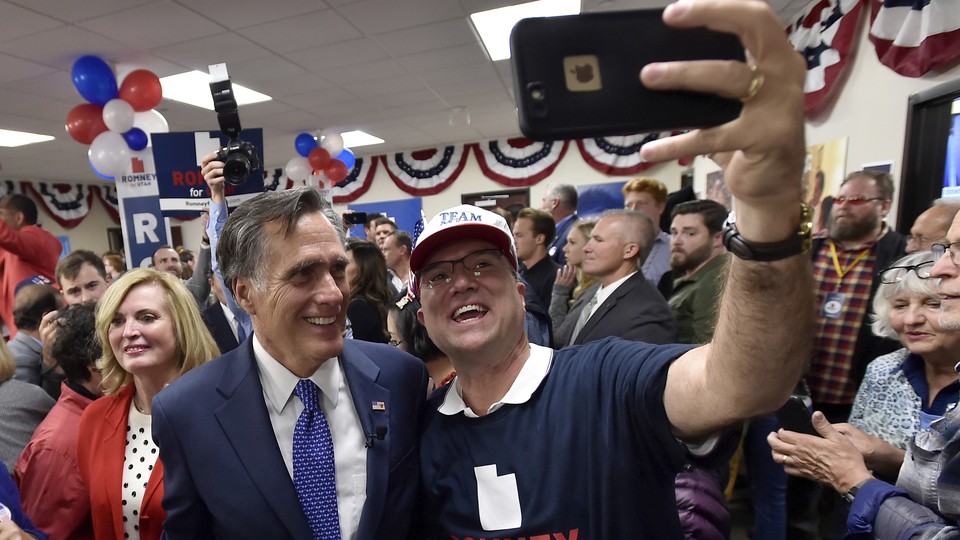 The question has followed him ever since he first launched his bid for the United States Senate: Is Mitt Romney coming to Washington as a friend or foe of Donald Trump?
Thanks to new polling data from the Associated Press, at least one thing is clear: Romney's constituents back in Utah don't want another presidential lapdog.
According to the poll, 64 percent of Utah voters want to see Romney stand up to the president when he gets to the Senate. That's an eye-popping number for a conservative state, particularly in a year when Trump is consolidating power elsewhere in his party and touting high approval ratings among Republican voters. (Notably, the AP found that even about half of Romney's supporters in Utah want him to confront Trump.)
But what exactly do Utahns want to see from their new senator-elect when it comes to the president?
Utah's decidedly idiosyncratic political landscape makes that question difficult to answer with a poll. This is a state that's dominated by members of the Church of Jesus Christ of Latter-day Saints—giving it a reputation for religious conservatism—but also one that voted in 2018 to expand Medicaid, legalize medical marijuana, and approve anti-gerrymandering reform.
While Utah has proved more resistant to Trumpism than most other red states—the president won there in 2016 with a little more than 45 percent of the vote—political experts and activists in the state say that Romney may have to walk a fine line with the president to keep his constituents happy.
"I think, in general, Utahns value agreeableness," Jon Cox, a former senior adviser to Republican Governor Gary Herbert, told me. "They want elected leaders to find solutions. They want them to get along. But in this particular case, that's not the president's modus operandi, so it's jarring to people."
Many Utah conservatives, Cox said, will want Romney to work with the White House where he can on issues that matter to the state, and to advance conventional Republican policy goals. But, he said, "I don't think Utahns want a rubber stamp."
"I think Mitt sees himself in sort of a John McCain role," Cox said. "How would you describe John McCain's relationship with the president? It was a little bit of a frenemy relationship."
He noted that Romney has publicly signaled his independence from the president a few times in recent weeks. Shortly before the election, Romney published an essay on his campaign website criticizing at length Trump's vilification of the news media. When Jeff Sessions resigned as attorney general, Romney tweeted that it was "imperative" that Robert Mueller's Russia investigation be allowed to proceed unimpeded. And a couple weeks later, Romney put out a statement calling the president's response to the murder of journalist Jamal Khashoggi "inconsistent … with basic human rights, and with American greatness."
"I think it's a hint of more to come," Cox said of the statements.
Of course, some Utahns will want to see more than disapproving tweets from Romney. In liberal enclaves such as Salt Lake City and Park City, a growing appetite exists for a more confrontational approach to the president.
Eric Biggart, the chair of a liberal Mormon group called LDS Dems, told me that he wants Romney to protect the Affordable Care Act, and take concrete steps to oppose Trump's immigration agenda. "We implore Senator Romney to remember the admonition of Church leaders who continually champion compassionate immigration policy," Biggart said. "That doesn't involve gassing children."
But Biggart added that he isn't holding his breath. "We have very low expectations for Romney," he said. "And frankly, because congressional Republicans have done so little to slow [Trump's] agenda, any pushback at all will unfortunately be hailed as taking a stand."
Romney was famously outspoken against Trump in 2016, calling him a "phony" and worrying that his election would result in "trickle-down racism." But his reviews of the president's first two years in office have been more mixed. Determined not to let himself be defined in relation to Trump, he centered his campaign message on Utah-specific issues—positioning his policy vision as an alternative to Trump-style nationalism without presenting himself as a "Never Trump" bomb-thrower.
But now that Romney is officially headed to Washington—a place where virtually everything revolves around this planet-sized presidency—his relationship with Trump will be more closely watched.
Romney's apparent ambivalence toward Trump is emblematic of the struggle that many of his conservative coreligionists face.
"I would characterize Mormon attitudes toward Trump as this trade-off between their identity as strong Latter-day Saints and their Republican identity, which for many of them is also pretty strong," said Quin Monson, a political scientist at Brigham Young University. "Donald Trump has put those identities in tension." (Monson's polling firm was contracted by the Romney campaign during Utah's Senate primary, but he said he wasn't speaking for the senator-elect.)
AP data on national Mormon voting patterns contain some hints of this unusual tension:
Voters of other religious faiths such as evangelical Christians and Catholics are more consistent in their ratings of the president and vote choice. Across most other religious affiliations, about the same share voted for Republican candidates as said they approve of the president.

That's not the case with Mormons: 67 percent voted for Republicans, but 56 percent said they approve of the way Trump is handling his job as president.
Pointing to the booming economy and the state's historical support for Republican presidents, Monson said that Trump's approval rating in Utah—which stood at 45 percent in October, according to Morning Consult—is remarkably "tepid."
Few in Utah expect Romney to join the resistance once he arrives in the Senate. (And as I've written in the past, those who do are likely to be disappointed, given his consistent support for the more traditionally conservative elements of Trump's agenda.) But after witnessing outgoing Senator Orrin Hatch's lockstep devotion to Trump these past couple of years, many in the state are simply hoping Romney will distinguish himself with a degree of independence.
When I asked Catherine Eslinger—the co-director of the Utah chapter of Mormon Women for Ethical Government—what she'd like to see Senator Romney do to hold Trump accountable, she rattled off a detailed wish list. She hopes he'll push for more robust oversight of the "dysfunction and upheaval" in the Trump administration; that he'll provide a check against what she considers draconian policies toward immigrants and refugees; that he'll speak out against Trump's racist rhetoric.
"He has a platform now," Eslinger said. "People will pay attention if he chooses to take that stand. And I do believe he will."
But, she added, "Whether he will do it 100 percent of the time I wish that he would? That would be really difficult."