Michael Flynn's Lawyers Appear to Have Badly Miscalculated
Judge Emmet Sullivan expressed "disdain" and "disgust" for Flynn's crimes and, despite the government's request for leniency, postponed a status hearing until March.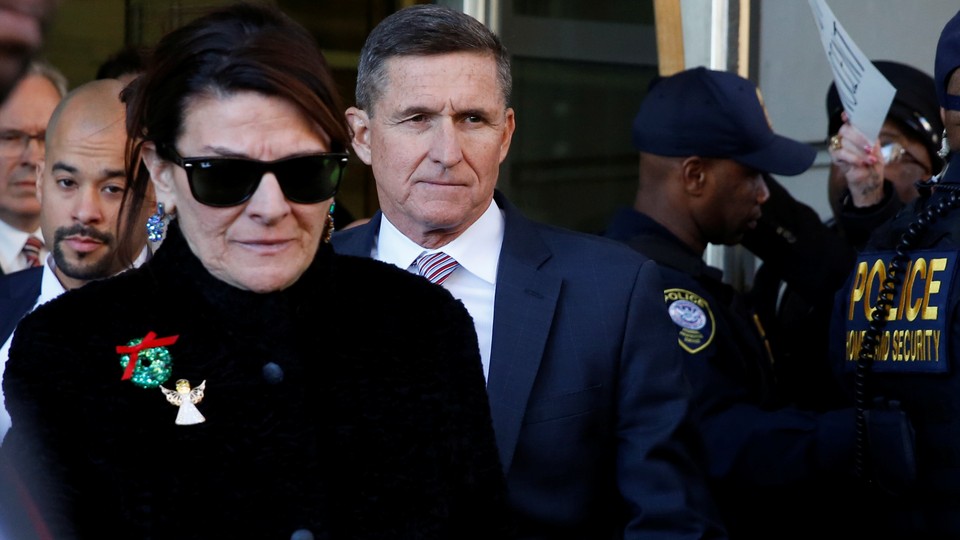 Lawyers for retired General Michael Flynn had every reason to celebrate. They managed to get their client—who lobbied against U.S. interests while serving as a top Donald Trump–campaign surrogate; tried to undermine the Barack Obama administration's Russia policy while still a private citizen; and, as a sitting national-security adviser, worked to conceal it all from the Justice Department—a recommendation of no jail time from the government. But they appeared to have made a last-minute miscalculation that put Flynn's potential lenient sentence in doubt.
Special Counsel Robert Mueller, who is investigating a potential conspiracy between the Trump campaign and Russia, appeared to let Flynn off the hook for his crimes in exchange for his cooperation in the Russia probe and an investigation into illegal lobbying for the Turkish government that is being conducted out of the Eastern District of Virginia. Flynn is also cooperating in a third investigation, the nature of which remains unknown. Indeed, before Tuesday's hearing, it had appeared all but certain that Flynn's decision to assist the government early and fully would spare him jail time.  But that leniency apparently wasn't enough for Flynn's lawyers.
In a sentencing memo filed last week, Flynn's lawyers, Robert Kelner and Stephen Anthony, indicated that the FBI agents who interviewed the former national-security adviser in January 2017 about his conversations with the former Russian ambassador Sergey Kislyak had entrapped him, lulled him into a false sense of security, and failed to insist that he have a lawyer present for the interview.
Judge Emmet Sullivan, however, who was set to issue Flynn's sentence on Monday, was not sympathetic. "How is raising these points consistent with accepting responsibility?" he asked Flynn and his lawyers as they stood before him at the lectern on Tuesday. He then lambasted Flynn for lying to federal agents on White House grounds while serving as the president's top national-security adviser in January 2017, and for lying about his lobbying work for the Turkish government. "Arguably, you sold out your country," Sullivan said. He added that while he would take Flynn's 33-year public-service career and cooperation into account when sentencing him, he would not try to hide his "disdain" and "disgust" for Flynn's crimes, and asked the government at one point whether Flynn's conduct rose to the level of treason.
Flynn's lies to the FBI were brazen, according to a summary of the agents' interview with him last January that was released on Monday night. The summary, known as a 302, reveals that Flynn falsely stated that he did not recall discussing with Kislyak the Obama administration's new sanctions, expulsion of diplomats, and shuttering of Russian compounds in response to Moscow's election interference. Flynn also falsely claimed that he did not learn about the Obama administration's actions against Russia until later, because he was vacationing in the Dominican Republic on December 28 when the executive order was signed.
What he did not tell the agents, however, was that when he and Kislyak spoke on December 29, it was after Flynn had already discussed how to respond to the new sanctions with his deputy, K. T. McFarland, who was at Mar-a-Lago with Trump at the time. The transition team determined that the sanctions could have a negative effect on the incoming Trump administration's foreign-policy goals, so Flynn asked Kislyak to refrain from escalating the situation until Trump took office. Flynn also failed to tell the FBI that Kislyak called again on December 31 to inform him that Russia had decided not to retaliate at Flynn's request.
Additionally, Flynn falsely stated that he had called Russia, along with other countries, on December 22, 2016, only as part of a drill "to see who the administration could reach in a crisis" and to "get a sense" of where they stood on an impending United Nations vote on Israeli settlements, rather than to swing those votes. He did not tell the FBI, moreover, that Kislyak called Flynn again on December 23 and said that Russia would vote to condemn the settlements.
Sullivan's disdain stood in stark contrast to the government's characterization of Flynn in its sentencing memo as a star witness who had provided "substantial" assistance to at least three ongoing investigations. Prosecutor Brandon Van Grack said in court on Tuesday that the government believed Flynn had fully accepted responsibility for his conduct. But the implication by Flynn's lawyers that Flynn had been entrapped by the bureau hung in Sullivan's mind.
"I don't know what his lawyers were thinking," says Nick Akerman, a former assistant U.S. attorney, a former assistant special Watergate prosecutor, and a partner at Dorsey & Whitney. As a defense lawyer, "you really ought to be in the position of complete contrition and saying, 'Look, my client did something that was wrong, he made up for it, he's cooperated,'" he says. "To take the tack that somehow the government was at fault here is completely absurd." There is  "no question whatsoever" that Flynn's lawyers miscalculated, says Renato Mariotti, a former federal prosecutor in the Northern District of Illinois."The judge rightly saw that there was no misconduct by the government and appropriately criticized Flynn's apparent failure to accept responsibility for his criminal activity," he adds.
Mimi Rocah, a former federal prosecutor in the Southern District of New York, agrees that Flynn's lawyers had clearly made a "very misguided appeal" to Sullivan. But she notes that it may also have been a play for a pardon from President Trump. "Maybe on some level, this was an appeal to Trump and his base," Rocah says. Mark Zaid, a national-security attorney in Washington, D.C., says that if the defense's strategy was to send a message to the president, only "time will tell" whether that strategy was sound. "But that's more a long-term political strategy, and I would imagine in the short term Flynn is far more interested in knowing whether or not he can avoid jail," he says.
Kelner, Flynn's lawyer, asked that the judge not hold the sentencing memo against their client. "General Flynn recognizes the obligations that came with higher office, and that this is a serious offense," he said. "We don't mean to dispute that." The president has not tried to hide his continued support for Flynn, and has lamented that Flynn was treated unfairly by the FBI. "Good luck today in court to General Michael Flynn," Trump tweeted on Tuesday. White House Press Secretary Sarah Sanders said on Tuesday that Flynn had been "manipulated" by the bureau. Mueller's office shot back at any claim of wrongdoing by the FBI in a response to Flynn's lawyers released last week. "A sitting National Security Advisor, former head of an intelligence agency, retired Lieutenant General, and 33 year veteran of the armed forces knows he should not lie to federal agents," they wrote.
Sullivan's harsh words nearly an hour into his sentencing hearing seemed to unnerve Flynn, who had appeared confident up until that point in his decision to proceed with sentencing before all his cooperation with the government was over. "Yes," he responded loudly, when the judge asked for the third time whether he would like to meet with his lawyers to reconsider moving forward. Ultimately, Sullivan postponed a status hearing on Flynn's cooperation until March 13.
Flynn is still cooperating with prosecutors in the Eastern District of Virginia in an investigation into Turkish lobbying, according to Kelner, and will "likely" have to testify in that case. Flynn's former associates Bijan Kian and Ekim Alptekin were indicted in the Eastern District on Monday as part of a conspiracy they allegedly concocted with Flynn in 2016 to "covertly and unlawfully" influence U.S. public opinion as it relates to the exiled Turkish cleric Fethullah Gulen.
Sullivan said that while he can't guarantee that Flynn will receive a lighter sentence after his cooperation is fully over, it would at least allow the court to take everything into consideration with regard to Flynn's assistance to prosecutors. "I can't consider the full extent of your cooperation in this case," Sullivan said, noting that Flynn's crime of lying about his conversations with the Kislyak was "very serious" and resulted in top White House officials—including the vice president and press secretary—lying to the public. "You can't minimize that," he said. "If you want to postpone this, that's fine with me."
Flynn's downfall from revered three-star general to convicted felon was rapid, beginning after President Barack Obama fired him as head of the Defense Intelligence Agency in 2014 following a chaotic, "disruptive" tenure, and accelerating with Trump's political rise. In his January 2017 interview with the FBI, a redacted summary of which was made available by the special counsel's office on Monday night, Flynn acknowledged that he had been friendly with his Russian counterpart, former GRU Director Igor Sergun, when he was head of the DIA. But by the end of 2015, Flynn was sitting next to Russian President Vladimir Putin at an awards dinner for the state-sponsored Russian news agency RT. By December 2016, he was working with both Turkish officials for cash and Russian officials for political capital.  And by February 2017, he was ousted from the White House and under FBI investigation.