Michael Cohen Pays the Price for His 'Blind Loyalty' to Trump
The sentencing ended a saga that began with a dramatic FBI raid and led Cohen to implicate the president in criminal misconduct.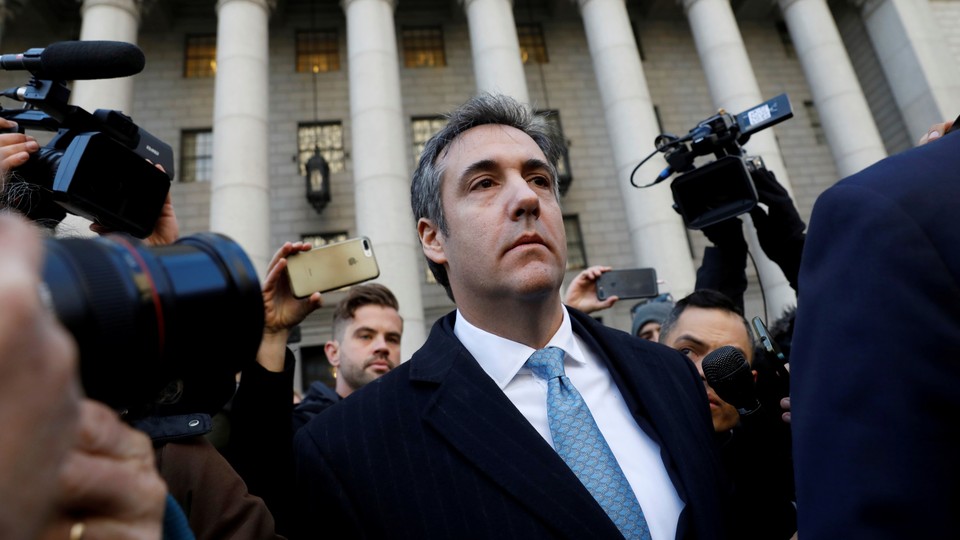 President Donald Trump's former personal lawyer Michael Cohen was sentenced to three years in prison on Wednesday, just days after directly implicating Trump in a felony stemming from hush-money payments to two women made just weeks before the 2016 election.
The sentencing marked the culmination of a months-long saga that began in April with a dramatic FBI raid on Cohen's home and office and ended with Trump's most loyal lieutenant and fixer—who once said he would take a bullet for his boss—turning against the president and implicating him directly in criminal misconduct. In Manhattan federal court on Wednesday, Cohen apologized to his family and to "the people of the United States."
"Today is the day that I am getting my freedom back," he said in a prepared statement. "I have been living in a personal and mental incarceration ever since the day that I accepted the offer to work for a real-estate mogul whose business acumen I deeply admired." He said that his "blind loyalty" to Trump led him "to take a path of darkness instead of light."
The sentencing also revealed how Cohen, who had been hoping for leniency, given his assistance in Special Counsel Robert Mueller's investigation and his partial cooperation with the Southern District of New York, may have miscalculated. Cooperation "does not wipe the slate clean," Judge William H. Pauley said on Wednesday, adding that "a significant term of imprisonment" for Cohen was justified. Cohen was also hit with a forfeiture of $500,000, restitution of $1.4 million, and two $50,000 fines.
New York prosecutors had recommended last week that Cohen serve up to four years in prison for crimes including tax evasion, false bank statements, campaign-finance violations, and lying to Congress—a recommendation that Cohen's lawyer Guy Petrillo called "strident" and "unfair" in Wednesday's hearing. But Judge Pauley accused Cohen of being motivated by "personal greed" and thriving on "access to wealthy and powerful people." Each of his crimes was "sophisticated," Pauley said, and "standing alone, warrant considerable punishment." He ordered Cohen to surrender on March 6, 2019, at which point he will be taken to the Otisville Correctional Facility in New York State.
The recommendation by the Southern District of New York surprised Cohen's legal team, Cohen's former lawyer Lanny Davis told The Atlantic, given how starkly it contrasted with a concurrent filing issued by Mueller, who is investigating Trump's campaign for potentially conspiring with Russia in 2016. Mueller wrote last week that Cohen had provided the special counsel "with useful information concerning certain discrete Russia-related matters core to its investigation," in addition to details about Trump's pursuit of a Trump Tower deal in Moscow during the election. Jeannie Rhee, a prosecutor in Mueller's office, echoed that conclusion in court on Wednesday. "Mr. Cohen has sought to tell us the truth," she said, while remaining tight-lipped about the ongoing investigation.
Cohen's sentence is a warning to anyone caught up in the Mueller probe who declines to cooperate with prosecutors. Whereas Mueller's team credited Cohen with his eventual assistance—while pointing out that he was not initially forthcoming—New York prosecutors recommended that Cohen serve prison time owing in part to his "affirmative decision" not to cooperate fully with the Southern District. He was not willing to discuss "other criminal uncharged conduct, if any, in his past," prosecutors wrote in a sentencing memo, and that was a deal breaker. Nicolas Roos, the assistant U.S. attorney who prosecuted Cohen in the Southern District, asserted that allowing Cohen to engage in "selective cooperation" would "send the wrong message" that such behavior is rewarded. Cohen said he chose not to enter into a full cooperation agreement because "the sooner I am sentenced, the sooner I can return to my family."
"I don't need a cooperation agreement in place to do the right thing," Cohen said. But Pauley, the judge, said, "Our system of justice would be less robust without the use of cooperating agreements with law enforcement."
Davis, who decided after Cohen's sentencing that his job as Cohen's lawyer was done, called the difference in tone between the Mueller and Southern District memos "the tale of two prosecutors." "It's the difference between Mueller looking at the big picture—how Cohen has cooperated on issues core to the investigation into a potential conspiracy between the Trump campaign and Russia—versus the Southern District, which is not telling the full story," Davis said. (The Southern District did not return a request for comment on Davis's allegation.) He pointed to a detail mentioned by Petrillo in his sentencing memo filed last week—namely, that "Michael was notified through counsel" of the government's decision to charge him "only three or four days" before the charges were filed.
But Cohen had the opportunity to cooperate fully even after he was charged, said Daniel Goldman, the former deputy chief of the Organized Crime Unit in the Southern District of New York, or SDNY. "Cohen's refusal to cooperate fully is why he's in this situation, not because SDNY chose to charge him before they met with him," Goldman said. "If he wanted to avoid jail, he likely could have if he had fully cooperated."
Cohen's lawyers also believe that New York prosecutors should have given him more credit for helping them potentially catch a far bigger fish: Donald Trump. "He offered evidence against the most powerful person in our country," Petrillo said on Wednesday. "He did so not knowing what the results would be." New York prosecutors acknowledged that Cohen implicated Trump directly in the campaign-finance violations stemming from hush-money payments he made to the adult-film actress Stephanie Clifford—a.k.a. Stormy Daniels—and the former Playboy model Karen McDougal at the height of the election. The women had been planning to reveal that they'd had affairs with Trump more than a decade ago, which he denies. But Roos said on Wednesday that Cohen's role in the campaign-finance violations was particularly "serious because of the tremendous societal costs," and "in committing these crimes, Cohen has eroded faith in the electoral process."
Minutes after Cohen was sentenced, the Southern District announced that it had reached a non-prosecution agreement with American Media Inc., the publisher of the National Enquirer. AMI admitted to working "in concert" with Trump's campaign to pay McDougal $150,000 "in order to ensure" that she did not publicize damaging allegations about Trump before the election, prosecutors said. "AMI further admitted that its principal purpose in making the payment was to suppress the woman's story so as to prevent it from influencing the election," they added.
AMI's cooperation with prosecutors, which is ongoing, could be particularly damaging to the president. After initially denying he had any knowledge of the payments, Trump now says the payments did not constitute a campaign contribution and that it's Cohen's "liability" if he made a mistake. But AMI's admission that they made the payment to prevent a scandal from derailing Trump's candidacy undercuts his recent claim that the payments were "a simple private transaction." Two other Trump associates who were involved in the payments—the Trump Organization's chief financial officer, Allen Weisselberg, and the CEO of American Media Inc., David Pecker—were given immunity to testify about the scheme over the summer.
Cohen still poses a significant threat to the president in the investigation into a potential conspiracy between the Trump campaign and Russia. He has taken Mueller deep inside the Trump Organization, describing how he helped Trump pursue a real-estate deal in Russia well into the election campaign, and provided the first in-court evidence that Trump may have been compromised by Russia while President Vladimir Putin was waging a direct attack on the United States. Cohen has committed to continuing his cooperation with Mueller, even after being sentenced in the Southern District, according to the special counsel's filing. Trump has called Cohen a "weak person" who made up "stories" to get a "deal" with Mueller, but he's also been lashing out against the Mueller probe more than ever. "Bob Mueller (who is a much different man than people think) and his out of control band of Angry Democrats, don't want the truth, they only want lies," he tweeted last week. "The truth is very bad for their mission!"