Mitch McConnell Appears to Be Killing Bipartisan Sentencing Reform
Advocates claim that the bill would pass with a supermajority in the Senate, but the majority leader says it's dividing his caucus.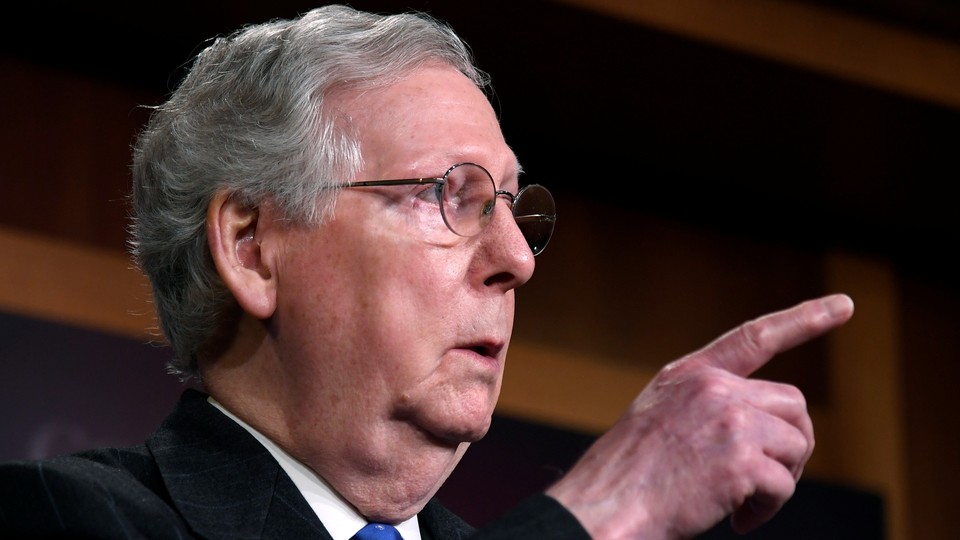 A series of tough sentencing laws in the 1970s and 1980s sent incarceration rates soaring. Congress imposed mandatory minimum sentences for federal crimes including drug offenses, leaving aging offenders serving life terms as the federal prison population swelled from 25,000 in 1980 to 210,000 three decades later. Though federal incarceration rates grew more quickly than state rates, states hold most of the country's 2.3 million total inmates.
In recent years, a coalition of liberal and conservative reformers have pushed for changes with arguments both moral and fiscal. Some success came during the Obama years, such as reducing the sentencing disparity between forms of cocaine. Despite President Donald Trump's "tough on crime" campaign rhetoric, there seemed to be an opening for significant reform this year in a rare act of bipartisan cooperation. The window of opportunity is closing quickly.
The First Step Act, a package of prisoner-reentry reforms, passed the GOP-controlled House of Representatives by a 360–59 margin, with almost every Republican in favor. Trump endorsed the bill after the midterm elections, giving momentum to an effort pushed by his son-in-law, Jared Kushner, whose father spent a year in federal prison for tax evasion and illegal campaign contributions.
The bill would let some federal inmates participating in "evidence-based recidivism reduction programs" earn credit to leave prison more quickly; the sentencing reform added in the Senate trims future mandatory minimum sentences for drug crimes and lets prisoners sentenced under the old crack-cocaine rules petition for a reduced sentence in line with the recent reforms.
On Friday, Trump tweeted that Senate Majority Leader Mitch McConnell should allow a vote on the "extremely popular" package.
Top GOP senators predict that it would get 25 or 30 Republican votes in their chamber and pass with a bipartisan supermajority. But now McConnell has refused to bring it up in the current lame-duck session, and supporters fear for the bill's future in next year's divided Congress.
"I've got this much time," McConnell said this week at a Wall Street Journal event, holding his hands close together. He said such a bill requires a week or ten days to consider, while there are only two weeks left before the planned holiday recess and budget bills that must be passed before then; advocates argue that it would only take a few days, with a cloture vote capping debate at 30 hours. McConnell acknowledged support on both sides of the aisle but called the legislation "extremely divisive inside the Senate Republican conference," with more members undecided or opposed than in favor.
"That's his calling card, protecting his conference," said Kevin Ring, the president of Families Against Mandatory Minimums and a leading reform advocate who spent more than a year in federal prison for his role in the Jack Abramoff lobbying scandal. While past majority leaders like Lyndon Johnson might have strong-armed their members, McConnell waits for near-unanimity among Senate Republicans. "I think he's not just looking for 60 votes," said Brett Tolman, the former top federal prosecutor in Utah who also worked as a GOP Senate staffer and now advocates for criminal-justice reform. "He's looking for a majority of Republicans." That seemed more likely as Senator Ted Cruz, a former skeptic of the bill, came out in favor of it Friday afternoon after the sponsors accepted his minor amendments; his support could lead more conservative Republicans to join him.
Above all, Ring said in an interview last week, McConnell wants to avoid GOP infighting and protect his senators in their reelection fights. There's the specter of anti-reform senators like Tom Cotton of Arkansas calling other Republicans "soft on crime," despite endorsements from Trump and law-enforcement organizations like the Fraternal Order of Police. Cotton charges that if the bill becomes law, "thousands of federal offenders, including violent felons and sex offenders, will be released earlier than they would be under current law." Supporters say that Cotton is misleading the public by ignoring the required risk assessment that would screen out high-risk inmates, even if the law does not exclude their crimes specifically.
Then there's the possibility of GOP primary challengers attacking incumbents. Lukewarm senators might be asking McConnell to spare them the vote, Ring said. "For every Republican senator who's saying, 'I have problems with this,' my sense is that there's another one saying to McConnell, 'I'd rather not have to vote on this.'"
There's also the question of McConnell's personal opinion. "He doesn't like the bill," the GOP donor and White House ally Doug Deason told the Post. He compared the majority leader to the hard-line former attorney general: "He's a Jeff Sessions–style, lock-them-up-and-throw-away-the-key kind of guy." However, Tolman said that when he met with McConnell, the senator indicated he was "not really putting his finger on the scale one way or another."
If not this year, how about in 2019?
"I'm pretty confident, given the broad support that it has, that it would pass next year," McConnell predicted at the Wall Street Journal event. Supporters disagree. "This really does need to get done this year," Senator Mike Lee, a libertarian-leaning Republican from Utah who backs the reforms, told The Journal last month. "Saying that we'll do it next year is tantamount to saying this just isn't going to get done."
The two advocates agreed. "You start all over again," Ring said. "You're back to square zero," Tolman said. The politics will change with Democrats taking control in the House. Progressives, especially new representatives who ran on social-justice platforms, could push for more dramatic reforms. Most House opposition was among Democrats who thought the original bill without sentencing reforms did not do enough. In May, with opposition from former Attorney General Eric Holder and others on the left, 57 of the 59 "no" votes came from Democrats.
More generous policies could exceed Trump's tolerance; if he withdrew his endorsement, Republicans on the fence would lose their cover with the party's base. In the Senate, Ring said, the bill would lose supporters like the retiring Arizona Republican Jeff Flake, and GOP newcomers seem likely to oppose the legislation. The bipartisan consensus of the past four years could evaporate, leaving a partisan fight in which reform goes nowhere.
When asked about the bill's odds during the lame-duck session, Tolman put them at 50–50 but sounded an optimistic note: "I was in the Senate, and we passed things that had worse odds than this. I think it's very possible." Ring took several breaths before answering. "I've always been pessimistic," he said. "I worked on the Hill. I was a lobbyist. I know that it's easier to kill things than pass things."