John Delaney Is Playing the Long Game
The Maryland Democrat and 2020 presidential candidate has visited all 99 of Iowa's counties—well before many better-known Democrats have even decided whether to run.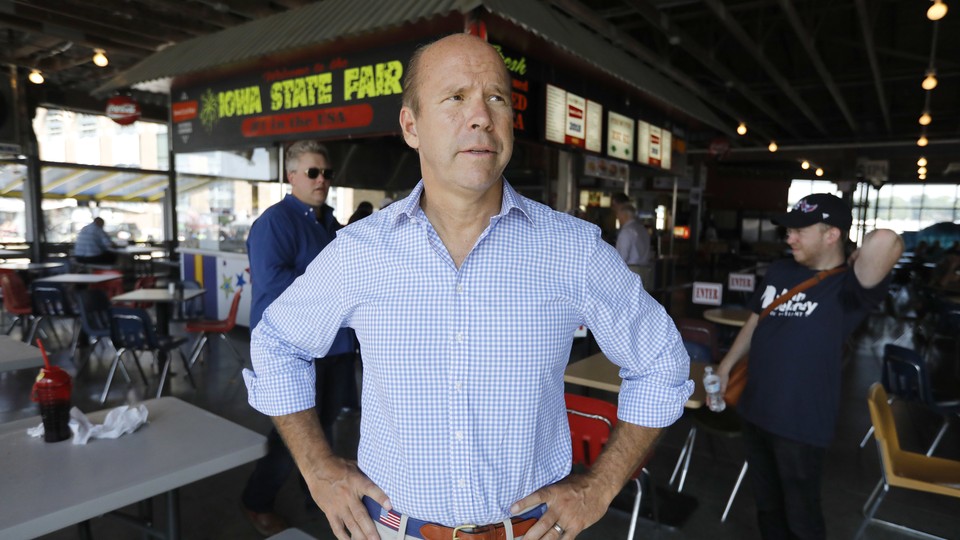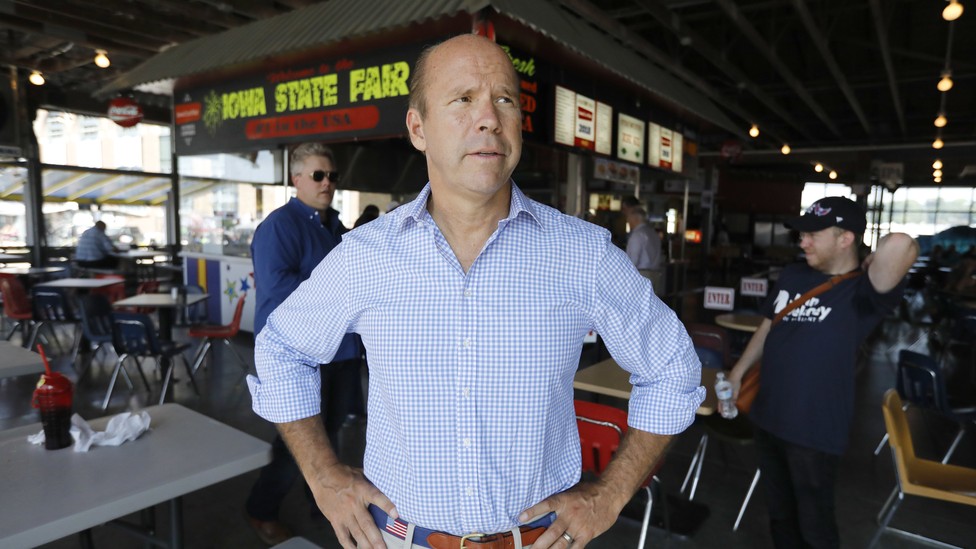 On Tuesday, John Delaney wrapped up his 20th visit to the state of Iowa.
The Maryland Democrat announced his presidential intentions way back in July 2017—more than three years before the 2020 election. He's already visited each of Iowa's 99 counties, spent $1.5 million on television ads in the state, and hired dozens of staffers—all before big-name Democratic contenders such as Joe Biden and Bernie Sanders have even decided whether to run.
"By going around and doing what I'm doing, meeting with thousands and thousands of Iowans," Delaney told me in an interview this week, "you can distinguish yourself in a crowded field."
But who, exactly, is he?
Delaney, who represents Maryland's Sixth Congressional District, which stretches from Appalachia to the Washington suburbs, is often described as a political moderate. In reality, he checks several progressive boxes: He's a proponent of universal health care (though not a single-payer system), a $15 minimum wage, and the expansion of early-childhood education. Last month, he joined a bipartisan group of lawmakers to propose carbon-tax legislation. "The way I go about getting progressive things done is by finding common ground," Delaney said.
Through his early efforts in Iowa, Delaney has positioned himself as a unifier, pledging that as president, he would work to resolve America's increasing political polarization and put forward legislation with support from both parties. Iowa Democrats told me in interviews that they find his approach refreshing—a kind of throwback to the pre-Trump political era—and each one of the dozen activists and party leaders I spoke with this week seemed to genuinely like the guy.
But it's still not clear that John Delaney is the kind of candidate Democrats want to put up against Trump in 2020. And with some 400 days until the Iowa caucuses—and many more well-known candidates left to announce their own presidential bids—there is still plenty of time for him to get lost in the fray. "There's gotta be something about him that rises above another congressperson running for president, because there's gonna be a lot of those," said Jake Oeth, the Iowa state director for former Maryland Governor Martin O'Malley's 2016 presidential campaign.
In our interview on Tuesday, Delaney described himself as a "different kind of Democrat," highlighting, as he often does during his Iowa campaign stops, his blue-collar upbringing and business acumen. The 55-year-old Democrat was born and raised in New Jersey and attended Columbia University in New York with the help of scholarships from his father's labor union, as well as the local American Legion and Lions Club. Young Delaney then went on to get a law degree from Georgetown and co-found two publicly traded companies: Health Care Financial Partners, which provided loans to small health-care providers, and CapitalSource, a commercial lender. The congressman, who was at one point the youngest CEO in the history of the New York Stock Exchange, has accumulated a fortune of more than $200 million, according to the Center for Responsive Politics, making him the third-wealthiest member of Congress. "I'm a strong believer in the American private economy, the greatest innovation machine ever created," Delaney told me.
The Maryland Democrat is much more of a policy wonk than a rhetorical charmer, and he spends more time talking about national unity than he does about Donald Trump. In a recent interview with the editorial board of the Des Moines Register, Delaney summed up what he views as the central issue facing the country: "How do we take this terribly divided nation, where American is pitted against American, and how do we start bringing it back together and restoring a sense of unity and common purpose to our country?"
While it's not exactly rare to find a politician preaching national unity on the campaign trail, Delaney says he's different. Others might give lip service to bipartisanship, he told me, "but I'm the only one actually focused on that."
During his time in Congress, the multimillionaire lawmaker teamed up with two Republicans to push for legislation that would use revenue from international tax reform to fund various infrastructure projects. On the campaign trail in Iowa, Delaney has pledged that, if elected, he would only introduce legislation that receives bipartisan support for his first 100 days in office. Some of his top priorities for those first few months include passing a comprehensive infrastructure package, doubling the earned-income tax credit, and establishing an optional National Service Program for young people between high school and college.
Several Iowa party leaders told me that this kind of message could be particularly appealing after such a divisive two years in American politics. "I think there's often an ebb and flow to such matters," said Kurt Meyer, chair of the Mitchell County Democrats. Residents of this county backed Barack Obama in both 2008 and 2012, but in 2016, Trump won it by more than 24 points. "After fighting with people in the other party, the message that Delaney sends—Let's meet in the middle—it might fall on fertile soil," Meyer said.
Debra Rodgers, a 68-year-old retired secretary and registered Democrat, lives in Henry County, which Trump won by more than 30 points two years ago. Rodgers had a chance to meet Delaney in the spring, and since then, she's been a fan. "After a year of listening to the butt head in the White House—I'm sorry to talk like that—[Delaney] was so refreshing," Rodgers told me. "He was a bit of a throwback, you know? Being a Baby Boomer, this is the kind of politician we remember, the kind we want to have in office."
But it's an understatement to say that not everyone agrees.
"I don't see where his story is compelling enough to capture a narrative," said one state Democratic activist, who asked for anonymity in order to speak candidly. He said he personally likes Delaney but believes that being a wealthy, white businessman will likely work against him in this particular political moment, when more women and people of color are running for and being elected to Congress than ever before. "That's a huge challenge for a candidate like him, or [Martin] O'Malley or anyone of that same mold, particularly in the Democratic Party," the activist said.
In this way, Delaney's candidacy illuminates the broader discussion happening within the Democratic Party about the kind of person who would be best situated to beat Trump in 2020: Should the party's nominee be a woman or a nonwhite person? Should he or she be a charismatic and starry-eyed newbie? A progressive bomb-thrower? A moderate, or a red-state pragmatist?
In a recent Washington Post column, the conservative writer George Will described John Delaney as "a Joe Biden 20 years younger and half as prolix." Someone Democrats would ignore at their peril:
Solidly built and impeccably tailored, Delaney, 55, is a Democrat who believes in what he has lived: upward mobility, with assistance. He recognizes the obvious, that globalization has been "extraordinarily positive" for billions more people than it has injured, but its American casualties are real and deserve government help. He speaks with the calm confidence of one who understands, as the man he hopes to displace does not, that the lungs are not the seat of wisdom.
Delaney's candidacy, Will writes, "will test whether Democrats' detestation of President Trump is stronger than their enthusiasm for identity politics." And many Democrats agree with this reasoning. They argue that the right 2020 candidate is a more mainstream Democrat who emphasizes working across the aisle, prioritizes the economy, and can win over moderates.
"There's no doubt that in the divisive Trump era, voters are looking for someone to unite the country and lessen the rancor," said Lanae Erickson Hatalsky, the vice president for social policy and politics at Third Way, a think tank that advocates center-left ideas. "That's why in both the primaries and in the general election, voters have been picking thoughtful pragmatists looking to unite … not left-wing populists who were trying to out-Trump Trump."
Others, though, say the grassroots energy is clearly on the far left, and they want nothing less than a full-throated progressive to challenge Trump—someone who can tap into the enthusiasm of a multiracial coalition made up of young people, African Americans, Latinos, and white progressives of all income levels. "Our swing voter is not red to blue. It's nonvoter to voter," was the consistent campaign refrain of Representative-elect Alexandria Ocasio-Cortez of New York.
Iowa, then, with its much-criticized first-in-the-nation nominating contests, will serve as a sort of laboratory to test these strategies in the run-up to 2020. A Wall Street Journal survey recently found that Iowa Democratic leaders "are hungry for a young standard-bearer who will usher in generational change." But the state party leaders I spoke with couldn't offer the same clarity. They explained that they weren't necessarily looking for someone "young"—just someone new.
"Kamala [Harris] is a new face, Cory Booker is a new face, [Amy] Klobuchar is a new face," said Sean Bagniewski, the Polk County Democratic Party chair. "It doesn't matter if you're 40 or 50 or 60."
Ryan Crane, a 34-year-old Democratic activist from West Des Moines, told me that, while he backed Hillary Clinton right out of the gate in 2016, this time around he is keeping a completely open mind. "Whether that is a white male or a black female or a young white female or a Latino, that matters much less to me than the style and substance [of] an individual candidate," Crane said. "On some days, I think a bomb-thrower is really what we need … On some other days, I think like Michelle Obama: When they go low, we go high."
John Delaney, who is much more the latter than the former, is betting that his optimism and his dedication to bipartisanship will attract Iowa voters and that, by this time next year, he'll be a top contender in the state. That's not an entirely foolish strategy, several party leaders noted. After all, performing well in Iowa drew the country's attention to a little-known former Georgia governor named Jimmy Carter back in 1976. And it helped prove Barack Obama's viability as a presidential candidate in 2008.
"The race is going to get so crowded, and I suspect a lot of us in Iowa are going to tire of seeing all these candidates marching through over the next year and a half," said Meyer, the Mitchell County chair. "Delaney will look stronger because he got here early. He's planting those seeds."