Is Joe Biden Running for President? He Can't Decide.
The former vice president is angry about Trump and thinks he can do the job better than anyone else, but he's got to make up his mind—and do it soon.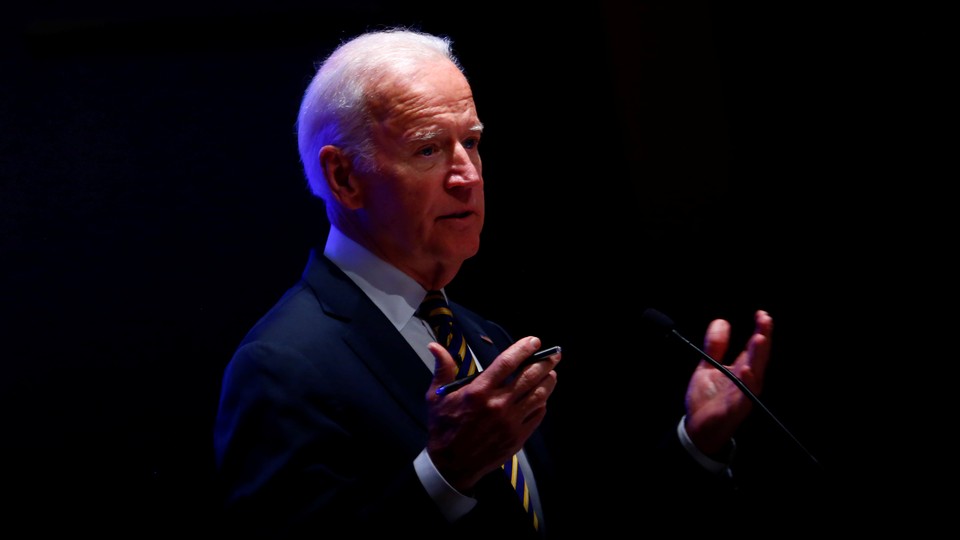 Watery eyes, clenched chins, insistent grips of his arm: They don't just think Joe Biden should run for president, or just want him to. They tell him he has to.
It's hard for him to tell them no. It's hard for him to tell himself no.
Already, the timeline Biden had set appears to be shifting. He said he would decide by the beginning of 2019, but now people around him note that he, like everyone else, had been expecting the race to be moving more by now, so he may take a little more time into the year to see how the field shapes up.
But the tenor of conversations with donors and supporters has intensified in recent weeks. As much as he wants to defer a decision to the Biden clan's famous group holiday vacation, they are telling him and his small group of aides that things need to get going.
"If you're going to run for president, you've got to start having meetings," one supportive donor said.
In the meantime, Biden has kept up a busy travel schedule—book-promotion events, a speech at the University of Nevada law-school gala, a roundtable at Columbia Law School on violence against women, a keynote at the Bread for the World gala.
And people keep coming up to him everywhere he goes—such as the woman who came to see him at a speaker-series event last week in San Mateo, California, and at the end nudged her way up to the front with her cane.
"You have to run," she told him. He thanked her. She kept going. "I am 89 years old and we need you. If you promise to run, I'll promise to stay alive long enough to vote for you."
Usually he deflects, often with a joke. Sometimes he pulls the people who break down in front of him in for a hug, or for some of the women, a kiss on the forehead or the cheek. There was the older woman at the International Brotherhood of Electrical Workers hall in Pittsburgh on Labor Day who told him, "God has a strange sense of humor," that maybe everything with Donald Trump and Biden's son dying was some sort of divine test to put him in the Oval Office. There was Joey Purpura, the 39-year-old apprentice coordinator for a local laborers' union who said he grew up watching Biden on C-SPAN, and who waited an extra hour after Biden finished his brief midterms pop-in in Iowa at the end of October. He also told Biden to run.
"A lot of people did," Purpura said afterward, reenacting the way the former vice president had looked at him. "He made a comment about how I reminded him of the guys he grew up with."
And there was Melanie Rigden, the 19-year-old sophomore who walked out of Biden's stump speech in Madison and had her friend record a video to post: "This is the best thing that's ever happened to me. We have a picture with Joe Biden. He literally shook my hand," she gushed into the iPhone camera. "My whole body's numb. I think I cried twice."
"He and Obama mean everything to me," Rigden said afterward. "I would love to see Biden 2020."
Every politician loves the ego stroking of being told to run for president. Few politicians are such emotional thinkers as Biden.
"It is certainly powerful to hear from people in all corners, and people in unlikely corners, that he should run," a Biden adviser said. "He hears it, he considers it, he feels it. But at the end of the day, it's going to be his decision, and a personal decision."
These are odd times for Biden. He gets dismissed as too old, or he gets held up as the only adult who can actually come in to lead the Democrats to beat Trump in 2020. He is to many in his party the perfect answer to how to win back the white working-class voters that he helped bring in for Barack Obama, but to others he's a relic of a Democratic Party of the past.
For many older voters, he embodies the nostalgia of what politics used to be, and for many younger voters who came of age during the Obama years, he's a powerful psychological bridge to simpler, easier times.
When his August eulogy at one of John McCain's funeral services went viral, the inbox of every address people could find for him was flooded with emails telling him how much the country needed him now. However, of the day's worth of videos and robocalls Biden recorded for midterm candidates, many weren't used, with several of the campaigns deciding that he came off as too tired and worn out, according to people familiar with the decisions to keep them on the shelf.
By 2020, it'll be 48 years since Biden was first elected to the Senate, and almost immediately had people talking about him running for president one day. And with his 78th birthday two weeks after Election Day, he knows it'll also be his last possible chance to run. He wants the job, and he thinks, as he said again on Monday at an event in Montana, that he could do it better than anyone else—though at the same event he also noted that he wanted to think about what would be best for his grandchildren.
He's upset by Trump's politics, and he's also angry about Trump's nonstop attack on the institutions he devoted his life to. He's marveled in private not just about what Trump is doing, but about how little of an actual agenda the president has.
He looked at running in 1984 and 2004. He ran in 1988 and 2008. He came close enough to jumping in for 2016 that Obama worked harder than he'd been expecting to urge him out.
Each time, he has proved that of his many skills, running for president hasn't been one of them.
His small group of aides, most working for him only part-time, continues to put together a framework for a campaign. They've rushed to keep up: What they'd predicted over the summer would be a full fall of campaign events has instead emerged as just an intense final few weeks. Still, he did more midterm events than any other prospective presidential candidate, and as he noted in an email to supporters of his PAC on Monday, "This team played a direct and consequential role. We endorsed 133 candidates and won 81 races."
Among those was the race that brought him to Iowa, as operatives on Abby Finkenauer's campaign for the House told Biden's team that he could make the difference in her winning, even though that meant stirring the 2020 speculation with a trip to the first-caucus state that he'd been trying to avoid. But the crowd was bigger than any that Bernie Sanders, Cory Booker, Kamala Harris, or any of the lesser-known prospective candidates drew on their own swing through the state during the midterms, and Biden visibly clicked in when he came out onstage and saw it. That meant something to his gut, too.
Though the people who've spent the most time talking to him expect that his decision will be a combination of those emotions and practical calculations, he's largely deferred getting into it directly with them so far—which means that most of the conversations he's having about 2020 are those constant mini-interactions along the way, from the college student in Pittsburgh in September who rushed up to him to wish him good luck in 2020 ("If I go, I'm coming for you!" Biden said as he kept moving) to the big, older man dressed all in black who interrupted his late dinner at a hotel last week to say, "Senator? I have to shake your hand. And I have to tell you we need you. I'm a Republican, been voting Republican since 1969. And I'm telling you that you've got to do this."
"He does understand that people are not saying this lightly—that there is real substance to this outcry for him to run," said Michèle Taylor, a former Democratic National Committee finance-committee vice chair who's been speaking with other big-money donors and been encouraged by their response. "It's, 'he should run—we need him to run.' Universally, what I'm hearing is almost, 'He has an obligation to run. Here's what I'm prepared to do to help him.'"
James Smith, the South Carolina state legislator who grew close to the former vice president during his 2015 deliberations, pointed out that Biden persuaded him to make a losing bid for governor this year on the argument that he had an obligation to the country now to step up and run.
Smith said he and others have keep trying to turn that argument back on Biden. So far, they haven't gotten a straight answer. But he can see what it does to his friend.
"It is very impactful to him," Smith said. "I think more so than Is the money going to be there? and all the other practical considerations that are essential, I think he needs to know that people he respects from all walks of life believe and see him in that role."