Democrats Want Universal Background Checks on Guns
Members of the new House majority plan to introduce gun legislation they don't expect to pass. But they want to make a point.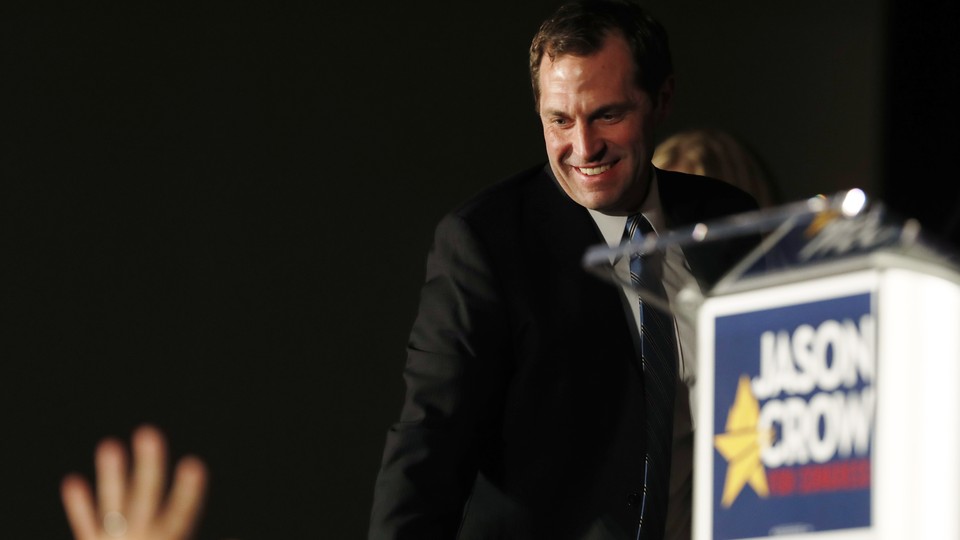 During the November elections, a number of Democratic House candidates made gun control a central theme of their midterm campaign, and dozens more gave the issue strong emphasis on the trail. Next month, they might have a chance to follow through on their campaign promises with legislation requiring federal background checks on all gun sales.
The legislation isn't likely to become law. It will be a bit like Republican House efforts to repeal the Affordable Care Act back in 2017, said Adam Winkler, a constitutional-law professor at UCLA: a symbolic gesture that never becomes the law of the land, but that nonetheless serves a political purpose.
While the GOP's attempts to repeal the ACA ultimately hurt some Republicans in the midterm elections, Democrats believe their gun-control efforts will help the cause."It'll show two things," said Representative Mike Thompson of California, the chairman of the House Gun Violence Prevention Task Force, in an interview, "that we care about our community's safety, and it'll show that we listen to voters."
House Democrats, led by Thompson, are planning to introduce the legislation within the first 100 days of the new Congress, according to a report from Politico on Monday. "The new Democratic majority will act boldly and decisively to pass commonsense, life-saving background checks that are overwhelmingly supported by the American people," incoming House Speaker Nancy Pelosi said in a statement. And activists want to do it by February 14, the one-year anniversary of the 2018 shooting in Parkland, Florida.
The Senate is still under Republican control, which means the likelihood that such a bill would make it to President Donald Trump's desk is slim. Senate Majority Leader Mitch McConnell has signaled that he wouldn't take up a bill like this, and it's unclear if Trump would sign it even if he did. Still, Democrats and gun-control advocates view the potential move as an important symbol.
Since 1994, a federal background check has been required for every individual purchasing a firearm from a federally licensed gun dealer. But experts estimate that some 20 percent of gun sales occur over the internet or at gun shows, from unlicensed dealers. Thompson's bill would change that. The legislation, which will likely be co-authored by Republican Representative Peter King of New York as well as several other as yet unnamed lawmakers, would require federal background checks on virtually all types of gun sales, with just a few exceptions.
A majority of both gun owners and non–gun owners support universal background checks, according to the Pew Research Center, and researchers argue that expanding them works: States that already require background checks on all gun purchases experienced 35 percent less gun deaths per capita than states without the requirement, according to the Centers for Disease Control and Prevention.
Thompson and King proposed similar legislation last year, but their bill was never taken up by Republican leadership for a vote. Now, though, things have changed. Democrats won back a decisive majority in the House in November, and activists claim that the tide is shifting.
"The passage of a universal-background-check bill is something that we haven't seen in 20 years," said John Feinblatt, the president of Everytown for Gun Safety, "probably the most convincing proof yet that American political leaders are catching up with the American people."
In the 10 months since 17 students and staff members were killed in the mass shooting at Marjory Stoneman Douglas High School in Parkland, energy has amassed on the side of grassroots gun-control groups and prompted nationwide marches and student walkouts. In the 2018 midterms, these groups outspent the National Rifle Association for the first time in history, according to the Center for Responsive Politics. Revenue at the NRA reportedly declined by 15 percent in 2017, and its membership dues dropped to a five-year low. On Tuesday, the Trump administration unveiled a new regulation officially banning bump-fire stocks.
"The pattern has been pretty predictable, where for too long a tragic shooting occurs, it captures the attention of the nation, the country mourns, political leaders ask for prayers, and then the gun lobby ends up getting its way," Feinblatt said. "There's no question [people] are convinced it's time to break the pattern."
Indeed, several Democratic candidates ran—and won—in November after placing gun control at the center of their midterm campaign. A U.S. House candidate in Georgia, Lucy McBath, whose teenage son was shot and killed at a gas station in 2012, ran for office because she believed lawmakers weren't doing enough to address gun violence. McBath narrowly defeated her Republican opponent, Karen Handel, last month. Other candidates, such as Jason Crow, who beat the Republican Mike Coffman in Colorado, and Jennifer Wexton, who defeated Barbara Comstock in Virginia, also chose to emphasize rather than downplay gun control in their campaign messages.
"We have reached a tipping point on this issue. I thought it would have happened a long time ago," said Crow, who recently joined Thompson's gun-violence task force, in an interview. After multiple mass shootings rocked his state—the 2012 attack at the premiere of The Dark Knight Rises in Aurora happened in Crow's congressional district—Colorado passed its own universal-background-check legislation. "We've already led on this issue, and it's well past time we take the Colorado example and extend that to the nation," Crow told me.
Incoming Representative Haley Stevens, who also made guns a central focus in her bid to represent Michigan's Eleventh Congressional District, said she recently joined the gun-violence-prevention task force and plans to support Thompson's legislation. "People are sick of living like this, sick of seeing the mass shootings, the gun violence in our neighborhoods, feeling like nowhere is safe," Stevens said in an interview. "They're looking to the government to get something done."
Both experts and critics of the legislation point out that universal background checks won't solve America's gun-violence problem. Many of the recent high-profile shootings that Americans recognize now by mononymous names—Parkland, Newtown, Aurora—probably wouldn't have been prevented by a federally mandated background check.
Background checks "are designed to prevent criminals and the mentally ill from getting their hands on guns," said Winkler, the UCLA professor. "How they do that is by looking at adjudications." In other words, someone who hasn't been convicted of a felony or confirmed to have a mental illness would still pass a background check.
"We are concerned that it is a solution in search of a problem," said Michael Hammond, the longtime legislative counsel to Gun Owners of America, a nonprofit group dedicated to protecting gun rights. "Which leads to the question: What's the [Democrats'] objective here? Is it achieving policy or putting points on the board?" Gun-control opponents like Hammond have long been worried about the creation of a gun-control registry that they fear could ultimately be used by the federal government to confiscate Americans' firearms. To counter this concern, Thompson's legislation actually includes a provision making it a federal crime to create a gun registry.
But Hammond told me he's worried that passing background-check legislation is a slippery slope—one that could lead to tighter restrictions, such as a ban on large-capacity magazines or semi-automatic weapons. "I don't think the other side believes [universal background checks] will stop the shootings. It's not about policy; it's about politics," Hammond said. It's "the left destroying what it perceives as the strongest remaining pillar of the Republican movement."
If Thompson's legislation passes the House next year, it sets up Democrats for a deeper debate about gun control heading into the 2020 general election—when they've got a chance to retake the Senate and the White House. It's a chance both lawmakers and activists are optimistic about.
"The calculus has changed," said Feinblatt, from Everytown. "When Sandy Hook happened, and the background-check bill went down in defeat, people said [gun control] was still the third rail of American politics. Nobody's saying that anymore."