Kirsten Gillibrand and the Al Franken Fury
The New York senator has lost a lot of friends. She's doing just fine without them.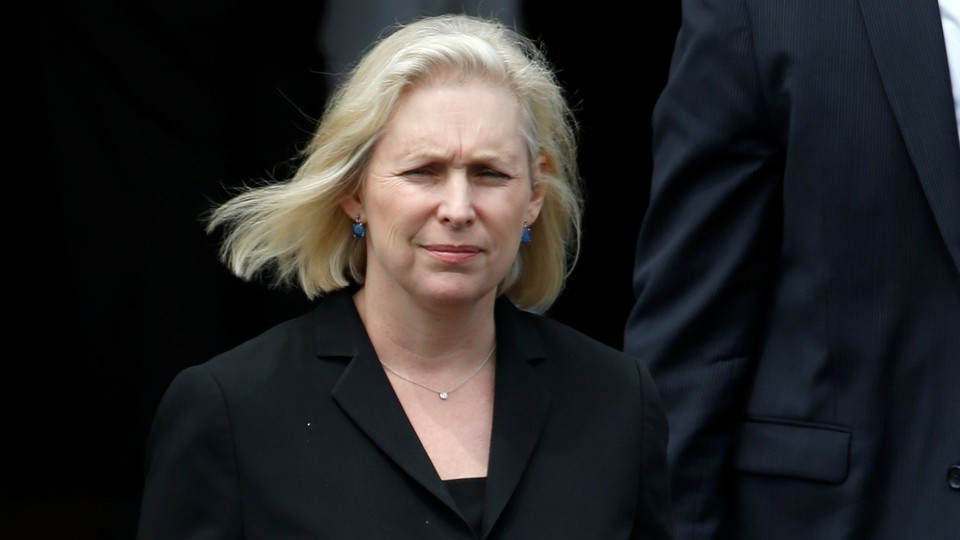 George Soros is mad. Susie Tompkins Buell hasn't forgiven her. Other Democratic mega-donors are still burning with anger over Al Franken, too. But Kirsten Gillibrand is doing just fine without them.
The New York senator, who's expected to launch a presidential campaign soon, can't go anywhere without hearing the noise about her decision—now more than a year ago—to call for Franken to go in a #MeToo scandal. But the numbers tell a different story: Gliding to another term in November, she put $17.5 million in the bank in the past two years, more than any other potential presidential contender in the Senate aside from Elizabeth Warren. Gillibrand is finishing the year with $10.5 million in the bank that can be transferred right into a 2020 run, only $2 million behind Warren. She raised $5.5 million in low-dollar donations, behind only Warren and Bernie Sanders.
Her online fund-raising even spiked last December, though that was in part due to a tweet from President Donald Trump, angry to see the television coverage saying he should resign because of his affairs with women.
There's reaction, and there's reality. In politics, especially around a presidential campaign, they can get blurred. Even in a Democratic Party trying to get back to its roots, the year since Franken quit is a demonstration of just how much it can be defined by a few rich and famous people and a media narrative. Just this past weekend, the CNN host Van Jones prefaced a question about Franken to Gillibrand by saying, "A lot of people were frustrated with you."
Franken quit the Senate after eight allegations, including one by a congressional staffer. They were sparked by a public complaint from a woman named Leeann Tweeden in late 2017. She said he had forcibly kissed her when they worked together in a comedy troupe during a USO tour in 2006. He was also photographed holding his hands above her breasts while she slept on an aircraft during the tour. The other allegations included unwanted touching and attempts to kiss women.
Gillibrand told me later that she's "very surprised" this is still such an issue a year on. But she said it doesn't have much to do with what she's living day to day.
"For every one person who shares a concern with me, I have at least one person thanking me, and it tends to be young women who come up to me with tears in their eyes and say, 'I can't tell you how much it meant to me that you stood up and did the right thing,'" Gillibrand said. She added that around the time of the Brett Kavanaugh hearings, there were "a hundred" who came up to her to thank her at protest rallies.
"I don't think America recognizes how far we still have to go, and I think maybe the Al Franken issue is just right at that fulcrum of our own uncertainty, because he was so well liked," she said.
Much of the continuing fury tracks back to Susie Tompkins Buell, who co-founded the Esprit clothing line and has given many thousands of dollars to many Democratic candidates over the years. Gillibrand isn't the only Democrat to have faced her fury. "I would just love to write my big check … or have a high-dollar dinner here," Buell told the San Francisco Chronicle in February 2012, frustrated with Barack Obama on environmental policy. "I can't."
"I don't know where he stands on anything," she added. (She never did write a check to Obama's reelection campaign.)
But her comments about Gillibrand strike deep every time. Maybe it's because she is a prominent female entrepreneur and philanthropist who has defended a man accused of sexual misconduct, and attacked a woman who stood up against him. Maybe it's because she's been willing to speak out with a feeling that a number of other prominent Democrats share, fueled in part by their affection for Franken and in part by the air of striving that Gillibrand constantly gives off. Maybe it's because as the tipping point against Franken—she also said last December that in retrospect, Bill Clinton should have resigned, and Donald Trump should, earning a tweet from the president that she "would do anything" for campaign contributions—Gillibrand made her most prominent move to identify herself with the seething fury of women, and here is a woman who was and is still pushing back.
Buell is far from alone. George Soros threw in a gripe about Gillibrand in an interview in the spring, and other big donors who liked Franken and loved the way he'd finally let loose in questioning Trump officials continue to burn about it. Gillibrand's calling for Franken to quit still seems like "a large scalpel to use for what turned out to be no strategic gain whatsoever," said Ted Gavin, a Philadelphia-based bankruptcy expert who's on the board of EMILY's List.
Buell, Soros, and Gavin are among the big donors who didn't write checks. Many others did.
"I've seen women my age really gravitate toward her," said Ilyse Hogue, the president of NARAL Pro-Choice America. "Even if we can't give as much individually, we're using our social media to lift up what she says to get other people to donate."
"It does blow my line that this super-sexist line of attack is the most consistent line of attack on her," said Jess Morales Rocketto, the political director of the National Domestic Workers Alliance, who's also spoken out in Gillibrand's defense. As for the people who've been emphasizing the feelings of big donors, Rocketto added, "Maybe some of these people need to come into 2018, the time of online grassroots fund-raising."
Rocketto is 31. Hogue is 49. Buell is 75. As on many of the issues surrounding #MeToo politics, and really all kinds of politics at the moment, part of what's in play is a generational divide.
Memory and time can mix up facts. Gillibrand's calling for Franken to go was without a doubt the watershed moment that quickly led to his resignation, but it came after weeks of revelations buffeting male and female Democratic senators who were trying to get a grip on the #MeToo explosion but also looking to claim the moral high ground as the misconduct allegations against Roy Moore mounted in the Alabama Senate election. Within hours of her statement, made at an unrelated press conference, almost every Democratic senator joined her and said it was time to go.
Several later said they felt they'd moved too quickly, that they'd felt hurried by the reporters who'd rushed them all for answers once Gillibrand took her stand. Several others noted that Gillibrand had just gotten out first, but that many of the other women in the Senate had agreed that they'd speak out whenever the next accusation hit.
But by then, Franken felt that he couldn't take a chance to reverse his decision and try sticking around.
Also in the past year: The senator appointed to fill his seat is a woman, Tina Smith, who last month won election to the job by a bigger margin than Franken got in his two races. Democrats kept after Trump on his own history of issues with women, and went on to win big in the midterms as a result of an abyss-size gender gap. And Democrats nearly derailed, but definitely turned into a national cause, Brett Kavanaugh's nomination to the Supreme Court over Christine Blasey Ford's accusations of an assault in high school. And they did it through the Judiciary Committee, which Franken would otherwise have been a member of, featuring breakout questioning by Senator Kamala Harris of California, who has her spot on the committee because of the opening Franken's departure created.
Gavin, who noted at the time that his daughter was a sexual-assault survivor who was arrested twice in Washington during the Kavanaugh protests, said he wished Franken had been there as the answer to Republicans who didn't want a thorough investigation into Ford's story.
Presuming there'd been an Ethics Committee investigation and Franken had been cleared, Gavin said, "he would have been a perfect example of 'You know what, it's okay to be accused and have an investigation.' There would have actually been some additional credibility to the argument that it wasn't all just a ploy."
When I called Buell's office in October, in the middle of the Kavanaugh hearings, to ask whether her perspective had changed over the past year, and with what was playing out on Capitol Hill, Belinda Muñoz, the executive director of Buell's foundation and her political point person, wasn't very interested in talking.
"Are people really still interested in that?" Muñoz asked. Buell was out of the country, she said, and out of reach, but maybe she'd call back.
She didn't. And neither called back last week when I tried to follow up.
But in the time since, Buell has taken more swipes at Gillibrand. And people around Gillibrand, including some of the big donors who were drawn closer by the Franken episode, have gotten more annoyed.
"If she's so smart and so calculating, then she knows that this would have a lot of backlash," said Naomi Aberly, a big Dallas-based donor who's chair of the Planned Parenthood Federation board of directors. "It's easiest to have one narrative about each candidate, and this one is the one she's burdened with, but I don't think it hinders her overall."
Ramsey Ellis, a hand and wrist surgeon from outside Chicago, said she sees "internalized misogyny" at work in the people who've continued to attack Gillibrand.
That goes for the women like Buell, too, Ellis said.
"Here's a Democratic woman who has every reason as a feminist, but it doesn't mean that you can't sort of have misogynist programming in your brain that we blame the woman, Senator Gillibrand, for speaking out, even in the face of escalating accusations," Ellis said. "Just because you're a woman or a feminist doesn't mean that you can't respond to and address cultural issues with a misogynist lens."
Gillibrand's supporters don't love that if she enters the presidential race, she'll be doing so with Franken hanging over her. But they also see some potential benefits (the comedian Samantha Bee responded to Trump's tweet about her, "May this tweet be @SenGillibrand's superhero origin story and ignite her 2020 campaign to replace your sexist ass"), and there's hope that it can have some political benefit as an argument that she'll stand up for principle, and for women.
Hogue said that though she and NARAL aren't endorsing any candidate at this early stage, "what I will 100 percent endorse is her willingness to never veer from the course of fighting for women."
Gillibrand, of course, wouldn't engage in that kind of political talk about her. "I did what I thought was right because that's who I am," she said, adding that there's a straight line from her standing up for victims of military sexual assault and other people who are voiceless and powerless to that moment she walked up at the press conference and answered the question everyone had been asking her for a week.
But she was willing to engage in imagining what she thought the past year would have been like for her party if Franken had stayed.
"I don't think Democrats would have inspired millions of women to get out to vote. I don't think Democratic women would have run as Democrats, or run across the country on issues they believe in," she said. "You either value women or you don't. You either stand up for survivors or you don't. You either believe women when they've been harassed or violated, or you don't."