George H. W. Bush Is Dead
The former president died at the age of 94. "I want somebody else to define the legacy," he once told his granddaughter.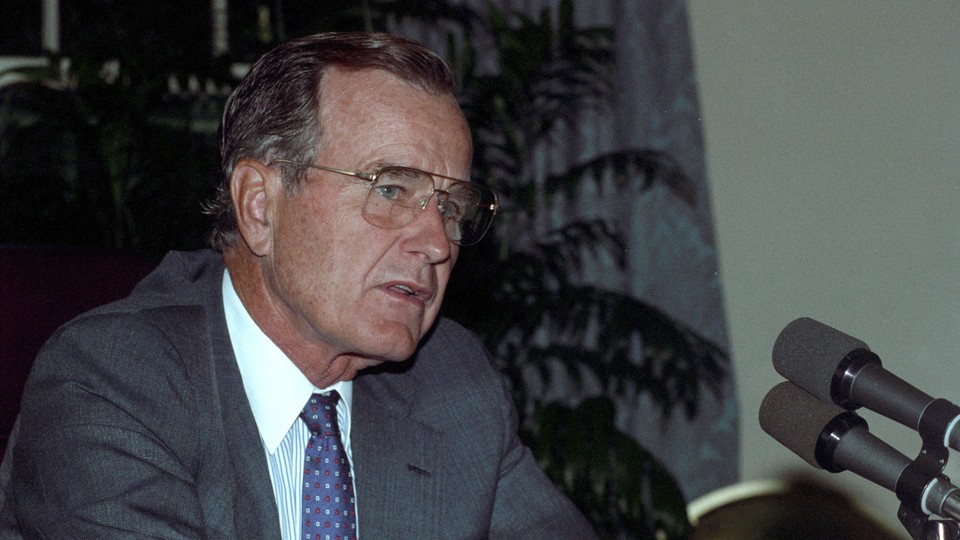 Had George Herbert Walker Bush never become the 41st president of the United States, he'd still be remembered as one of the great Americans of the 20th century.
Bush, who died Friday at the age of 94, according to his spokesman, began his public service more than six decades ago, at age 18, as a naval aviator during World War II. Over the ensuing decades, he founded a successful oil company, served in Congress, was the chair of the Republican National Committee, the ambassador to the United Nations, the envoy to China, the director of the CIA, and the U.S. vice president; in his later years, he raised money for the victims of Hurricane Katrina and the Indian Ocean tsunami. His wife, Barbara Bush, died at age 92 in April.
But it was his one-term presidency, from 1989 to 1993, that had a monumental impact on the world. Ronald Reagan, his predecessor, uttered the famous words "Mr. Gorbachev, tear down this wall," yet it was Bush who presided over its orderly dismantling.
Bush oversaw the collapse of the Soviet Union, the end of the Cold War, the birth of the post-Soviet republics, and the West's outreach to former members of the Warsaw Pact. And Bush—along with Mikhail Gorbachev—signed the Strategic Arms Reduction Treaty in July 1991, which significantly reduced U.S. and Soviet nuclear stockpiles.
There were other foreign-policy successes: Bush ordered the U.S. invasion of Panama, and the eventual removal of Manuel Noriega, its formerly U.S.-backed leader; and approved the U.S.-led UN intervention in Somalia's civil war.
Two of his greatest achievements had consequences for two of his sons: The First Gulf War, the conflict for which Bush is perhaps best known, paved the way for a second conflict, launched by President George W. Bush, which kept the United States in Iraq for more than a decade and hurt the younger Bush's presidency. And the formerly heralded North American Free Trade Agreement became the shibboleth of Donald Trump's presidential campaign in 2016, in which Trump defeated former Florida Governor Jeb Bush, a proponent of free trade, in the Republican primary. Neither Bush nor his sons attended the Republican Convention at which Trump was nominated, and both former presidents refused to endorse the billionaire real-estate developer in his race against Hillary Clinton.
The elder Bush was unable to translate his foreign-policy successes to his domestic record. His "Thousand Points of Light" speech, which encouraged volunteerism, was widely mocked and satirized, and even made its way into a Neil Young song.
Liberals still criticize Bush's nomination of Clarence Thomas to the U.S. Supreme Court, and his subsequent defense of Thomas amid allegations of sexual harassment. And Bush's now-infamous pledge, "Read my lips: No new taxes," had to be broken with tax increases on the wealthy as part of a budget deal in 1990 that addressed mounting deficits and stabilized government finances. But the tax increases angered conservatives, and Bush would later say that the decision destroyed him politically.
In the early 1990s, the U.S. entered a recession, and Bush faced a young, charismatic Democratic governor named Bill Clinton, who made the economy the centerpiece of his presidential campaign. A third-party bid by the billionaire Ross Perot did not help Bush, nor did the president's apparent ignorance about how modern supermarkets worked. Ultimately, Clinton triumphed in the 1992 presidential election, relegating Bush to the list of one-term presidents. "I worked my heart out and it was terrible to adjust, but then you figure life goes on—just do what the next challenge is," he told his granddaughter Jenna Bush Hager, then a contributor to NBC's Today show, in 2012.
The letter Bush wrote to his successor the day he handed over the White House became a symbol of the  grace for which the president was known."There will be very tough times, made even more difficult by criticism you may not think is fair," he
wrote
to Clinton. "I'm not a very good one to give advice; but just don't let the critics discourage you or push you off course. You will be our President when you read this note. I wish you well. I wish your family well."
Bush's stabilizing presidency and the relative calm of the 1990s now seem like a lifetime ago. As his biographer Jon Meacham
wrote
:
Americans unhappy with the reflexively polarized politics of the first decades of the 21st century will find the presidency of George H. W. Bush refreshing, even quaint. He embraced compromise as a necessary element of public life, engaged his political foes in the passage of important legislation, and was willing to break with the base of his own party in order to do what he thought was right, whatever the price. Quaint, yes. But it happened in America, only a quarter of a century ago.
In 2015, President Barack Obama called Bush "one of the more underrated presidents we have ever had."
"When you look at both how he managed foreign policy and when you think about how he handled domestic policy, in each case he was thoughtful, restrained, and made good decisions," Obama said.
On Tuesday night, appearing at Rice University with Bush's trusted confidant James A. Baker, who served as Bush's secretary of state, Obama said Bush's handling of world affairs represented "as important and as deft and as effective a set of foreign-policy initiatives as we saw in recent years." After the event, Obama visited Bush at home in Houston and delivered a pair of colorful socks, which had become a signature of the former president.
Bush was born in Massachusetts and raised in Greenwich, Connecticut, the son of Prescott S. Bush, a United States senator. At 18, he enlisted in the Navy and was shot down during a combat mission in the Pacific in September 1944. He was rescued at sea by a U.S. submarine.
After the war, he attended Yale and soon moved his young family to Midland, Texas, where he started a successful career in the oil business before entering politics. He was elected to the U.S. House of Representatives from a wealthy Houston district in 1966 and won reelection in 1968 before relinquishing the seat for an unsuccessful Senate run in 1970. He became Richard Nixon's ambassador to the United Nations in 1971, the first of several appointed positions, including director of the CIA, that led him to the vice presidency under Ronald Reagan and ultimately to the White House, where he served as the nation's 41st president.
In an interview with CBS in 1984, Bush described his politics this way: "I am a conservative, but I'm not a nut about it." Comments like those didn't endear him to conservatives, who never trusted him—and not just because of his dismissal of supply-side economics as "voodoo economics" that's "not going to work."
The former president enjoyed a surge in popularity after he left office—perhaps because he embodied the kind of politics and politicians that are increasingly rare. He was active in fund-raising for humanitarian causes—with Clinton, who became a friend—went skydiving on his 90th birthday, and regularly wore colorful socks that belied his perceived stiffness. Bush was awarded the John F. Kennedy Library Foundation's Profile in Courage Award and the Presidential Medal of Freedom—the latter by Obama in 2011.
In his later years, Bush suffered from ill health. In 2012 he started using a wheelchair to get around because of a form of Parkinson's disease, and was hospitalized several times with pneumonia. His death comes just seven months after his wife of more than seven decades died. He is survived by five children—George W. Bush, Jeb Bush, Neil Bush, Marvin Bush, and Dorothy Bush Koch (a sixth child, Robin, died of leukemia in 1953 at the age of 3)—and several grandchildren.
When Hager asked him in the 2012 interview about his legacy, Bush replied: "I want somebody else to define the legacy. I've kind of banned use of the L word. History will point out some of the things I did wrong and some of the things I did right."