How George H. W. Bush and Bill Clinton Went From Political Rivals to Best Friends
In his later years, the 41st president became quite close with his successor, the man who kept Bush from a second term in the Oval Office.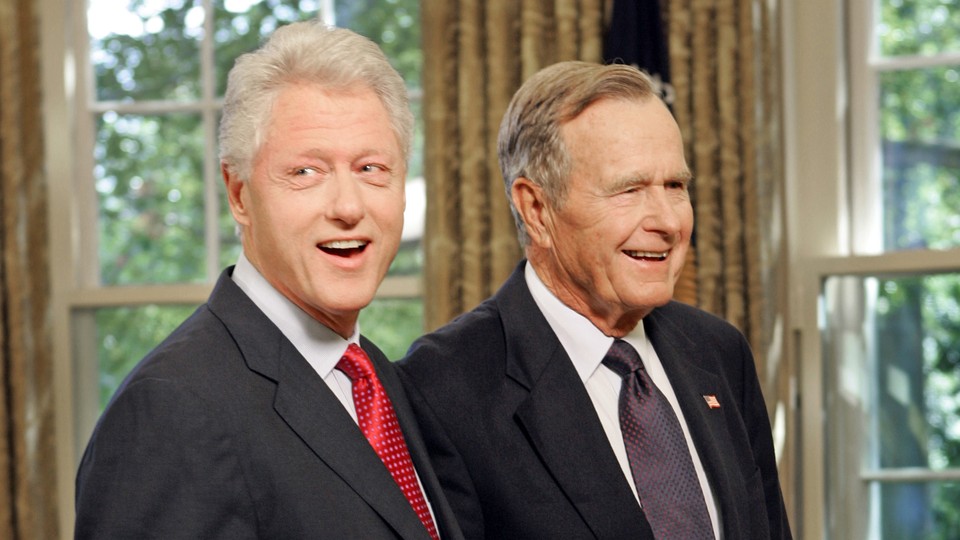 In early March 2005, in George W. Bush's second term as president, former President Bill Clinton underwent chest surgery right around the time that Bush was hosting the Gridiron Club Dinner in Washington, D.C. At the dinner, Bush gave a lighthearted update on Clinton's progress; he told the audience that as Clinton had recovered from his procedure, "he woke up surrounded by his loved ones: Hillary, Chelsea … and my dad."
The most notable partnership in the life of former President George H. W. Bush, who died Friday at the age of 94, was, of course, the one he shared with Barbara Bush, his wife of 73 years who died in April; they were married longer than any other U.S. president and his spouse. But in the last decade and a half of his life, Bush entered into another companionship that would both enrich his personal life and intrigue the public: a close friendship with Clinton. "I will be forever grateful for the friendship we formed," Clinton wrote in a joint statement with his wife, Hillary Clinton, after Bush's death.
Their friendship is chronicled beautifully in the 2012 book The Presidents Club, by Nancy Gibbs and Michael Duffy, about the surprising alliances, mentorships, and rivalries that have existed between living U.S. presidents after they've left office. "No relationship is quite like the bond between George H.W. Bush and the man who defeated him in 1992," they wrote. "Bush would go so far as to suggest more than once that he might be the father that Clinton had always lacked—a notion that the younger man did not dispute."
Before 2004, the best-known iteration of the Clinton-Bush relationship was the one that grew out of the 1992 election, which Bush, who was convinced right up until the very end that he would win a second term, lost to Clinton. The handoff of the Oval Office was on tense but cordial terms; Bush is known to have taken the defeat quite personally, but nonetheless wrote Clinton a supportive letter when Clinton took office. "Your success now is our country's success," he wrote. "I am rooting hard for you."
But it was Clinton's successor—Bush's son George W.—who inadvertently facilitated the beginning of a genuine friendship between Clinton and the elder Bush more than 10 years later. In December 2004, after a tsunami devastated the coast of Indonesia, Sri Lanka, and Thailand, President George W. Bush called up the previous two presidents to enlist their help in figuring out how to administer aid. The two were soon on a tour of the region together, visiting local governments during the day and discovering at night that they had much more in common—including having been unlikely allies on education issues early in H. W. Bush's presidency—than they'd initially realized.
Clinton and the elder Bush soon began hanging out stateside as well. They played golf together in a charity tournament with the pro golfer Greg Norman, and Bush routinely checked in on Clinton during his health scare in early 2005. When they flew to Rome a few weeks later for the funeral of Pope John Paul II, the doubts of Clinton's physicians were put to rest by assurances from Bush that he'd be looked after and always have a doctor nearby. Clinton also visited Bush at his seaside home near Portland, Maine, where the two men ate clams at a local seafood spot and rode around in Bush's speedboat (which Clinton later said Bush "drove like a bat out of hell," according to Duffy and Gibbs).
And in 2006, after Hurricane Katrina devastated a region of the country where both men had set down roots earlier in life, the pair that Barbara Bush liked to call the "odd couple" set up a joint nonprofit and quickly raised $130 million. "Nearly everyone in the country liked one man or the other, or the remarkable fact that they were in this together," wrote Duffy and Gibbs. When the fund-raising eventually petered out and the charity was shut down, they divided up the remaining funds evenly, and each former president distributed his portion of the money in the Gulf region as he saw fit.
Duffy and Gibbs wrote that the Bush-Clinton partnership was a pleasantly surprising anomaly for its time—an "ugly political era" in which "it had been a long time since Americans had actually seen politicians of different parties work together to achieve anything."
Those words have a certain irony in 2018, when bipartisan social partnerships such as the one between Presidents Clinton and Bush can seem like an even less likely possibility for politicians and civilians alike. Today, friendships between people of differing political allegiances have become strained. Marriages and family relationships routinely sour over political differences. Many romances across political lines that might have blossomed in eras past now don't even get a first date.
But perhaps it's easy from today's vantage point to underestimate the political divisions of the Bush and Clinton years. True, today a cross-partisan friendship seems all but impossible. And yet, such friendships weren't exactly common then, either. Clinton's liberal politics and Bush's conservative ones clashed in the public arena in bitter, hostile battles. What their friendship is testament to is not some simpler, more peaceful era but quite the opposite: the possibility of human connection, even in divided times.