John Kasich Searches for His Place in the GOP
The lame-duck Ohio governor has virtually no allies in the party and doesn't know whether the country's disenchanted centrists are numerous enough to propel a run for president.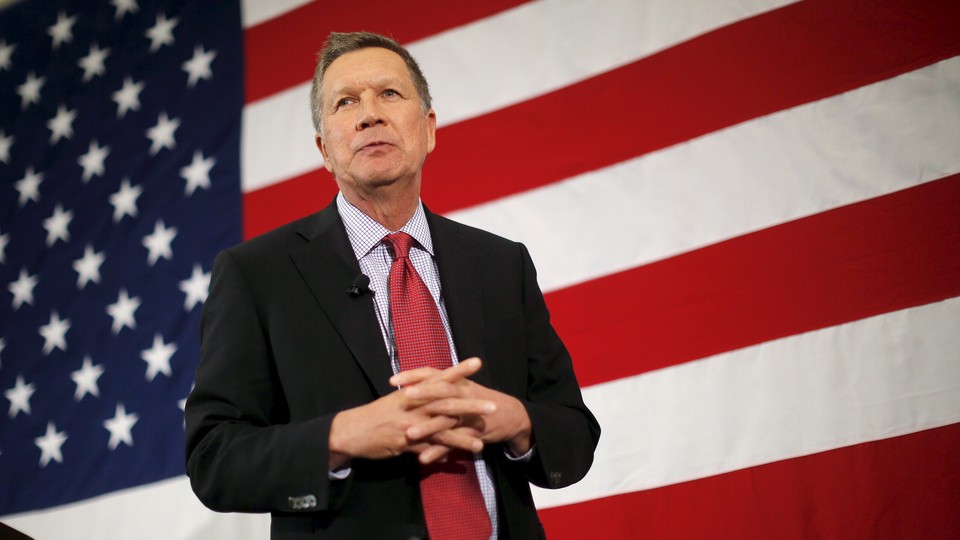 John Kasich, the stalwart never-Trumper who says he may or may not run for president in 2020—maybe as a Republican challenging Donald Trump or maybe as an independent, because all options are open unless they're not—stopped in Philadelphia on Friday to practice his Art of the Tease.
"As for me and what I'm going to do," he riffed during a nonpartisan forum, in his usual free-form manner, "I've been on every talk show—has anyone seen me on a talk show talking about whether I'll run for president? Maybe two people in here, yeah, right—I think of it this way, the way my buddy Arnold Schwarzenegger told me: You have a fire extinguisher in your hand, and if a fire breaks out, you're ready to put it out. But I don't know what I'm going to do. I had an absolutely wonderful time running for president the last time. It's hard work, it's extremely difficult, but boy, I'll tell ya what, it can be extremely rewarding if you allow yourself to get caught up in the fervor and passions of the people of this country. It's fantastic. So we'll see."
At age 66, the lame-duck term-limited Ohio governor is like a stock car revving its engine for a race that may never happen. He was the last Trump rival to leave the track in 2016, and what he warned Republicans at the time—that Trump's politics of fear "could drive America into a ditch, not make us great again"—seems just as salient today, although it's not clear to Kasich that most of his party brethren are any more inclined to listen now than they were then. Almost 90 percent of Republicans support the president, and the House is more dominated by hard-line Trumpers, now that all the GOP moderates were picked off in the midterms.
Kasich told ABC News on November 25 that he's "very seriously" eyeing another presidential quest. He mused, "Do I run because I've determined that I can win, or is it important for me to make such a good showing that I can send a message that can disrupt the political system in this country?" Does he try as a Republican, or will there be a sizable market—"an ocean of people who sit in the middle"—for a third-party bid? Bottom line: "What do I owe to my country?"
Kasich is no more enlightened about the foreseeable future than his fellow Americans. Nobody aside from Special Counsel Robert Mueller and his tight-knit team has a clue when, or to what extent, a final report might devastate Trump or his inner circle. Nobody knows when, or if, the bullish economy could level off in advance of 2020. And first and foremost, there's the predictable unpredictability of Trump himself—who, in the words of the Kasich strategist John Weaver, "is like a coyote on crack running through a minefield."
Weaver, who plotted strategy for John McCain during the latter's underdog challenge to George W. Bush in 2000, is clearly thirsting to joust with Trump, if only he and Kasich can find their most advantageous footing. Weaver tells me, "There's a lot of time in front of us. Every day this president shows more willingness to move away from the norms … He and his people don't scare us. They're all mad as a hatter. If they weren't working for Trump, the only jobs they could get are in the Gotti crime family or working as prison guards."
But that sentiment is not generally shared among grassroots Republicans; according to the latest Gallup poll, 86 percent still pledge fealty to Trump. (Among all Americans, the fealty share is 38 percent.) And except for isolated acts of rebellion, Republicans on Capitol Hill seem determined to ignore the blue wave that has swept them from power in the House. Nationwide, House Democratic candidates drew 9.4 million more votes than their Republican counterparts—the Democrats' winning margin was 8.4 percent, bigger than the red waves of 1994, 2010, and 2014—and they captured red suburban districts in states such as Kansas, Oklahoma, Texas, and Utah. Even so, few Republicans have voiced second thoughts about Trump. Few have said a word about the latest Mueller revelation, set forth in Michael Cohen's latest tell-all guilty plea, that Trump, despite a string of false denials, stumped for president while pursuing a deal to build a Trump Tower in Moscow with Russians who were, at the same time, illegally conspiring to help elect him.
And no Republican in Congress, chastened by the midterm results, has condemned Trump for "divisions, paranoia, isolation, and promises that can never, ever be fulfilled." Those were John Kasich's words, in a speech he delivered back in April 2016, when Trump's nomination was deemed inevitable.
"The congressional wing is handcuffed to Trump; it's afraid of being targeted by his tweets," Weaver lamented to me. "It's happy with the Stockholm syndrome … The congressional wing has to be burned to the ground."
The anti-Trump conservative commentariat—a loose affiliation of critics that features Max Boot, David Frum, Michael Gerson, William Kristol, Jennifer Rubin, Peter Wehner, and Rick Wilson—is similarly withering about the congressional GOP and the party's Trumpist trajectory. Rubin recently observed, "The Trump sycophants, every bit as incoherent and bullying as the president, run the place." But unlike Kasich, they're not hunting for an electoral niche.
If Kasich were to challenge Trump in 2020 primaries, grassroots conservatives would resurrect his failed litmus tests. He has voiced support for giving undocumented immigrants a path to citizenship. As Ohio's governor, he expanded the reach of Obamacare under the Medicaid program, and he has told his conservative attackers that he wanted to make "real improvement in people's lives."
"When you die and get to the meeting with Saint Peter, he's probably not going to ask you much about what you did about keeping government small. But he is going to ask you what you did for the poor. You better have a good answer." (His Medicaid expansion would likely be held against him, even though that Obamacare feature is now standard policy in 12 other red states: Alaska, Arizona, Arkansas, Idaho, Indiana, Kentucky, Louisiana, Montana, Nebraska, North Dakota, Utah, and West Virginia.)
Kasich, who served nine terms in the House as a fiscal conservative, has virtually no allies on the Republican side of the chamber—and any such prospects will be dimmer next year, because the new GOP minority, having been stripped of its swing-district moderates, will be heavily populated by Trump loyalists from the reddest districts. Weaver says that Kasich is talking constantly to others in the party—fellow governors who can't abide Trump's style and rhetoric, disenchanted donors ("particularly in the Fortune 100 world, which can't deal with all the chaos")—and even some unnamed Democrats "who have reached out in case he runs as an independent."
But the market for a third-party independent seems just as problematic. Even though Kasich is more popular with Ohio's opposition party—in a Quinnipiac poll last June, he was viewed favorably by 57 percent of Democrats, but only 46 percent of Republicans—it's questionable whether blue-leaning voters would flock in massive numbers to a "Jack Kemp conservative" (Weaver's description) who takes a dim view of big spending, to a former governor who defunded Planned Parenthood and signed 17 anti-abortion bills. Granted, Kasich has railed against right-wing efforts to bar transgender people from using the public bathrooms of their choice—when North Carolina enacted its '16 law, Kasich said, "What the hell are we doing in this country?"—but conservatives are not alone in enforcing litmus tests.
Kasich recently told The Guardian, "You don't want to be a robot for the party." He was referring to the GOP, but Democrats, who love his relentless willingness to assail Trump, would likely find him just as frustrating. Is "the middle," assuming it still exists, firm enough to afford him footing? Or was the poet W. B. Yeats correct when he wrote, "Things fall apart; the centre cannot hold"?
So maybe the Republican primaries are the best option after all. Weaver wonders, "Can the Republicans who have left the party because of Trump be enticed to come back? We know we can beat Trump in New Hampshire, where we finished second last time—but then what?" To paraphrase Yeats, mere anarchy has been loosed upon our politics, and John Kasich, revving his engines, is as perplexed as everyone else about the road ahead.