Trump's Shallow Sympathies
The president's self-absorption and unease with death and suffering make him ill-suited for the consoling role demanded of him.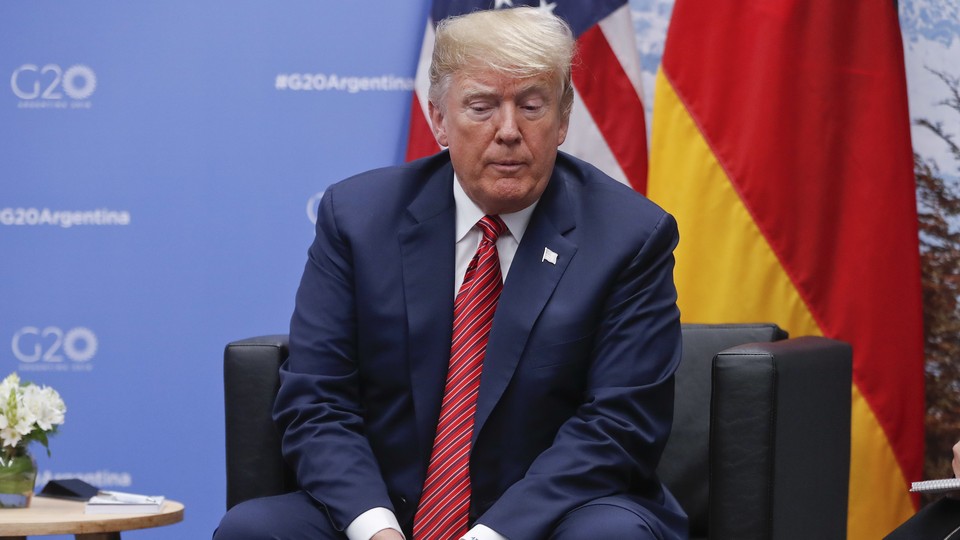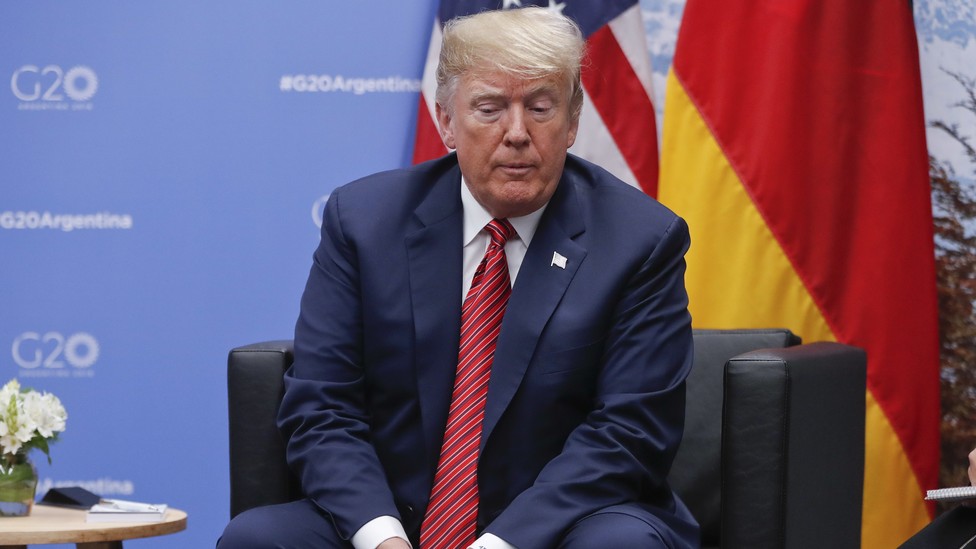 It could have been worse. Responding to the death of George H. W. Bush, with whom he had a slow-simmering feud, President Donald Trump avoided taking a swipe, and instead paid his respects to his Republican predecessor.
Still, the president's remarks to reporters in Argentina, where he was traveling for the G20 summit, were peculiar. "He was a very fine man. I met him on a number of occasions," Trump said. "He was a terrific guy and he'll be missed. He lived a full life and an exemplary life."
The idea that Trump having "met him on a number of occasions" was germane exemplifies the president's strange approach to condolences. Despite these encounters, Trump couldn't come up with anything beyond vague generalities to say about Bush. This reflects Trump's disinterest in politics before his own entry, his strained relationship with the political establishment, his absorption and lack of interest in other people, and his apparent unease with death and the role of comforting in general.
The suggestion that having met Trump was a notable characteristic of Bush recalls the president's reaction upon the death of Aretha Franklin:
I want to begin today by expressing my condolences to the family of a person I knew well. She worked for me on numerous occasions. She was terrific—Aretha Franklin—on her passing. She brought joy to millions of lives and her extraordinary legacy will thrive and inspire many generations to come. She was given a great gift from God, her voice, and she used to well. People loved Aretha. She was a special woman. So just want to pass on my warmest best wishes and sympathies to her family.
The second sentence raised hackles. Trump had hired Franklin to perform at his casinos, it turned out, but foregrounding the fact that she had "worked for" him seemed to both subjugate her and downplay her work. (Barack Obama, by contrast, praised Franklin's presence as "a glimpse of the divine.")
Trump, ever self-centered, seems unable to imagine that there is anything more relevant than being graced by his own presence. But like many acts of self-aggrandizement, this one arguably betrays insecurity. Trump is a world-champion name-dropper, seeking to elevate himself with connections to other famous people. The funny thing about this is that he is the president of the United States, a concept he seems not to fully grasp nearly two years in. There's no one more famous than him! Besides, it's hardly surprising that the president would have met former presidents.
In several cases, Trump's condolences have gone awry for other reasons. When John McCain, with whom he'd frequently sparred, died, he said his "deepest sympathies and respect go out to the family" of the late Republican senator, but he couldn't bring himself to offer a kind word for the man himself.
When the Washington Post journalist Jamal Khashoggi was killed in the Saudi consulate in Istanbul, Trump's concern was to distance himself from the sordid affair. "It's in Turkey, and it's not a citizen, as I understand it," he said. After a terrorist attack in London in June 2017, Trump chose not to send condolences to a close ally or remain respectfully quiet, but instead to foment panic and attack London's mayor.
The nadir was October 2017. First, Trump offered "warmest condolences" to the victims of the massacre in Las Vegas, a peculiar if not especially offensive elocution. The following day, on a trip to storm-ravaged Puerto Rico, Trump downplayed the damage of Hurricane Maria.
"Every death is a horror, but if you look at a real catastrophe like Katrina, and you look at the tremendous hundreds and hundreds and hundreds of people that died, and you look at what happened here and what is your death count? Sixteen people, versus in the thousands," Trump said. Almost a year later, as it became clear that the death toll was closer to 3,000, more than Katrina, Trump complained that federal efforts in Puerto Rico had been unappreciated.
Later that October, Trump offended the widow and mother of La David Johnson, a U.S. soldier killed in a firefight with terrorists in Niger, with callous comments saying the sergeant knew what he was signing up for. To defend himself, Trump argued that he was better at offering condolences than President Obama had been—yet in fact, as The Atlantic first reported at the time, the White House was frantically rush-shipping condolence letters it hadn't bothered to send earlier.
One reason Trump seems to struggle with condolences is that the president, a famous germaphobe, may be simply uncomfortable with death to the point of total disengagement. That's hardly an uncommon reaction, but in Trump's case it has manifested itself in a disconcerting detachment. After his brother's death, he reneged on a promise to pay for his nephew's medical care. (The dispute was later settled following litigation.) He also distanced himself from his old mentor and consigliere, Roy Cohn, as Cohn fell ill of HIV-related health problems. "I can't believe he's doing this to me," Cohn said. "Donald pisses ice water."
But condolences are also hard for everyone. Trump's struggles are especially glaring because the president of the United States is so frequently called upon to console. Trump, who so often has seemed uninterested in and unable to express empathy, is especially ill-prepared for the work of consolation—just another of the many ways he doesn't seem equal to the task before him.