Democrats in New York Are Ready to Deploy Their Newfound Power
With its largest governing majority in decades, the party has a plan for an ambitious progressive agenda—if the governor and lawmakers can avoid the infighting that's stymied them before.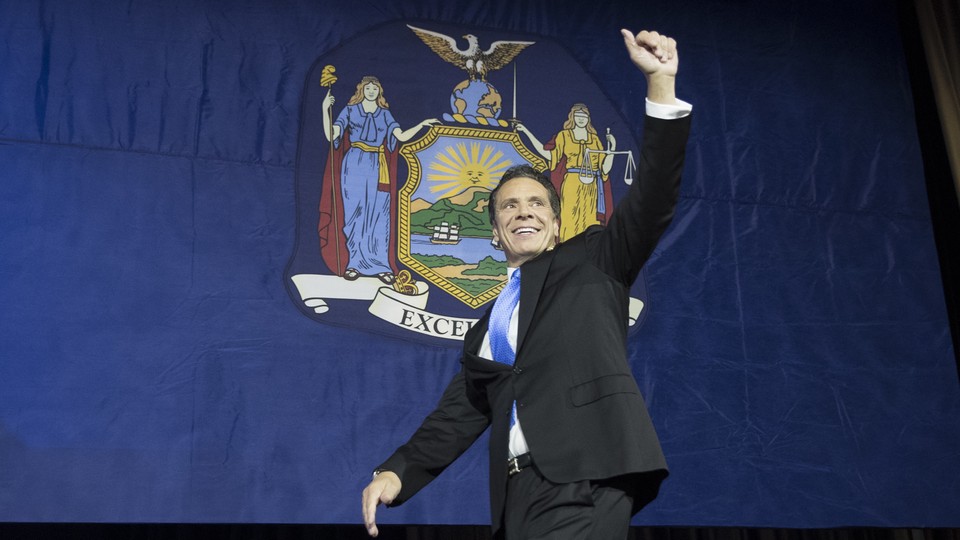 NEW YORK—How blue can New York go?
The Empire State has an understandable reputation as one of the nation's foremost progressive bastions, having cast its presidential vote for a Democrat in each of the past eight elections—a longer streak than any large state in the country, including California. But for most of that time—indeed, for all but three of the past 70 years—Republicans have controlled at least one crucial piece of state government and served as a check on the Democrats' left-leaning ambitions.
That will change next month, when Democrats put the trifecta they earned in the November election to work. Governor Andrew Cuomo cruised to a third-term victory with a pledge to fight the New Yorker in the White House, Democrats expanded their already comfortable advantage in the state assembly, and they ousted Republicans from their long-standing edge in the state Senate.
The result is the most commanding governing majority Democrats have had in New York in decades, giving the party a seemingly unfettered opportunity to enact legislation that has been bottled up for years and to place the state firmly on the leading edge of progressive policy nationwide. In the next several months, Democrats hope to legalize recreational marijuana, overhaul an election system in New York that's widely derided as outdated, end a cash-bail system blamed for enabling mass incarceration, enact a state version of the DREAM Act for undocumented immigrants, and tighten campaign-finance laws.
For Cuomo, the imminent Democratic takeover of the legislature brings both opportunity and challenge: He'll have his best chance to prove his progressive mettle to doubters on the left, but he won't have Republicans to blame if he can't realize his ambitious vision. Success would add to his record as an effective, if unloved, Democratic governor and could even lay the seeds of a presidential campaign he says he's not interested in waging. The question now is whether New York Democrats can seize on the moment to act in unison and avoid getting mired in the kind of parochial squabbles and power struggles that have stymied their leadership in the past.
"Obviously there's a lot of pent-up frustration," said Andrea Stewart-Cousins, the incoming state Senate majority leader. "By the same token, there's a lot of opportunity to really chart the course of a New York that is more reflective of the people that actually live here."
Democrats last captured full control of state government a decade ago, but their narrow majority in the state Senate crumbled after dissidents, in a revolt against their party leader at the time, briefly defected to the GOP, leaving the chamber paralyzed for weeks and contributing to a Republican takeover the next year. More recently, breakaway Democrats formed an independent coalition with Republicans that helped keep the GOP in the majority for years. Several of those lawmakers lost primaries to progressive challengers in September, and Democrats won 40 of the chamber's 63 seats in the general election two months later.
Stewart-Cousins will become the first African American woman to occupy one of the three powerful seats at the Albany negotiating table where most legislation in New York is hashed out, alongside Cuomo and the state-assembly speaker. "We'll be making history in a lot of ways," she told me in an interview.
New York will also be playing catch-up in a lot of ways.
Several of the top immediate priorities cited by Cuomo and senior legislative leaders are policies that either have already been enacted by other states or are intended as defensive maneuvers aimed at protecting New Yorkers from what the governor has called "the reckless unjust assault" against the state by Donald Trump's administration.
On Monday, Cuomo committed his support for legalizing recreational marijuana after years of personal opposition. Yet 10 other states have already taken that step, and in an interview, his top aides acknowledged that the moves toward legalization by New York's neighbors to the south and east—New Jersey, Massachusetts, and Connecticut—helped force the governor's hand.
Voting rights are another example. New York's election laws are, by some measures, equally or more regressive than those in southern states. Last month's general election was a mess, particularly in vote-rich New York City, where reports of machine failures and hours-long lines were widespread. There is no early voting, and people who want to change their registration to vote in a party primary must do so months in advance. Proposals to open up the system have died quiet deaths, thanks in large part to entrenched Democratic lawmakers who have little incentive to encourage higher turnout that could threaten their own incumbency.
In the coming months, Cuomo plans to ask the legislature to enact early voting, implement automatic voter registration, and make Election Day a state holiday to encourage higher turnout. Yet in each case, New York would be joining a host of other states that have already taken those steps. The same is true on campaign-finance reform, where Cuomo, long a beneficiary of big-money donations, has called for New York to lower contribution limits and join several other states that ban contributions from corporations.
Empire State Democrats will even have to play catch-up on a core issue for their party: abortion. One of the first laws Democrats plan to enact is a long-stalled bill codifying Roe v. Wade into state law, ensuring access to abortions in New York in the event the Supreme Court overturns the 1974 decision that enshrined legal abortion across the country. "The fact that we haven't been able to codify it has always been mind-boggling to me," Stewart-Cousins told me.
Yet on the left, the success of the new Democratic trifecta in New York will be judged not by the party's ability to play defense, but on its ability to advance the next generation of progressive policy goals. On criminal-justice reform, activists have secured Cuomo's support for making the state the second in the nation, after California, to end cash bail. And Cuomo has borrowed the language of national progressive activists on climate change, including New York's own Alexandria Ocasio-Cortez, by pledging to enact a Green New Deal on the state level, which includes a goal—although without a specific timeframe—of eliminating the state's entire carbon footprint. The governor has yet to embrace, however, an emerging campaign for New York to lead the nation in enacting a first-of-its-kind single-payer-health-care program.
Those and other far more expensive proposals will be considerably more difficult to enact than laws legalizing marijuana, overhauling the election system, or enshrining abortion rights—even for a Democratic Party in New York emboldened by a decisive electoral mandate.
To a large extent, the wild card in New York is Cuomo himself. The governor secured a surprisingly large third-term victory on the back of a record that is, on paper, as impressive as that of any Democratic governor in the country. He signed into law the early legalization of same-sex marriage, paid family leave, tighter gun restrictions, and a $15 minimum wage for parts of the state. Yet the governor's relationship with the Democratic Party's liberal base can most charitably be described as fraught; he angered activists with a commitment to fiscal restraint early in his tenure and more recently enraged them with his seeming acquiescence to a Republican majority in the state Senate. But Cuomo ran decisively to the left in his bid for a third term, outflanking his opponent, the actress and activist Cynthia Nixon, by positioning himself as a progressive bulwark against President Trump.
Cuomo must now govern with a Democratic coalition that views him warily—and, in some cases, with outright hostility. "I think the governor and many members of the legislature understand that there's a wave of anger and activism that is coming to the fore from people who are disgusted about what's happening to our democracy. They want to see real action and real change," said Bill Lipton, the state director of the Working Families Party, which backed Nixon before striking a grudging truce with Cuomo after the primary.
When Jessica Ramos, an incoming state senator and progressive who ousted an incumbent Democrat in a Queens primary, described how she'd work with Cuomo, she sounded as if she considered him a member of the opposition. "This is about fixing New York on every single level," she told me in an interview. "So I am going to be standing up to the governor when he is wrong, and I'll be working with him when we find common ground."
To the chagrin of progressives, Cuomo thrived in the previously divided government. He drove the legislative agenda, claiming credit for deals he struck with Republicans while putting the onus on the GOP for promises that weren't enacted.
With Democrats in power, he won't have that luxury. And in the heady days after their election win, some were whispering that the governor might even take a backseat to the legislature, which could force his hand by passing progressive bills and daring him to veto them. In an interview, Cuomo's top aide, Melissa DeRosa, scoffed at the suggestion, pointing to his landslide victory as a clear mandate from New York voters for him to lead. "That's a lot of bluster and a lot of empty rhetoric," DeRosa said. "I challenge someone to talk about a bill where the governor isn't going to want to sign it."
Yet Cuomo has moved aggressively to set priorities for the state before the new Democratic majority in the legislature even takes office. In a speech outlining his 2019 agenda on Monday, the governor wrapped himself in the activist legacy of Franklin D. Roosevelt and the Founding Fathers. With rhetorical flourish, he called for New York to lead "a rebellion" against the "tyranny" of the Trump administration. "As our forefathers rebelled against England, resenting the king's values and abuse, let us announce New York's rebellion from the current federal policies," Cuomo declared. "My friends, let this agenda be New York's Declaration of Independence. We declare independence from this federal government's policies. We disconnect from the nationalism, and the racism, and the chaos, and the xenophobia, and the misogyny, and the discrimination, and the dissembling of this Washington administration."
It all sounded like the makings of a presidential pitch—except that Cuomo, unlike practically every other big-name Democrat, has repeatedly disavowed interest in joining the crowded 2020 field. "I am ruling it out," Cuomo said in late November, sticking to a pledge he made during the campaign.
Still, the governor's many denials haven't convinced political observers in New York, and the grand scale of his speech this week only deepened their skepticism. "The smart money still has to be on the governor entering the race," said David Birdsell, the dean of Baruch College's School of Public and International Affairs. "The political field is littered with promises of not to run."
The biggest fights among New York Democrats are likely to come not on social policy or election reforms but on budget matters. The governor's more centrist leanings could clash with progressives' desire for spending increases that would require bigger tax hikes than Cuomo wants to sign. Already, advocates are pushing for New York to lead the country in adopting single-payer. Cuomo didn't mention the idea in his speech, and he has previously said it's a policy that needs to be tackled on the federal level. The governor is also under tremendous pressure to dramatically increase spending on education and housing, and to find a dedicated funding stream to modernize the deteriorating New York City subway. He has endorsed a push for congestion pricing—charging vehicles that drive into Manhattan during peak hours—but that has drawn opposition from lawmakers representing commuters.
Despite these hurdles, for Democrats in New York the numbers are finally on their side. Their majority in the legislature is large enough to make the party's ambitious progressive agenda achievable—as long as lawmakers, and the governor, can stay out of their own way. In a state where corruption indictments and petty political bickering often fight for front-page headlines, that could be a considerable challenge. On consecutive days this week, the top New York news stories included a Democratic state senator from Brooklyn telling a GOP spokeswoman to "kill yourself!" and a war of words between Cuomo and one of his Democratic predecessors, Eliot Spitzer. For Cuomo, Spitzer was a departure from his usual intra-party sparring partner: New York City's Democratic mayor, Bill de Blasio.
"There are no more excuses, my friends," Cuomo said in his speech on Monday. "Now is the time to stand up and lead, and do what you've said you were going to do all those years, and make a Democratic vision a reality."
It was a warning to Democrats not to squander their long-awaited return to power in New York, when a whole range of policy goals seems possible. But for a governor eyeing his moment on the national stage, progressives would say it's a message Cuomo should take equal heed of himself.