House Democrats Shift Their Focus From Collusion to Leverage
Michael Cohen's guilty plea has raised the specter that Russia had compromising information on President Trump related to his business dealings during the campaign.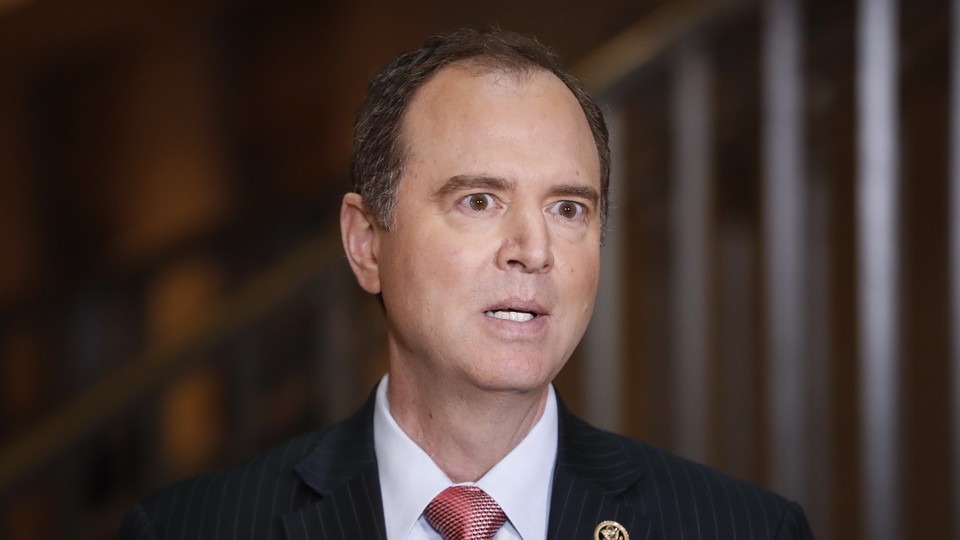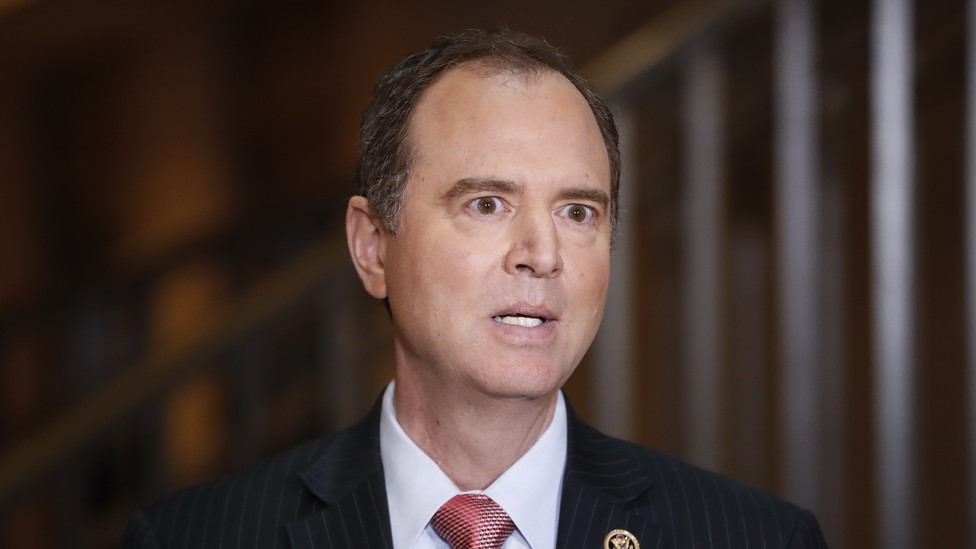 The House Democrats preparing to lead their own Russia probes appear to be turning their attention from possible collusion between the 2016 Trump campaign and Russian intelligence to potential Russian leverage over the president. The turning point came last week when Michael Cohen, Trump's former personal lawyer and fixer, pleaded guilty to lying to Congress about the Trump Organization's dealings in Russia during the election.
Cohen acknowledged in a criminal information filed by Special Counsel Robert Mueller that he had sought support from the Kremlin for a Trump Tower in Moscow and had spoken at length to a Russian government official.
"There is now a witness who confirms that in the same way [convicted former National-Security Adviser] Michael Flynn was compromised, the president and his business are compromised," Representative Adam Schiff, the California Democrat poised to take over the House Intelligence Committee, said Sunday on ABC's This Week.
"Flynn was compromised because he was saying things publicly that were not true about discussions with the Russians over sanctions," Schiff explained. "And now we have Michael Cohen saying that what the president was saying, what Michael Cohen was saying and others were saying about when this business deal ended was not true. And what's more, the Russians knew it wasn't true, that at the same time that Donald Trump was the presumptive nominee of the GOP and arguing in favor of doing away with sanctions, he was working on a deal that would require doing away with sanctions for him to make money in Russia. That is a real problem. It means that the compromise is far broader than we thought."
As a candidate, Trump said in a tweet that he had "ZERO investments in Russia." Shortly before his inauguration, he tweeted that he had "NOTHING TO DO WITH RUSSIA—NO DEALS, NO LOANS, NO NOTHING!" Yet he has a long history of Russian customers and financial backing, as the Washington Post foreign-affairs columnist David Ignatius explained last year. Before his inauguration, Trump also said that he had "no deals that could happen in Russia, because we've stayed away." But last week, Cohen said he had been working on a Trump Tower deal in Moscow up until June 2016 (CNN lays out the timeline here) and lied about it to Congress to preserve the "political messaging" about the Trump Organization's dealings in Russia.
Democrats say Trump's misleading statements about his business connections to Russia gave Putin's regime compromising material, or kompromat.
"They knew that he had major business dealings, or that Cohen, on his behalf, had major business dealings in Moscow during the campaign, and that he was lying about that. There may be other things that they know that give them leverage," Representative Jerry Nadler, the New York Democrat soon to take over the House Judiciary Committee, said Sunday on NBC's Meet the Press. He argued that "the fact that he was lying to the American people about doing business in Russia and that the Kremlin knew he was lying gave the Kremlin a hold over him. And one question we have now is, Does the Kremlin still have hold over him, because of other lies that they know about?"
"One question has always been, Why was the president so obsequious to Putin from the beginning of the campaign up to the present day?" Nadler said. "And it may be that it's because the Kremlin has leverage over the president, which is a terrible thing if true."
Senator Mark Warner of Virginia, the top Democrat on the Senate Intelligence Committee, was more reserved but still critical. "I have got to believe that most Republicans who were about to nominate Donald Trump in the summer of '16 would probably have thought it was a relevant fact—they would like to have known that then-candidate Trump was still trying to do business with Russia," Warner said on CNN's State of the Union. He added that he's withholding a final judgment about possible collusion until the committee's investigation finishes, to ensure that bipartisan work continues with Republican Senator Richard Burr of North Carolina, the committee chairman.
However, Warner asked pointed questions that expressed the developing theory to explain the president's deference to Russia and its leader: "Why was Donald Trump, who was willing to whack almost anyone, never willing to say an ill word about Vladimir Putin? … Was it because of his potential business dealings with Russia?" Or, he asked, was it because there was communication with the Russians, possibly through Roger Stone, a longtime Trump adviser, about their hacking of Democratic emails and their plan to release them through WikiLeaks?
The Virginian also said on CBS's Face the Nation that the Senate Intelligence Committee has made "a number of referrals" to the special counsel's office for witnesses suspected of lying under oath. He declined to give more details about other individuals referred for prosecution, leaving an air of mystery, but he said that the committee has yet to interview Stone, who said on ABC's This Week that he was never in contact with the WikiLeaks founder Julian Assange, contradicting a claim he made in 2016.
Stone has, however, testified before the House Intelligence Committee, whose incoming chairman says the "dirty trickster" may have committed the same crime as Cohen. "The mere existence of those emails [between Stone and the conservative activist Jerome Corsi] are inconsistent with his testimony before our committee," Schiff said. "… That testimony really needs to be provided to the special counsel for consideration of whether perjury charges are warranted."
A Republican on the Senate Intelligence Committee applauded Mueller's team for charging Cohen with lying to Congress. "I'm glad to see the special prosecutor taking that particular crime seriously," said Missouri's Roy Blunt, a member of the Senate GOP leadership.
He added that if Trump spoke with Putin at the weekend's G20 summit in Argentina, he hoped "it was outrage about what the Russians are doing in Ukraine" by seizing that country's sailors and ships.
Meanwhile, another top GOP senator defended Trump and his dealings with Russia during the campaign, echoing the president's argument that even if he was pursuing a Moscow deal well into 2016, it's not a crime for his business to continue while he was running for a president—or, as he memorably tweeted on Friday, "very legal & very cool."
"The president is an international businessman. I'm not surprised he was doing international business," said John Barrasso, the Wyoming senator recently elected to the No. 3 spot in Senate Republican leadership.
When NBC's Chuck Todd asked whether it was fair to voters who didn't know that the president was working on a deal in Russia, Barrasso responded, "There were so many things involved in the 2016 campaign, it's hard to point to what one thing influenced voters. I think people were thinking, It is time for a change. They didn't want Hillary Clinton. They wanted a new opportunity." He then pivoted to discuss the economy.