The Dangerous 'New Phase' for Donald Trump
The incoming House Judiciary chairman says the president has allegedly been involved in "massive frauds against the American people."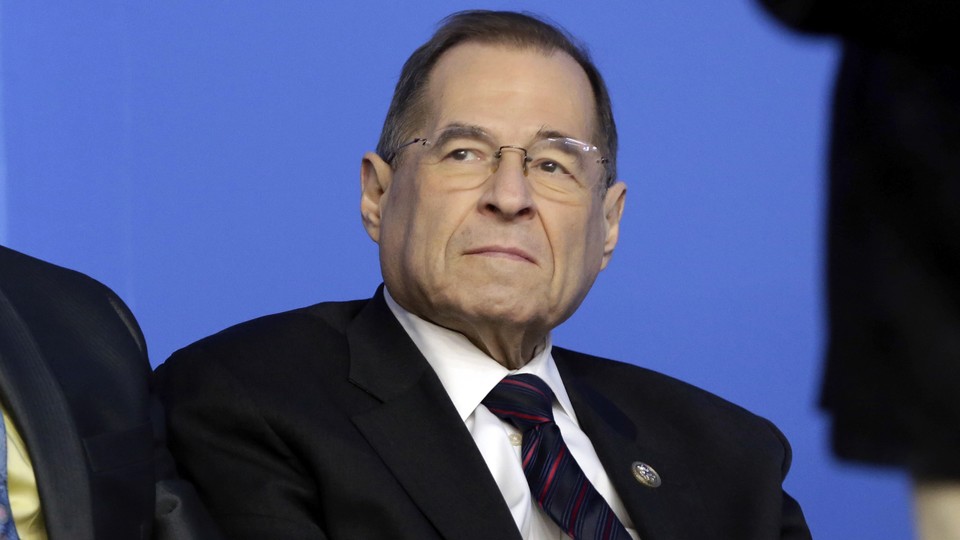 The talk on the Sunday-morning shows took an ominous turn for President Donald Trump after a week when court filings put him in the middle of preelection hush-money payments by his former personal lawyer, Michael Cohen, and in interactions by Cohen with Russians during the 2016 campaign. Suddenly, the investigation by Special Counsel Robert Mueller, which had been focused on possible campaign collusion with Russia and obstruction of justice, had expanded and entered what one senator called a "new phase" that left members of both parties discussing the prospects for impeachment.
"What these indictments and filings show is that the president was at the center of several massive frauds against the American people," Representative Jerry Nadler, the New York Democrat who in January will take over the House Judiciary Committee, where any impeachment proceedings would begin, said Sunday on CNN's State of the Union. He added that if Cohen's allegations prove true about Trump's direct involvement in preelection payoffs to two women who alleged affairs with the president—payments prosecutors said constituted campaign-finance felonies—"they would be impeachable offenses. Whether they are important enough to justify an impeachment is a different question."
Nadler said he disagrees with the Justice Department's long-standing assessment, expressed in a series of memos going back to the Nixon administration, that sitting presidents cannot face criminal indictment. "This country originated in a rebellion against the English king," he argued. "We did not seek to create another king. Nobody—not the president, not anybody else—can be above the law." But given that assessment, Nadler said a few days ago that he's considering legislation to put a hold on the statute of limitations for sitting presidents, keeping Trump eligible for prosecution after he leaves office. Of course, any such bill would be controversial in the House and almost certainly dead on arrival in the GOP-controlled Senate.
Representative Adam Schiff, the California  Democrat poised to take over the House Intelligence Committee, also said Sunday that last week's filings were bad news for the president. "There's a very real prospect that on the day Donald Trump leaves office, the Justice Department may indict him," the former federal prosecutor said on CBS's Face the Nation. "He may be the first president in quite some time to face the real prospect of jail time … This was the argument for putting Michael Cohen in jail on these campaign violations. That argument, I think, was equally made with respect to 'Individual-1' [the court filings' identification for a person widely believed to be Trump], the president of the United States."
Democrats on the other side of the Capitol struck a slightly more cautious tone. Senator Chris Murphy, a Connecticut Democrat considering a 2020 presidential run, cast last week as a turning point. "We certainly have moved into a new phase," he said on ABC's This Week. "The president has now stepped into the same territory that ultimately led to President Nixon resigning the office (after he was named as) an unindicted co-conspirator." While Murphy added that Trump's troubles "are beyond the stage that led to impeachment proceedings against President Clinton, whether or not you think that was worthy of impeachment," the senator also opined that Congress should wait for the special counsel's report before taking action such as impeachment.
Senator Angus King, a Maine independent who caucuses with the Democrats and sits on the influential Senate Intelligence Committee, argued Sunday that calls for impeachment were premature. "I don't think that there's evidence yet available to the public where there would be, more or less, a consensus that this was an appropriate path," he said on NBC's Meet the Press. "My concern is that if impeachment is moved forward on the evidence that we have now, at least a third of the country would think it was just political revenge  and a coup against the president. That wouldn't serve us well at all. The best way to solve a problem like this, to me, is elections." He called himself "a conservative when it comes to impeachment. I think it's a last resort and only when the evidence is clear of a really substantial legal violation."
Republican senators pushed back on talk of impeachment and indictment, but they did not mount a full-throated defense of Trump. Senator John Thune, the South Dakota Republican who was recently elected majority whip, emphasized a need to wait for all the facts to come out in the special counsel's report. On Face the Nation, Thune raised the question of Cohen's credibility, in a roundabout way: "Michael Cohen obviously has plenty of incentive now to cooperate and the representations that he makes … there are going to be some questions raised about those as well."
Senator Marco Rubio, the Florida Republican who is often a thorn in Trump's side, gently rejected Trump's claim that the prosecutors' filings totally clear him. The Intelligence Committee member was asked on This Week whether he believes the Justice Department's allegations about Individual-1 or the president's denials. He responded, "I don't know. Oh, I don't know. And neither do you or anyone else … We don't know what other investigation the Justice Department has to either corroborate it or that they don't have to corroborate it." Rubio was clear on one thing, though: a presidential pardon for former Trump campaign chairman Paul Manafort would be "a terrible mistake."
Later on the same program, former New Jersey Governor Chris Christie, a onetime Trump confidant who's also a former federal prosecutor, said the language in Cohen's sentencing memo suggested the government may have corroborated his account. "When prosecutors sound that definitive, they've got more usually than just one witness," he said.
The loudest defense of Trump came from Senator Rand Paul, though it was broad and indirect. The libertarian Kentucky Republican pivoted away from Trump's alleged crimes to decry an overcriminalization of campaign finance in general. As for Cohen admitting to crimes and implicating Trump, Paul blamed "prosecutorial abuse" for incentivizing Cohen to change his story in exchange for time off his sentence. He criticized the entire category of "conspiracy" crimes, making the libertarian argument that people get caught up in crimes they weren't directly involved in, such as a young woman carrying cash for her drug-dealer boyfriend.
Consistent with his limited-government viewpoint, Paul criticized the concept of special prosecutors with broad inquiries that can dig up unrelated wrongdoing; special prosecutors' investigations helped spur Nixon's resignation and Clinton's impeachment, as well as Trump's current legal troubles. "I'm absolutely against it, and I think it's a miscarriage of justice," Paul said on Meet the Press. "We should not have special prosecutors going after one person. If we get this way and if we're gonna prosecute people and put them in jail for campaign-finance violations, we're gonna become a banana republic where every president gets prosecuted and everybody gets thrown in jail when they're done with office."