The Last Gasp
James Comey spent hours on Friday talking about Hillary Clinton's emails before the House Judiciary and Oversight Committees. In the end, he seemed bored—and annoyed.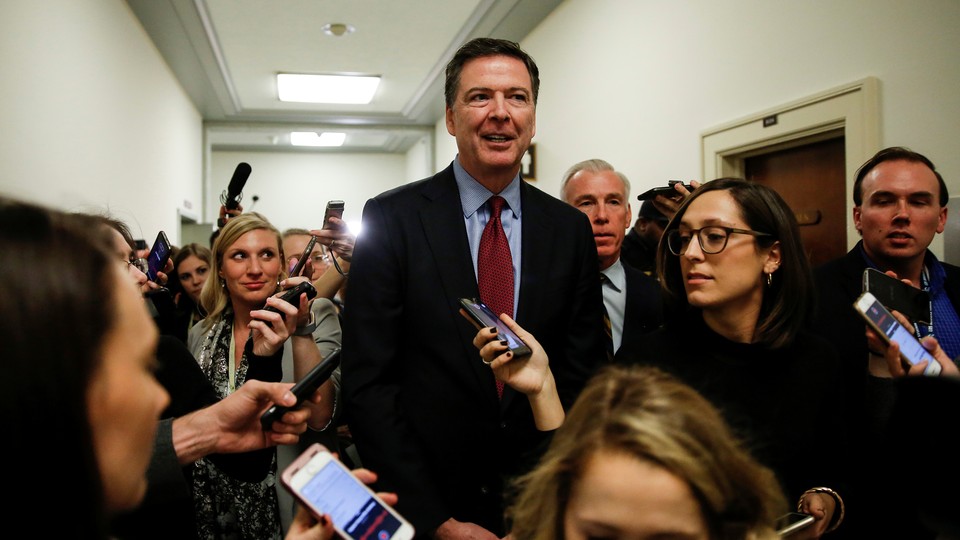 Whatever Republicans on the House Judiciary and Oversight Committees thought they were going to get from Friday's deposition of former FBI Director James Comey, it doesn't appear they got it. The proof will come when a transcript of the deposition is released on Saturday, part of a deal Comey struck to testify, having initially resisted a subpoena. But no one seemed especially satisfied on Friday.
Certainly not Comey, who is apparently as sick of hearing about Hillary Clinton's "damn emails" as Bernie Sanders was two years ago.
"After a full day of questioning, two things are clear to me," he groused. "One, we could have done this in open setting. And two, when you read the transcript, you will see that we are talking again about Hillary Clinton's emails, for heaven's sakes, so I'm not sure we need to do this at all."
Democrats were similarly disgruntled.
"I was left with the impression that, you know, basically this is a big wild goose chase," said Representative Raja Krishnamoorthi of Illinois. "It reinforced my view that the Clinton probe has fully run its course."
Republicans basically conceded the point, suggesting that they'd gotten very little from Comey. They placed the blame on a Justice Department lawyer who had blocked the witness from testifying on some of their questions.
"The thing that clearly is going to have to happen is the Department of Justice is going to have to agree to allow him to come back and answer a great many questions that currently he is not answering," said Representative Darrell Issa of California.
In brief comments to the press after his interview, Comey didn't sound like a rattled witness. He was as jocular as ever, saying that the transcript would show that there was no reason that the session couldn't have been public, as he had requested. He said most of the deposition focused on Clinton's emails—"which will bore you," he promised.
Krishnamoorthi, having attended the deposition, was already bored. "This is the 17th interview," he said. "I think I've attended almost every single one of these. It's the same questions, over and over again, we get the same answers from almost all of the witnesses, and again, I'm left with the impression that we got nowhere today."
Even so, Republicans will have one more shot. Comey agreed to return on December 17 to finish questions unasked today. ("I'm trying to respect the institution," he said, in a tone that suggested his regard for congressional oversight hasn't increased just because he's no longer at the FBI.)
Comey said that the reason the government lawyer kept instructing him not to answer was simple: He can't talk about ongoing investigations, and notably the Russia probe. It's unclear why the Department of Justice would soften its stance between now and Comey's return. Perhaps GOP members hope that by complaining in front of the cameras, they can get President Donald Trump to speak out, and that his words might pressure acting Attorney General Matt Whitaker, an admirer of the president's, into loosening the bounds on Comey.
The maneuver of blaming the Justice Department is by now a familiar one. Since taking over the House of Representatives in the 2010 midterms, Republicans have repeatedly insinuated a great scandal just waiting to be exposed—first Fast and Furious, then Benghazi. The pattern has only intensified since Trump became president and his administration came under Justice Department scrutiny. Time and again, House Intelligence Committee Chairman Devin Nunes has teased some enormous new revelation that is sure to change the public understanding of the Russia scandal, from nefarious unmasking in intelligence reports to snooping on the then-candidate Trump to the improper use of the Foreign Intelligence Surveillance Court, each time implying that members of the executive branch, such as Comey, have been up to no good. And each time, most dramatically with the much anticipated memo declassified by President Trump, it has turned out to be a nothingburger.
And so far, it looks like the same might be true of Comey. It's hard to imagine that the lanky lawman has anything fresh to say to anybody. Other than Trump himself, Comey might be the most overexposed figure in American politics, from his many prior appearances to Congress to his autobiography, with its splashy publicity tour. Though Comey tried to convince a judge to make his testimony public, the court might have been doing the nation a favor by declining. Comey even used his brief remarks to reprise a central theme of the book.
"I think the president's attacks on the Justice Department broadly and the FBI are something that no matter what political party you're in, you should find deeply troubling, and continue to speak out about, not become numb to attacks on the rule of law," he said, but he refused to comment specifically on the firing of Attorney General Jeff Sessions, who in turn had helped fire him.
Republicans never gave a specific reason why Comey needed to testify again before Friday's hearing, and no revelations have leaked. Clinton's emails have been the subject of exhaustive inquiries by both Congress and the FBI. There's still no convincing evidence of malfeasance in the FBI investigation that concluded with a recommendation that she not be prosecuted. Although Clinton didn't face criminal charges, the public punished her: The email story was arguably the reason she lost the presidential election.
The apparent reason for the subpoena was that in a few weeks' time, the GOP will yield the gavels of the House, and the Judiciary Committee, over to Democrats. The band is breaking up, with Chairman Bob Goodlatte and prominent members, including Issa and Trey Gowdy, retiring. Meanwhile, Jerry Nadler, the New York Democrat who will take over the committee, has already said he'll end any inquiries into Clinton's emails when he does.
With Comey's return appearance booked for December 17, the Republicans have 10 days to come up with their kill shot. But based on what happened Friday, it seems that the House Republican majority's oversight efforts will end the way they began: with extravagant promises of a bang, followed by a whimper.